Greg Klimetz and the team at Relevant AV Solutions gave themselves a clear mission statement when they began planning the "Transformation Project" at New Covenant Church's worship center in the spring of 2021. "The key word in our planning was 'yes,'" said Klimetz. "As in when the church asked us "can we do…" our answer had to be 'yes we can!'"
It was a simple, direct, and succinct goal, but one that was not without its challenges, given the diverse mission of this dynamic church, which was founded in 1980. In addition to embracing Sunday services, the church hosts vibrant touring concerts, multiple conferences, and events for community members of all ages.
Built in 2004, the church's worship center served the purpose of its time, but the building wasn't supple enough to meet the multi-faceted needs of today. Fixed pews and stained glass on three of the room's walls, made doing anything beyond a Sunday Service, and hosting a wedding, nearly impossible. Moreover, the space wasn't camera friendly, which was an issue, given that the church livestreams its services.
"We worked hand in hand with Scotty Williams and Chris Shelton from New Covenant to help visualize and realize their dream for the AVL systems," said Klimetz. "Working from an overall design and concept, we remained open-minded throughout the entire process working to explore the best solutions."
Following this collaborative process, the worship center was renovated "from the ground up," including the removal of some fixed pews and stained glass, to create a more open and flexible space. A key part of this transformation was the installation of new, adaptable and camera-friendly lighting system that features 78 CHAUVET Professional fixtures and LED video panels from Relevant AV Solutions' own inventory.
Included in this collection were 22 Ovation E-910FC color mixing ellipsoidals, eight Maverik Force 1 Spot 470-watt LED moving heads, and 12 Maverick MK2 Wash fixtures, as well as 36 F2 LED video panels and one VIP Drive 10-5 Nova video processor.
"Working with our lighting designer, Craig Rutherford, we developed this rig around lighting fixtures that could fill multiple roles," said Klimetz. "We also positioned these fixtures to create as much flexibility as possible. Lighting for cameras was another big priority. Our goal was to create a rig that could do all the church wanted and still be within budget."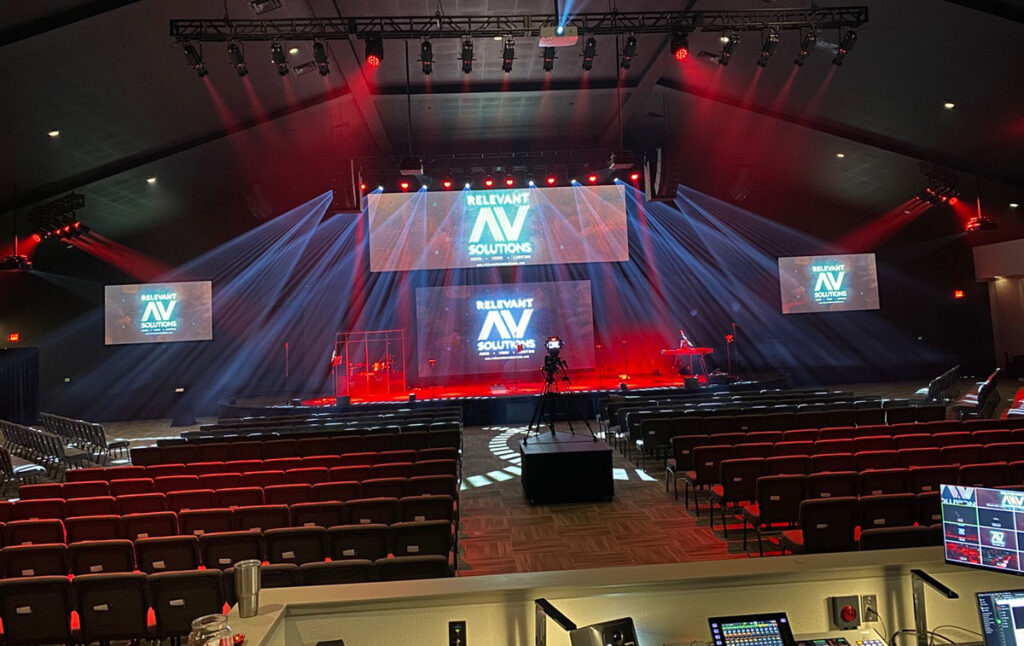 This effort was appreciated by the team at New Covenant. "The Transformation Project without Relevant would not have happened," said Williams, the church's associate pastor. "They were the driving force behind the integration of audio, video, and lighting."
A key to helping the church achieve the lighting versatility it was after was the decision to install the color-mixing Ovation E-910FC ellipsoidal. "We chose the E-910FC because it is not only a color balanced white fixture, but also one with the ability to paint the stage any color the church might want," said Klimetz. "This flexibility opens many more options to the church. Plus, with 22 of the E-910FC fixtures, the church will have more than enough lights to accomplish any sort of special or artistic looks they want without having to sacrifice an even front stage coverage for cameras."
Ensuring that moving fixtures were well represented in the rig was another way the Relevant team expanded its versatility. The Maverick Force 1 Spot units wear many hats at the church being used for texture and beam effects, while the Maverick MK2 Washes are used for backlighting as well as for highlighting specific areas such as the portable baptistery.
"The washes have been great at adding a touch of color to our stage,' said Williams. "We match the colors of these washes with the colors we choose for our moving backgrounds and theme slides. We also use these washes to highlight areas of our room for special occasions like baptism."
Supported by this lighting and positioned as the centerpiece of the stage is the 20′ wide by 10′ high F2 panel video wall. Like the lighting rig, the video wall serves multiple purposes at the church, being used to show announcements and graphic content in addition to providing a background canvas for sermons.
"We're extremely pleased with how this turned out," said Williams "I would like to thank our lead Pastor, Michael Wells, and our elder team, who bought into the vision of making audio, video, and lighting a priority in this project."
As a result of this vision, New Covenant now provides its community with the kind of flexible and immersive physical environment that reflects its diverse mission.