A large suite of DiGiCo consoles and racks handles the very diverse needs of two Dutch venues, mixing a huge and ever-changing portfolio of live performances.
Located in the eastern Dutch town of Hengelo, the Metropool is a long-established live music venue featuring a huge range of acts and genres. It moved to its present home in 2009 and at that point its console stock was updated to include three DiGiCo SD8s and a large-format analogue desk, covering all its audio mixing needs across its Jupiler and Jack Daniels halls. They were one of the first Dutch venues to invest in DiGiCo technology as Teun Zekhuis, their Head Technician recalls: "We chose the SD8 for its sound, interface, workflow and overall look and feel. Being one of the first stages in the Netherlands with this first series of SD8s we were really pioneering in a new world of digital audio. The SD8s proved to be a great choice and served us very well."
Fast forward nine years to 2018 and through a series of events, Metropool found itself taking over the business of Atak, a venue for pop music, creating Metropool | Pop stages of Twente. "The audio equipment we inherited at Enschede confirmed that we made a good choice back in 2009; unlike ours, it had not withstood the test of time! So, one of the first things we did in Enschede was to replace the consoles," Zekhuis continues. "Having DiGiCos in Hengelo, the choice for a new series of DiGiCos in Enschede was obvious; why change a winning formula? But to be sure we checked a few competitors and concluded that there was no other brand with a product line so compatible with our business, both affordable and quantitive. So, in 2018 we chose an SD5 for front of house in the Hertog-Jan hall (850 capacity) an SD10 for FOH for the 350-capacity Saxion Hall and SD12s for monitors in both rooms. We also bought an SD11 for the Muziekcafe which can hold up to 100 people."
"Then, in 2020 back at Metropool we purchased another set of DiGiCo consoles: the Jupiler hall (850 capacity) now has a Quantum 338 for front of house with an SD12 on monitors, the Jack Daniels hall (cap: 250) uses an SD10 for front of house. Both rooms have SD12s on monitors and in the Muziekcafe it's an SD11."
Zekhuis shares his vision for presenting and maintaining contemporary performance venues in technical terms. "We run an average of 500 shows a year and have many volunteers and freelancers at work," he says. "In order to guarantee continuity in personnel and to keep the workflow constant, we have chosen to provide the same audio quality in all rooms, optimally realised in audio terms due to the Stadius 32-bit pre-amp technology in the racks. Besides that, all the mixers and workflows on the stages are adjusted to each other, which means that when you know how to handle monitors on one stage you also know how it works on all the other stages. The same goes for FOH – we want to keep it as simple and plug-and-play as possible, which saves time in setup and gives the artist more time to prepare and perform."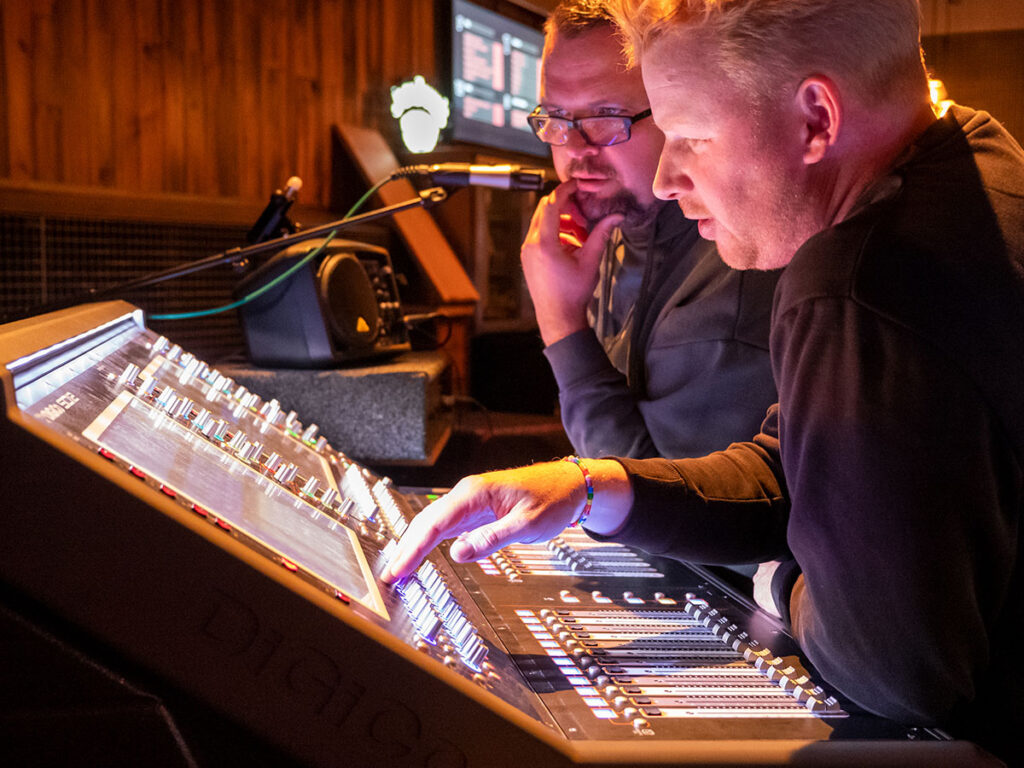 Meanwhile in Enschede some 10km away, Wilminktheater en Muziekcentrum, a major regional facility encompassing several rooms of varying sizes and which presents everything from rock and roll to comedy, opera, theatre, ballet, conferences, cabaret, jazz and classical music, was also in the process of upgrading its technical infrastructure. These two organisations in two different cities combined forces through municipal budgets and clever in-house solutions to realise their respective goals.
"We were looking for an upgrade on our mixing consoles," explains Eelco Braakhuis, the main engineer and audio specialist for the Wilminktheater en Muziekcentrum. "The guys from Hengelo already knew DiGiCo so for them it was a no brainer in the search. For us also it was a console we knew and are very pleased with as we already owned two. It ticked all the boxes in terms of usability because we have a wide variety of shows that we produce ourselves, so we needed a console that is as flexible as it can be. Anything you can come up with in audio routing and processing, a DiGiCo can do it!
"DiGiCo made a huge step up in audio quality with their new 32bit Stadius cards and we were very pleased with the sound it delivers. Combining it with Waves plugins and with the ability to go to immersive audio already in the console's software is very nice to have. It takes us a step forward to the future of theatre and opera."
Braakhuis notes that Wilminktheater en Muziekcentrum has a crew that all have to know how a console works, and it was easy for them to get used to the new DiGiCos.
"We chose the SD10 for our main auditorium and two S21s for our small auditorium and church where we host mostly classical music, and a SD11 for flexible use in front of the house or during small conferences," he adds. "So now here in Enschede we have six rooms with a total of ten DiGiCo consoles, all equipped with various racks including SD, D2 and D types. The different consoles have been very consciously chosen for the individual rooms, so they exactly meet the needs of each. It also makes it possible to use the different consoles in different rooms, entirely according to the technician's wishes."
"As this is a purchase that was made by the city council, we had to do an inventory of pricing from three different companies," Braakhuis notes. "The Ampco Flashlight Sales team made us a very good offer, they also know the consoles inside and out and do all the technical maintenance for DiGiCo in the Netherlands. This made them a good partner in our purchase. They handled everything very well for us during finalising the order and helped us create a great set of mixing consoles."
"At Ampco Flashlight we're thrilled to have worked with both Metropool and Wilmink for the last two decades and that we've had the chance to extend and fortify our relationship with these beautiful DiGiCo-setups in both venues," concludes Bart van der Smissen, Product Manager Audio for Ampco Flashlight Sales. "Enschede and Hengelo will be well equipped for the coming years of Theatre and Rock 'n' Roll"