The Euromillions Cup Finals billed itself as "the biggest volleyball party of the year" in February 2020. That was quite a claim, but certainly not an idle one. Volleyball has been booming in Belgium ever since the country won the men's European title in 2013.
True to form, fans flocked to the 18,400-seat Antwerps Sportspalies to cheer on their favorite teams last year and enjoy a rollicking good time. Things, of course, were radically different at the 2021 edition of the tournament.
With the threat of the coronavirus ever- present, the Euromillions Cup Finals was moved to the much smaller Lotto Arena, with no fans admitted. Not able to see their favorite volleyballers play in person, fans had to be content with watching the finals via livestream broadcasts.
It may not have been a "party," but the broadcast of the Euromillions Cup Finals did kick off in an exciting, celebratory fashion, thanks a dynamic pixel mapped lighting display created by AB Sound that featured the CHAUVET Professional ÉPIX Flex 20 and ÉPIX Flex Drive, along with the COLORado 1-Quad Zoom Tour and foggers.
The display created by AB Sound turned the tunnel that led to the arena into a pulsating cylinder of light and atmospherics. Volleyball players running through this tubular panorama glowed in their team colors. It was a scene that not only psyched up players, but also the fans watching the broadcast.
"Giving the players the kind of entrance, they deserved was very gratifying," said Bart Aelbrecht of AB Sound. "This meant a great deal to everyone, especially in these difficult times. We were happy to work with Heat International and Kris Schoeters as our partner in sports entertainment on this uplifting project."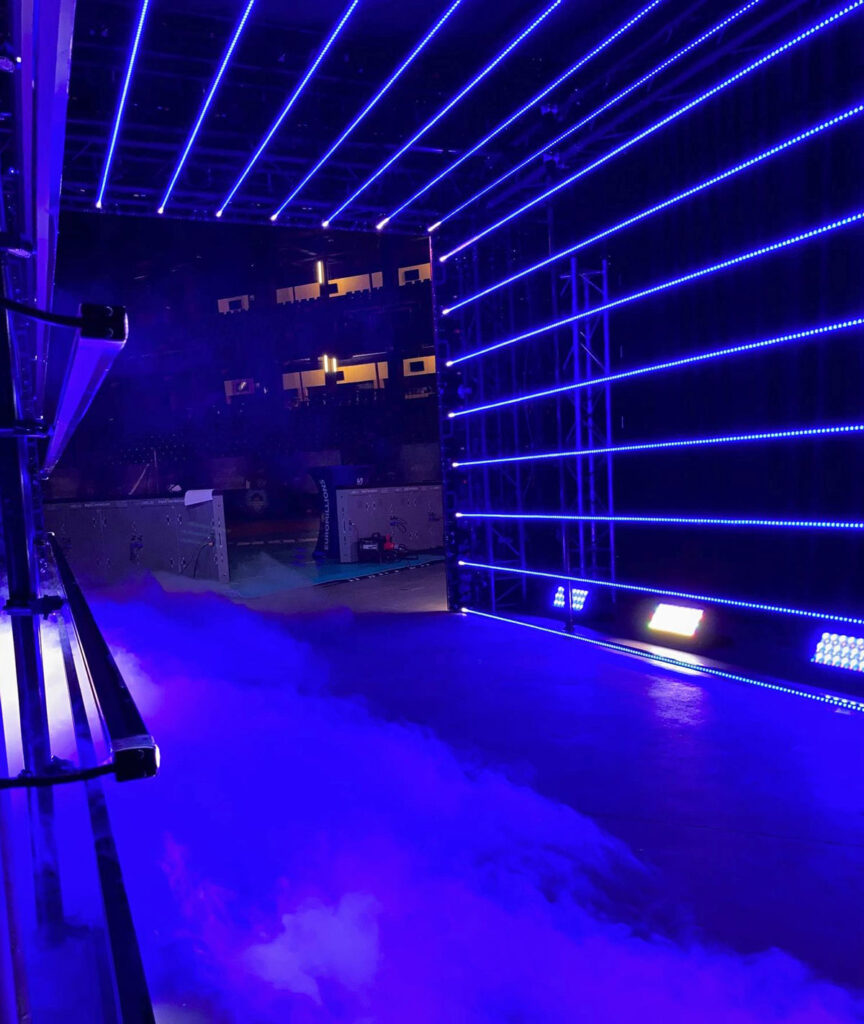 AB Sound used 25 of the 5-meter ÉPIX Flex 20 strips to create the tunnel display. These strips were placed in a custom-made alu-profile to have the look of a straight line. One ÉPIX Flex Drive was used at each output. The entire system was driven over ArtNet. A collection of four atmospherics was used for fog. Accenting their output were eight COLORado 1 Quad Zoom Tour fixtures, two per fogger.
Aelbrecht credits the flexible RGB LED strips with helping his team create the eye-catching display even while working within pandemic-related social distancing and budgetary restrictions. "The flexible strips were very effective and convenient given the circumstances we were working under," he said. "With normal rigid strips we would have needed lots of scaffolding to hold them up. We would also have had to use 120 fixtures instead of the 24, which would have meant much longer build up time."
In the current environment issues surrounding budgets and time loom larger than ever, notes Aelbrecht. This creates its own special challenges for sure, but until the lockdown ends he'll continue to bring the "biggest volleyball party" and other good time events into virtual space for all to enjoy.