Inglewood California's 70,000-capacity SoFi Stadium hosted the 39th annual WrestleMania with a blockbuster two-night event enveloped in LED screens and scenic video technology driven by an army of Green Hippo's Hippotizer™ Boreal+ Media Servers.
More than 161,000 fans witnessed WrestleMania over two sold out evenings, energized by high octane video content created by the WWE Media Graphics Department. The visuals were displayed on multiple entranceway LED Screens, custom Ring Post, Ring Skirt, and LED Barricade. All these screens were supplied by ScreenWorks, a division of NEP. Upstaging provided Saber LED batons – a double row LED effects product that borders truss and scenic elements. In addition, the SoFi Stadium In-house Infinity Screen and five levels of ribbon boards were also controlled by the Hippotizer Media Servers.
The massive amount of content meant that the visuals team required a media management system and powerful interface. A total of 16 Boreal+, two Karst+ and a further two Karst Media Servers were supplied by Upstaging, with Tony Thompson serving as Project Manager.
"The biggest challenges were sheer output and machine count on this show," says Thompson. "Hippotizer's ZooKeeper interface for management of the machines is paramount – from being able to remotely monitor all the machines and configure from a remote machine, and then from the content management side. The robust DMX Control side of the Hippo is also vital for WWE, enabling the programmer/operator to be flexible, and have reliable cueing."
Christopher Keene, Hippotizer Programmer and Operator, comments: "The sheer amount of content we are ingesting and syncing at WrestleMania means we must always have something encoding, while playback cannot be interrupted. I'm always amazed that the Hippotizers never skip a beat while syncing and encoding."
Keene and the team loaded more than 500GB of content during the week of pre-programming for the event. "Hippotizer processing allowed us to utilize 16 layers for every surface," he explains. "We use a lot of layers because we like the flexibility of not having foreground and background elements in the same file. We like to be able to place elements, and size and manipulate them ourselves instead of having the content creators have to re-render for every little adjustment. This wouldn't be possible without Hippotizer's solid performance and processing."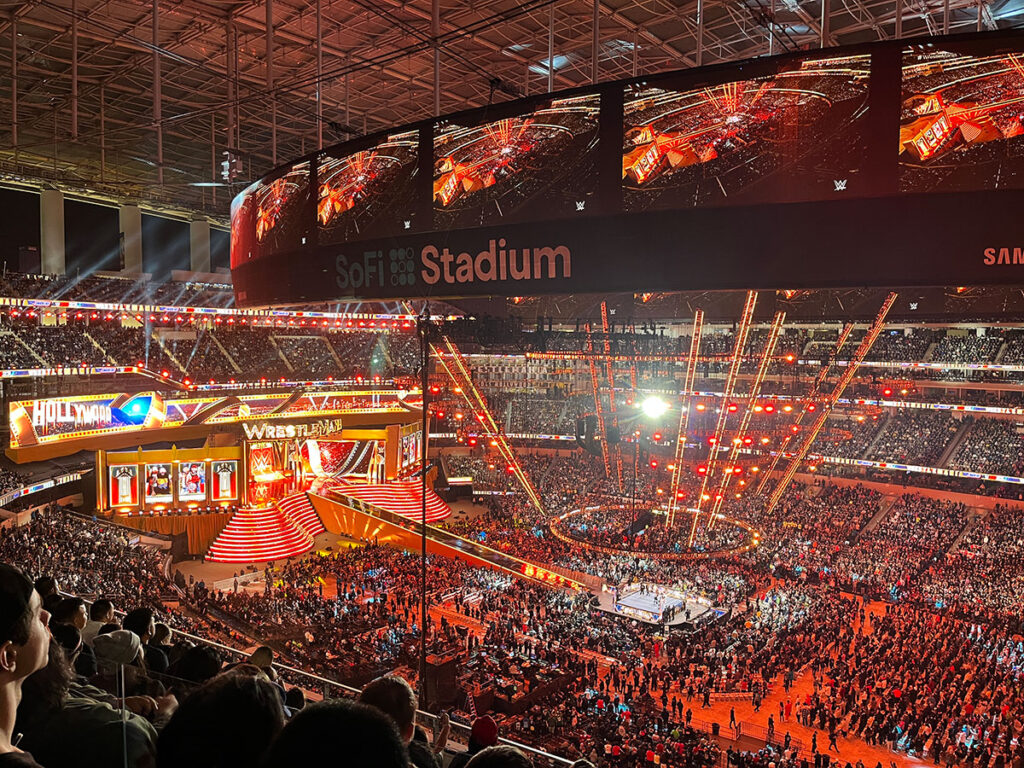 The Hippotizer Boreal+ Media Servers fed multiple 4K outputs, with the Hippotizer Karst+ driving a single 4K split out to 3G feeds. The Karst Media Servers were used for ZooKeeper only, to allow for local encoding in the system. Hosts Snoop Dogg and WWE star The Miz hosted, as a total of 15 matches took place in the ring, live streamed to a worldwide audience at home in addition to the fans in attendance.
"Hippotizer's VideoMapper is one of the important elements that we use," adds Thompson. "To allow content to be created in a realistic and native layout, and then for the Hippotizers to splice and place pixels in the proper locations that are needed for LED processors and to keep output count to a realistic amount. From the programming side – lots of use of inbuilt effects, extensive use of Alpha transparency and layering to allow for on the fly compositing for each element, without requiring custom content for every element."
"Hippotizer software is very user-friendly and the hardware is roadworthy," adds Keene. "The user-friendly nature of the ZooKeeper interface makes keeping the content flowing and organized as simple as it can be. The folder/sub folder system is also intuitive and clean.
"One of the main components of Hippotizer that we utilize often is VideoMapper. A show as big as WrestleMania takes days to load in, and we spend a lot of time in pre-viz. VideoMapper allows us to display composites so that we can effectively program before the screens are loaded in. This is imperative to getting the job done on time."
To control the Hippotizers, the team used a grandMA3 console. "The connection between the two and the DMX component is vital, enabling us to have access to all of the Hippotizer features to manipulate the content and surfaces," says Keene.
Working with the team were Rob Smith as additional Hippotizer Programmer, Danny Efkarpidis as WWE Content Design Lead, and Dan Longfellow and Clint Donaldson as WWE Onsite Content Designers.
Photo: © Troutfarm27 (CC BY-SA 4.0)