Every cloud has a silver lining and for full-service audio, video and lighting company AVL Creative of Detroit that silver lining is called Building 22. Built at the outset of the COVID-19 pandemic as a temporary broadcast studio to help clients virtually connect with their audience, the space, which features Elation lighting, proved such a success it now has a permanent place in the building that AVL Creative and partner company Display Group call home.
Successful pandemic response
Mike McConnell, President at AVL Creative (https://avl-c.com/), reflects back on the fateful week of March 16th 2020 when the company shockingly saw their live event business dry up. "That week will always ring very heavily with me. We're a very healthy company financially, and our employee base is healthy as well, so we didn't worry that our doors would close overnight, but we did worry about our clients and what we could do for them. We quickly pivoted and built out a temporary broadcast studio with our existing rental gear and by mid-April of 2020 we hosted our first virtual event which was incredibly successful."
That client – a non-profit that McConnell had to convince of the viability of a virtual event – had a fundraising goal of $100,000. Within an hour the company had raised $285,000. "That was our catalyst to knowing that not only did this work but it was a necessary tool for our client base. We quickly empowered our sales team who then reached out to clients about the effectiveness of a virtual event. The studio was then booked 3-4 days a week from April 2020 until the end of the summer." From a business standpoint, they had discovered a need and a niche for a virtual studio for specific events. "Some events just work better this way," McConnell says.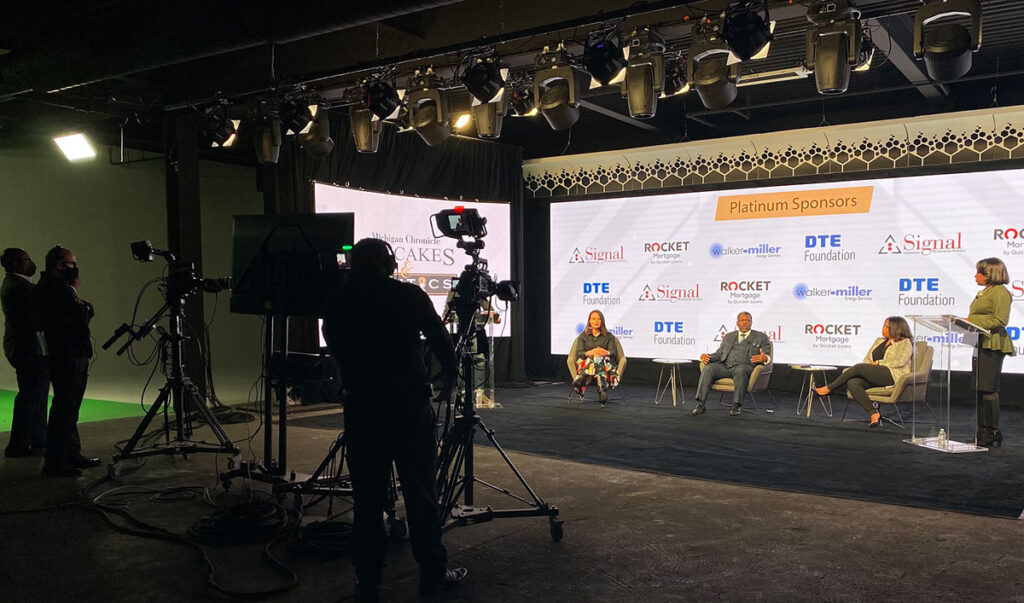 Permanent broadcast studio
Knowing the broadcast studio provided viable benefits, the AVL Creative team solidified the venture by opening up a second studio and in August 2020 'broke ground' on a permanent broadcast studio at their facility. The space – a build-to-suit multi-purpose studio named Bldg 22 after the original name for the building – includes multiple stages, cyc wall, 4K broadcasting, green rooms, kitchens, offices, onsite custom fabrication and onsite editing suites…all under one roof.
The new studio is currently outfitted with Elation fixtures from AVL Creative's rental inventory – Fuze Wash Z350™ single source LED PAR moving heads, SixPar 200™ LED PAR color changers, Platinum Spot III™ LED moving heads, and TVL Panel™ white LED soft light luminaires – but the plan is to upgrade to more current Elation broadcast fixtures in the near future.
"We had to move very quickly and as we all know the supply chain was negatively affected through the pandemic," said McConnell, explaining that they had wanted to acquire Elation KL Panels but that supply issues got in the way. "We didn't have much trust in other vendor options for panels at the time and we felt more confident using in-house rental fixtures in order to get something up in the immediate. We were able to get creative with those and provide a professional look for the studio." Now that AVL Creative is seeing live events come back, McConnell says they want to get their rental gear back on the road and fill the studio space with more dedicated Elation studio fixtures. "We are currently looking at the KL line, specifically the KL PAR FC™ and KL Panel™."
Wide variety of virtual events
Bldg 22 has been used for a wide variety of virtual events – product launches, fundraisers, meetings, virtual trade shows and webinars, galas and high-end productions, video recordings – with non-profits and large corporations the most frequent clients. Top tier automotive suppliers, for example, have used the studio for 'investor days' in order to connect with their clients. Whereas in the past, participants would fly in from locations far and wide to take part in the meeting, the entire event was done virtually in the Bldg 22 studio, expanding their reach while saving companies money. Another company that used the space for panel discussions increased their audience nearly tenfold.
Quality product, customer service
McConnell, who started Fairway Productions in 2005 and joined forces with event production company Display Group in 2018 to create AVL Creative, says he has been a loyal Elation dealer for years. "I go with Elation for two reasons – quality of product and customer service. Yes, there are other companies that make good quality products but when you couple Elation quality with the customer service they provide, hands down they are the best in the industry."
AVL Creative works with manufacturers rep firm Five Lakes Marketing when specifying projects and to keep up to date on everything Elation. "Ed Cheeseman at Five Lakes is my first 'go to' and is always able to point us in the right direction quickly. Any time there is an issue or a question the Elation team is also fast to react. Obviously in the live events industry things move very quickly and often very last minute so we value the ability to lean on our partners to move as fast as we do."
As we slowly move post-pandemic and other companies rip out their temporary studios, AVL Creative is in it for the long term with a permanent broadcast studio space equipped with cutting edge product. "We're here to serve our clients and feel we've done it better than others in this area," McConnell concludes, "and we're here to stay."