This month the Queen Elizabeth Olympic Park in London was transformed into an immersive spider's den of video-mapping, robotics, pyrotechnics, acrobatics and high energy music as the Arcadia Spectacular landed to celebrate its 10th anniversary with its only two UK dates of 2018.
The production's award-winning visual feast of a show, Metamorphosis, took centre stage alongside a performance by an Australian Aboriginal tribe, the Whadjuk Noongar and sets from world-class DJs including Leftfield and Rudimental.
Alongside the Arcadia team was the show's long-term lighting and visuals control partner, Avolites, celebrating five technologically exciting years of partnership with the Arcadia team as continuous providers of the latest lighting and media server control technology and support. This, combined with the creative minds of founders metalwork artist, Pip Rush and concert structure specialist, Bertie Cole, has seen this event become the visceral three-dimensional experience it is today.
Founded in 2007 Arcadia is an immersive stage-cum-art installation built from scrap military hardware. Since its inception, the spectacular has developed a series of unique, immersive shows that reimagine theatre, circus and the dancefloor.
"As Arcadia has grown we have realised that we are not building a stage but creating sculptures which are a magnet to people who specialise in all different types of disciplines," says Rush.
In 2012 Arcadia got its legs, when a 50-ton tripod was installed to raise the stage's central DJ booth above the ground. At the same time, Rush met Steve Warren and the inventive and creative team from Avolites. Rush credits Warren as "one of the small handful of people responsible for Arcadia's huge success".
Since then a team of skilled Avolites specialists have worked with Rush and Cole, to continually develop a lighting and visuals control system that continues to revolutionise the Arcadia workflow. Avolites also introduced the team to a wide range of design and technical creatives which, over the years, has seen the Arcadia project transform to a new level.
"The Avolites team knew we were passionate about what we were doing," says Rush. "They also realised that there were easier ways of doing things – ultimately they became a technical mentor to us."
With Avolites on board, the Arcadia team could now consolidate workflow and operation of the spider stage. "From the moment we started working together, all our visual cues went on to an Avolites Ai timecode," explains Rush. "This meant that we could sit in an office and calmly look at a film of the event and add in different light and visual effects, including sophisticated and precision projection mapping to the spider, using the Avolites Ai media servers."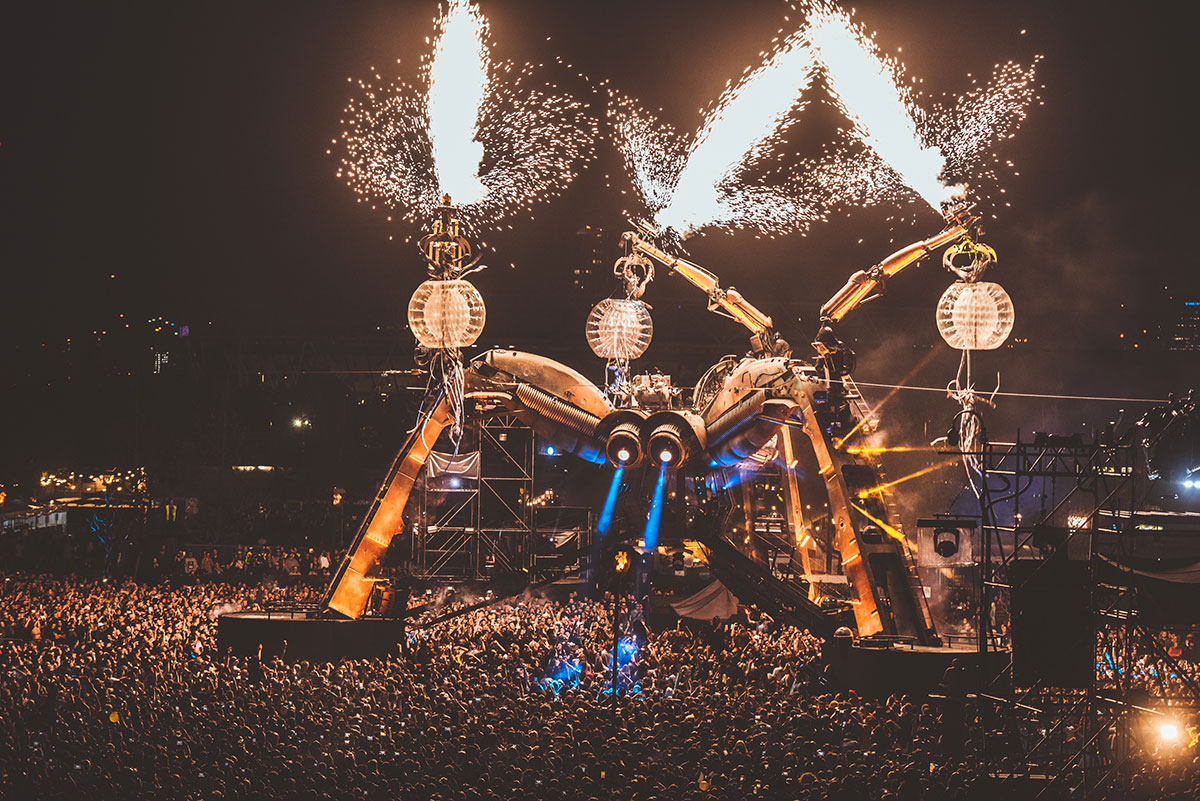 The Avolites team continued to work alongside Rush and Cole, introducing them to key creative and technology professionals, many of whom remain loyal members of the Arcadia family to this day.
"Suddenly, everything was coordinated from one place and the light and visuals were all run through Avolites lighting consoles and media servers," says Rush. "For our 2013 Glastonbury show we also had everyone on comms for the first time and it remains one of the best technical shows in Arcadia's history."
"Avolites is comprised of many different people," says Koy Neminathan, Sales Director at Avolites. "Software developers, salespeople, engineers and more. Our common passion is projects like Arcadia. Helping to create exciting experiences for audiences is why we do what we do."
Since 2013, Arcadia has visited a plethora of sites from the Miami Ultra festival to the aboriginal tribes of Australia, performing its hybrid mix of music and aerial acrobatics. Throughout its journey, Avolites has remained a well-respected and trusted technical partner, advisor and advocate.
"Somebody said to me when I was younger that as a director you're not the one coming up with creative ideas," says Rush, "you're the one synchronising everyone else's creative abilities. Having a strong technical team has empowered us to add more creative ideas into the mix. Avolites has opened up a window into a whole world of incredibly talented people that we would never have met if not through their support and belief."
Arcadia's 10-year anniversary show took place on the 5th and 6th of May 2018 in the Queen Elizabeth Olympic Park, London.
The two-day festival featured the Arcadia Spider as well as The Bug – a self-contained mobile, amphibious dance stage that hosted acts including London Sound, Stanton Warriors and others. Finally, The Reactor, an immersive, laser-heavy indoor arena, which made its worldwide debut with headliners Eats Everything and Delta Heavy amongst others.
Lighting, video and pyro for all stages were operated using Avolites' Titan and Ai control systems.
Photo: © Luke Taylor