Leading LED processor manufacturer, Brompton Technology, will be showcasing its highly acclaimed HDR solution on booth 2335 at this year's LDI Show in Las Vegas from 19th to 21st November.
Brompton HDR, or High Dynamic Range, has applications across multiple sectors due to its ability to deliver images with better contrast, higher brightness levels and a wider colour palette, with details preserved in the darkest and brightest areas of a picture along with more accurate reproduction of colours. LDI 2021 gives show attendees another chance to experience Brompton HDR's lifelike, dazzling results which can push the creative boundaries of any live event.
Brompton's implementation of HDR is very different from anything else on the market. Its enabling technology is Dynamic Calibration, which is unique to Brompton and a game-changer that unleashes the full potential of LED panels. Brompton's Hydra system, which will also be in display on the booth, is an all-in-one industrial solution that incorporates all the measurement instruments and processing required for panel measurements to enable Dynamic Calibration.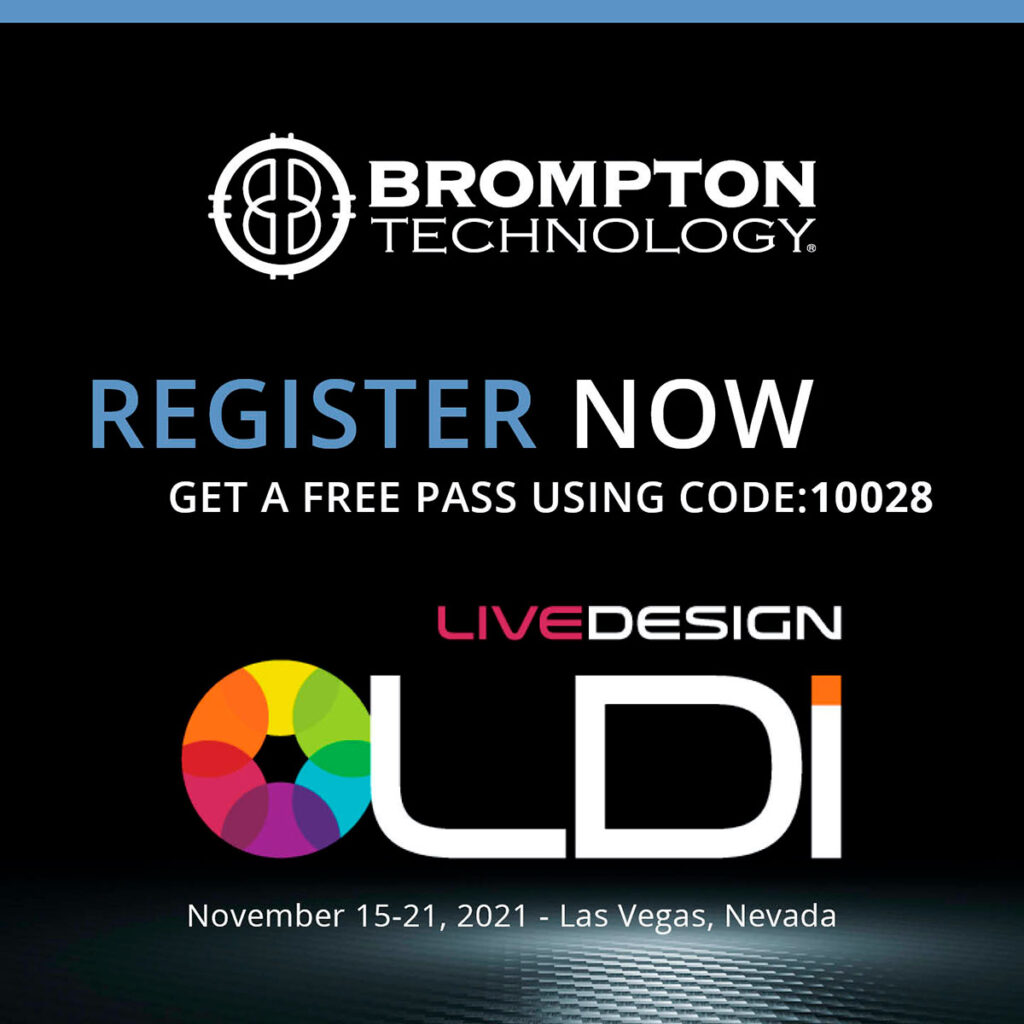 Additionally, visitors will be able to see Brompton's range of Tessera LED processors, including ideal rental workhorse S8 and the flagship SX40, with the all-important XD Data Distribution Unit, which works alongside the SX40 to keep cabling as simple as possible for any scale of event.
Brompton staff will be on hand to demonstrate the very latest features of its new Tessera v3.2 software, which include massive enhancements to virtual production workflows such as ShutterSync®, Frame Remapping, and 3D LUT Import, with Pomfort Livegrade integration. The team will be happy to demonstrate how professional users can take full advantage of the company's LED processing features and products that put the emphasis on creative choice and control.
Brompton has recently opened its LA office which comes as a result of company's continued growth in the U.S. market as live events and production continue to ramp up and demand has exploded for high-end virtual production setups in film and television. With this latest development, Brompton now has footprints on three continents: North America, Europe, and Asia, and can continue working closely with its partners and customers on the ground to fulfil their creative production needs.
"We are thrilled to be back on the showfloor at this year's LDI after a two-year hiatus," says Brompton CEO, Richard Mead. "We are excited to show our US customers just what a difference Brompton LED processing can make, and how we can help event professionals achieve exceptionally realistic-looking visuals for live events."