When you begin working with a new client who's never used an outside professional AV company before, you need three things: patience, understanding, and a fast, user-friendly console that will allow you to make smooth in-show adjustments.
Corey Easterbrook of Hot House Music and Productions seems to have been born with the first two attributes. He credits his ChamSys MagicQ MQ80 with providing the third ingredient when he returned to live events recently, providing AV services to the Power & Communication Contractors Association (PCCA) annual meeting.
A North American trade association serving members involved in the electrical power distribution industry, PCCA had always used in-house AV services for their events. The results were mixed. So, during the lockdown, the group reevaluated its policies and decided to go with a professional. Hot House Music and Productions came highly recommended by a Fortune 500 company.
For Easterbrook, the call from PCCA was the opportunity to work on his first significant live project since the lockdown began. "The past year has been a challenge for us as it's been for just about everyone in our industry," he said. "But this show was different because it was the first time that I felt like we were turning a corner. Every morning when doors opened, it felt like Christmas!"
A long with this good feeling, however, came a long list of concerns, not the least of which was operating under strict safety protocols. Complicating matters, Easterbrook's wife had recently given birth to a son, so he had to call in friend and fellow designer Eric Price as a backup for the two day event in case he was called away for an emergency.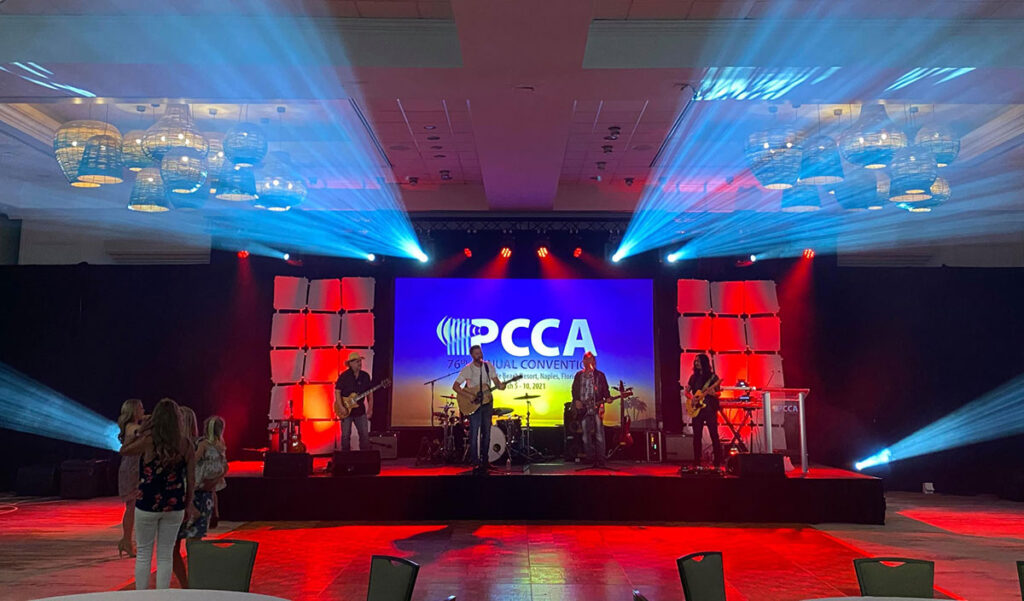 Meanwhile, he also had to deal with the possibility of having to make adjustments on site for a client who was new, not only to Hot House, but to the entire idea of using a professional AV service. Even with all of these considerations, he says that his MagicQ MQ80 helped provide a "smooth path" for his return to live events.
"Along with my business partner Jeremy Robertson and our crew Nathan Gifford, Brandon Scopel, Russel Lewis, and Tim Walters, the MQ80 was the key to making this event work," said Easterbrook. "I have been using ChamSys for four years now, and it's been making my life easier the whole time, especially at this event with all that was going on. The FX engine makes it incredibly fast and simple to dial in great looks without a ton of fuss. We programmed the entire show on site, so the ability to make changes quickly and smooth reassured our client."
Of particular importance to Easterbrook was his console intuitive graphical interface and it's adaptability. "I like the Plot window on the MQ80 and how it lets me focus fixtures graphically," he said. "With ChamSys, I can layout my show file the way I want from one event to another, depending on my needs. That came in very handy in this situation. Also, the big high res display was nice, since we busked the entire conference."
The user-friendliness of the MQ80 was driven home to Easterbrook when he gave his fellow LD Price a quick education on the console. "Eric is a longtime user of another brand of console, but he felt at home with the ChamSys very quickly," said Easterbrook. "Eric also normally works off cues, but when I showed him the intuitive busking set-up on the MQ80, he responded 'Let's do it!'"
This response, along with the positive reaction of his client to the smooth changes made on the console, reassured Easterbrook. "Dealing with COVID safety protocols, coming back after a long layoff and working for a new client and having a beautiful new son Griffyn made my plate very full," he said. "At times like this you appreciate your ChamSys. It's like a dependable friend."