Power defies size. CHAUVET Professional demonstrated that earlier this year with the introduction of the Maverick Force 2 Profile and Force 1 Spot. Although compact and lightweight, the two fixtures easily matched or exceeded much larger products in terms of output, brightness and performance features.
Now the company has taken the power-size ratio to an even finer point with the introduction of the Maverick Force S Profile and Maverick Force S Spot. Complementing their two larger Force series stable mates, the new ultra-compact fixtures are intended for smaller scale projects that, despite their size, call for CMY color consistency, advanced optics and other high-performance features.
"We have expanded our Force series so we can continue to address the needs of an evolving market as our industry emerges from the pandemic," said Albert Chauvet, CEO of Chauvet. "With their limited footprint, the new Force S fixtures are ideally suited for smaller projects with limited crew sizes. Yet, at the same time, they deliver outstanding, very professional-level performance in terms of output, color rendering, focus, and effects."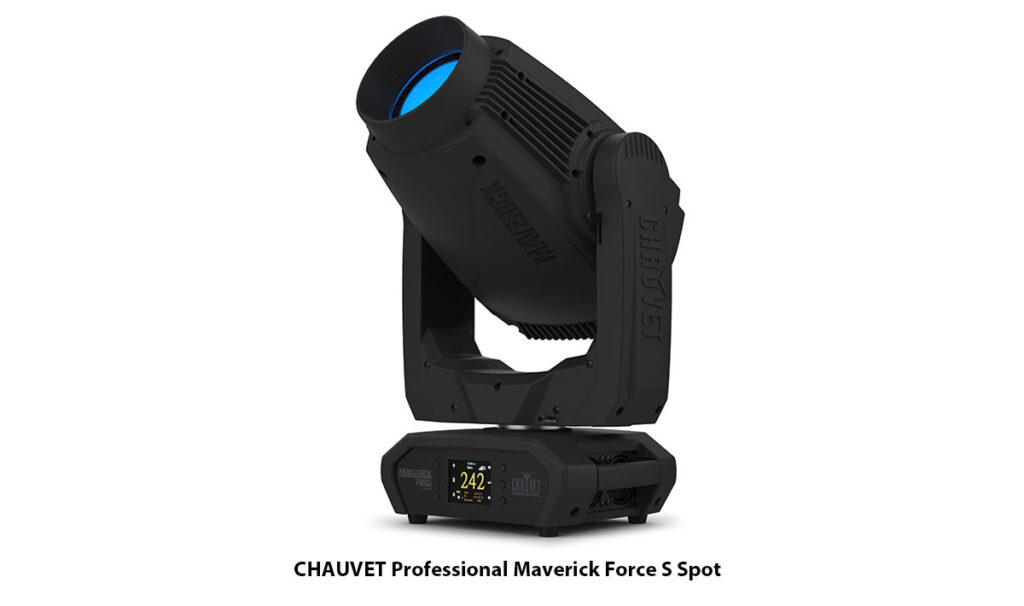 Given their compact design, Maverick Force S fixtures will improve efficiencies by taking up less space in warehouses and on trucks. Once on stage, however, the 14,000-watt spot and 14,669-watt profile will create an unforgettably powerful impression thanks to their intense output and vividly realistic colors.
Their array of features includes CTO color mixing, a 4.5ﹾ to 41.6ﹾ zoom for the profile (4.1ﹾ to 43.4ﹾ for the spot), 16-bit dimming, a five facet prism, and two gobo wheels (one rotating and one static). A variety of advanced control options are also available, including DMX, WDMX, sACN, Art-Net, pre-set synch, and RDM capability for remote accessing.
Like their larger counterparts, the Maverick Force S units operate discretely making them well-suited for smaller installations that place a premium on quietness, such as the livestream studios that have emerged during the pandemic. For an industry developing new opportunities like these, the Maverick Force S Profile and Maverick Force S Spot are little fixtures that can make a big difference.