When Germany-based Thomas Christmann saw Claypaky Xtylos at a Prolight + Sound expo in Frankfurt and marveled at how the beam "was cutting through everything," he knew he had to work with the fixture some day.
The Lighting Designer and Lighting Director for metal band Korn since 2015, Christmann, who's known as "Church," thought the 2020 tour planned for the band would be the perfect opportunity to use the first moving head light with a laser light source. "I'm not a big fan of beam lights and try not to use them for effects lighting," he says. "But I love the Xtylos beam, their color and speed and was eager to use them."
Then the coronavirus pandemic intervened and 2020 touring for all bands was cancelled. But as soon as Korn was booked to play two 2021 summer festival dates, Church put 20 Xtylos from OSA International, Inc. in the rig for Rock Fest Wisconsin and the Upheaval Festival in Michigan.
Now Korn has begun a 28-date US tour with Staind. The run kicked off in early August in West Palm Beach, Florida and will wrap at the end of September in Dallas. Church upped the ante and specified 36 Xtylos for the tour, also obtained from OSA. He mounted four each on top of a straight line of five upstage pods, which roll onto the set, and eight on each side of angled upstage trusses, which split over the drum riser.
"My lighting designs are pretty theatrical with cues and strong looks – I don't go crazy with a lot of positions," Church explains. "The Xtylos's beam light was very impressive when I saw it the first time, and I trust OSA's (Vice President, Lighting) Mark Fetto, whom I've worked with since I started doing Korn's tours. I love the look of the beam and how it works with colors. Other beam lights don't work well with colors, but with Xtylos even the red punches through. The strong looks Xtylos delivers, even with colors, makes the stage look even bigger than it is."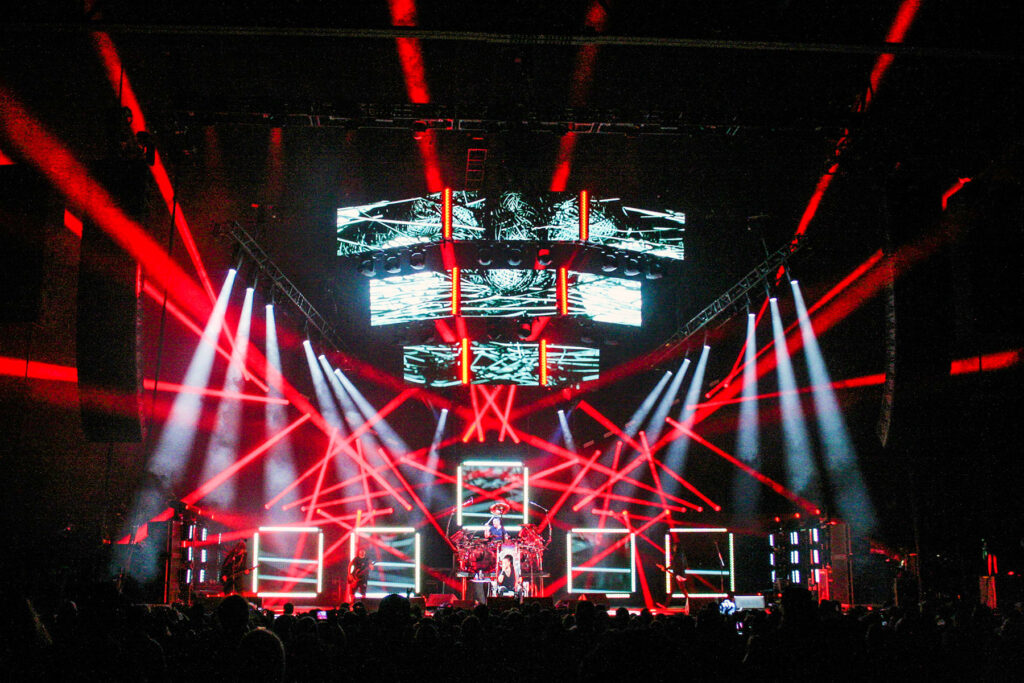 Church has not been able to leave Germany to join the US tour so he has not actually seen Xtylos in person. "I've never had my hands on them yet! I want to see them in real life so bad!" he exclaims. "I preprogrammed the festival dates in Germany and programmed this tour before handing the show over to tour Lighting Director Matt Mills."
Mills notes that, "at first, like a lot of LDs, I thought Xtylos was just a Sharpy with a laser for the lamp, but it is so much more. Using a typical beam fixture, there's no way I would even consider putting a gobo and two prisms in the beam path due to loss of intensity. That is certainly not a problem with the Xtylos.
"Korn is very dynamic: They go from hard in your face riffs to slow and subtle breakdowns," he explains. "When they're cranking I am usually doing some sort of aggressive effect with the Xtylos, kind of like what I would do with a Sharpy, but the colors out of the Xtylos really cut through everything, so I can make a red and white strobe look and actually be able to see the red. The band often ends songs with a long, drawn out guitar tone, and with that I will take the Xtylos and drop in a few prisms, put them in a deep congo blue and scan the crowd. It really is a great effect that would not read with a typical beam fixture."
Mills says he's having "so much fun" that he wonders if he's overusing them. "I usually like to build a show and hold some things back for later, but management really loved [the Xtylos] and kept pushing me to add them in more and more. Besides all the cool 'laser-type' looks I am able to get, there is a point in one song that really stands out. During the chorus of 'Cold,' I have 16 of the Xtylos doing an offset circle effect in red. The lighting and the video at that point are both very bright white, and the red still cuts through just fine. Pretty much after each show a few fellow lighting nerds ask, 'What the hell are those?'"
OSA's Mark Fetto, who supplied the entire lighting crew for the tour, says that Mills "has done a great job with the Xtylos. He's getting more out of them than I've seen anybody do, including some really neat effects."
Even though he's physically distanced from the Korn tour, Church is pleased with the new creative options that the Xtylos affords him and is ever hopeful of getting hands-on with them soon. "They are great fixtures," he says. "I want to use this kind of design for Korn's shows in October and their upcoming dates in Europe in 2022, so if that happens the Xtylos will be there."