British American Tobacco launched glo, a Tobacco Heating Product (THP) utilizing new tobacco heating technology, with a spectacular display in the sky over Hamburg, Germany's waterfront on September 19. Tasked with creating a drone light show as a guerrilla-marketing action by agency Inovisco Mobile Media, Jens Hillenkötter deployed 30 Claypaky Xtylos fixtures, the first moving head light with a laser light source, to light up the sky with a dynamic backdrop for an intricate drone ballet.
Hillenkötter, a well-known designer and creative director for international shows, is no stranger to big events. He's been involved in the ceremonies of the 2008 Summer Olympics in Beijing or the Summer Universiade in Kazan
The glo display, which ran parallel to Hamburg's salute to club culture known as Reeperbahnfestival, featured 150 drones equipped with LED lighting. They flew for eight minutes forming 16 animations and motifs, including the product logo, packaging and slogan's hashtag.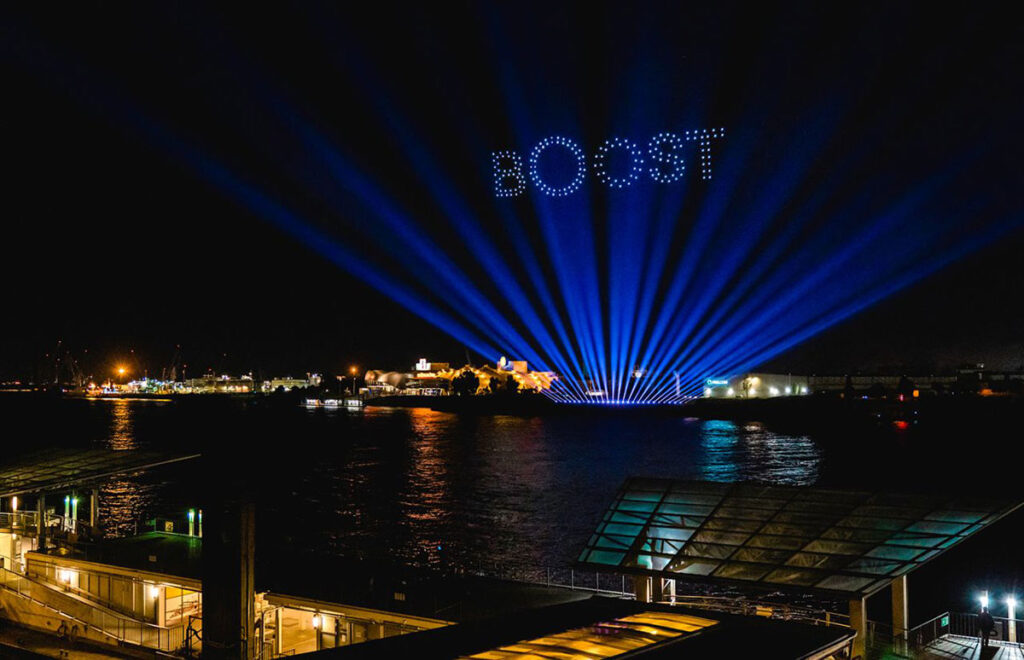 The lighting spectacular marked the first time that Hillenkötter used Claypaky Xtylos laser-source fixtures. "We had several shootouts with outdoor moving lights," he reports. "But none of the fixtures could deliver strong colors over long throw distances of 400 meters or more. I'm always keen to use new technologies, and laser fixtures are something I find very interesting. So I invited Jens Konstanti of Claypaky for a shootout with Xtylos. The Xtylos's colors over long distances are second to none compared to other moving lights."
Hillenkötter positioned the Xtylos in a line in front of the water from which they projected enormous color changing beams that served as a dynamic backdrop for the drone ballet.
The Xtylos "performed very well; they were quick and reliable," he says noting that he looks forward to using Xtylos IP fixtures for future lighting installations. He adds that, "the support was spot on from day one."
At Inovisco Mobile Media GmbH Patrick Oligschläger was the Project Manager. Massimo Bolandrina is Claypaky's Area Sales Manager. VisionTWO, the Claypaky distributor in Germany, provided support.
Photo: glo™/BAT