Like anyone who enters Tuacahn Amphitheatre for the first time, Cory Pattak was awed by the surroundings when he arrived there in 2017 to light a production of Newsies. Located at the mouth of Padre Canyon in southwestern Utah, with its towering sandstone cliffs dotted with sage brush and yuca trees, the setting offers a quintessential image of the American West in all its rugged, untamed beauty.
Along with this splendor, however, comes another side of nature: harsh, wildly fluctuating weather. "The theatre is subjected to every kind of environmental challenge, including rain, high wind, dust, 100-plus degree temps, and even snow this April," said Pattak, a New York based lighting designer. "The conventional pars and ellipsoidals here have taken a beating over the years.'
Since Pattak's first show at Tuacahn, the theatre has been working to upgrade its rig to include more outdoor rated fixtures. Last year, during the pandemic lockdown, it took a major step in this direction when its Production Manager Craig Engel, with assistance from Pattak, replaced its old incandescent units with 58 Ovation E-910FC IP fixtures from CHAUVET Professional.
Pattak is putting the new fixtures to good use this season, creating an engaging and evocative design for a production of Beauty and the Beast. Drawing on the Ovation units' RGBA-Lime LED engine, he is transforming the stage to support the magical mood of the musical with a wide range of deep, richly saturated colors.
Discussing the upgrade and his role in it, Pattak, who has designed at the venue every year since 2017, noted: "Aside from looking for an IP rated fixture, we were also looking to reduce the overall size of the conventional plot, as it takes days to focus the entire rig — all overnight of course. The large rig required a significant amount of dimmers and cabling, not to mention lamps and gel. I advised considering Ovation fixtures, because I had used them on previous shows and have always been pleased with them.
"My friend Rob Denton, who is the lighting supervisor at the Muny, had recently replaced many of their conventional lights with the new IP-rated Ovations. They had already gone through a full season with them, and reported back all positives," continued Pattak. "So, last season we got one of the fixtures out at Tuacahn for an onsite demo and were encouraged by the results. Fortunately, we were able to add them to the plot between the 2019 season and this season."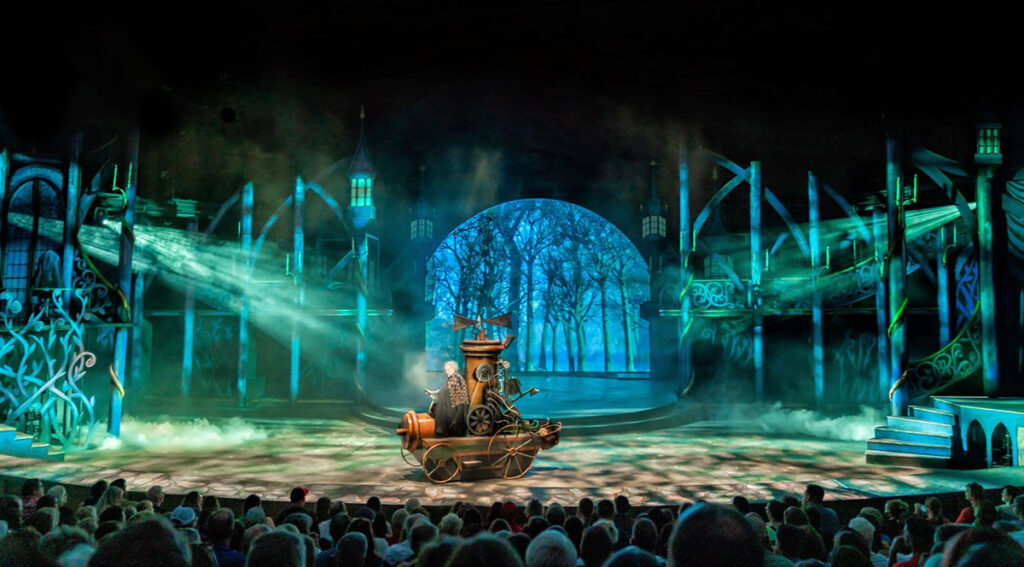 The Ovation E-910FC IP fixtures at Tuacahn today are positioned to work as three different systems of washes. Previously, the theatre had two front template washes in a warm and a cool color from its FOH towers. These have been combined into a single LED system. The high side template system had always been NC and cool. The latter has been replaced with the Ovation LED units. The theatre also had two different back template systems, which have now been combined into one LED backlight system.
Aside from their reliability and efficiency, the new Ovation ellipsoidals increase the flexibility of Tuacahn's lighting rig, making it better able to meet the theatre's diverse schedule of productions.
"Since there is one rep plot for multiple shows, any opportunity to add versatility to the rig is a plus," said Pattak. "We've previously had to pick fairly neutral gel colors that would work for all shows. However, with the added LED sources, the designers can now customize their color needs for each show.
"For instance, the first two shows of the season are Beauty and the Beast, which I lit, and Annie, lit by Aaron Porter," continue Pattak. "Just due to the nature of the shows, BATB calls for much deeper and more saturated colors than Annie, which has a more naturalistic approach. Being able to tune in our own palettes was a big advantage. In both cases, we are able to achieve better color washes than we ever could before.
"The ability to turn nearly 60 lights all the same color before you even have to touch a moving light is an amazing tool in our design toolbelt," continued Pattak. "Also very important to lighting designers at the theatre is the savings in time resulting from the installation of the new fixtures. In the past, when working with the larger rig of mainly conventionals, the crew would spend long hours at night dealing with maintenance issues that come from non-outdoor rated fixtures."
Freed from this task, they can now devote more time to working on creative issues, or perhaps take an extra moment or two to savor the beautiful natural setting that makes Tuacahn Amphitheatre so special.