A lot of lighting designers looked for ways to stay busy and productive during the pandemic lockdown. Daniel Thibault of Life is Art Studio found a number of means to do this; one was by lighting in-your-car-concerts at drive-in move theatres, the other was by helping the Lincoln Theatre develop a "covid safe" seating plan that could be implemented when restrictions on live shows were finally eased.
"The theatre wanted to figure out how to reopen responsibly for live music shows when the time came," said Thibault. "So during the pandemic, I spent time making an exact 3D model to scale of the stage and the building , so we could help figure out a safe seating chart.'
In the process, Thibault also figured out something else: how to get "the most lights possible" on the popular venue's relatively small 24-foot wide by 20-foot deep stage, while still leaving room for a band.
This New Year's Eve, the fruits of his labor were on full display, as the Lincoln Theatre in downtown Raleigh hosted a three night concert series by the six-piece alternative rock band BIG SOMETHING. Fans safely seated in the historic theatre felt like they were seeing a show on a much bigger stage, as Thibault rocked the house with an intense, fast-moving show that featured, big sweeps of split beams, sharp geometric patterns and deeply textured gobos.
Helping him accomplish this was a beefy, but compact rig anchored by 12 Rogue R2 Wash, 8 Rogue R2X Beam, and 8 Rogue R2 Spot fixtures from CHAUVET Professional.
"The fixtures allowed us to get big looks on a small stage," said Thibault. "Even though they're compact, they have high outputs, which is very important. On top of that, they're very versatile, which allows us to do more with fewer fixtures."
A key part of Thibault's design vision was to create a variety of split beam looks with his R2X Beam fixtures, which were positioned on the top and bottom rows of lights that he built along the back of the stage.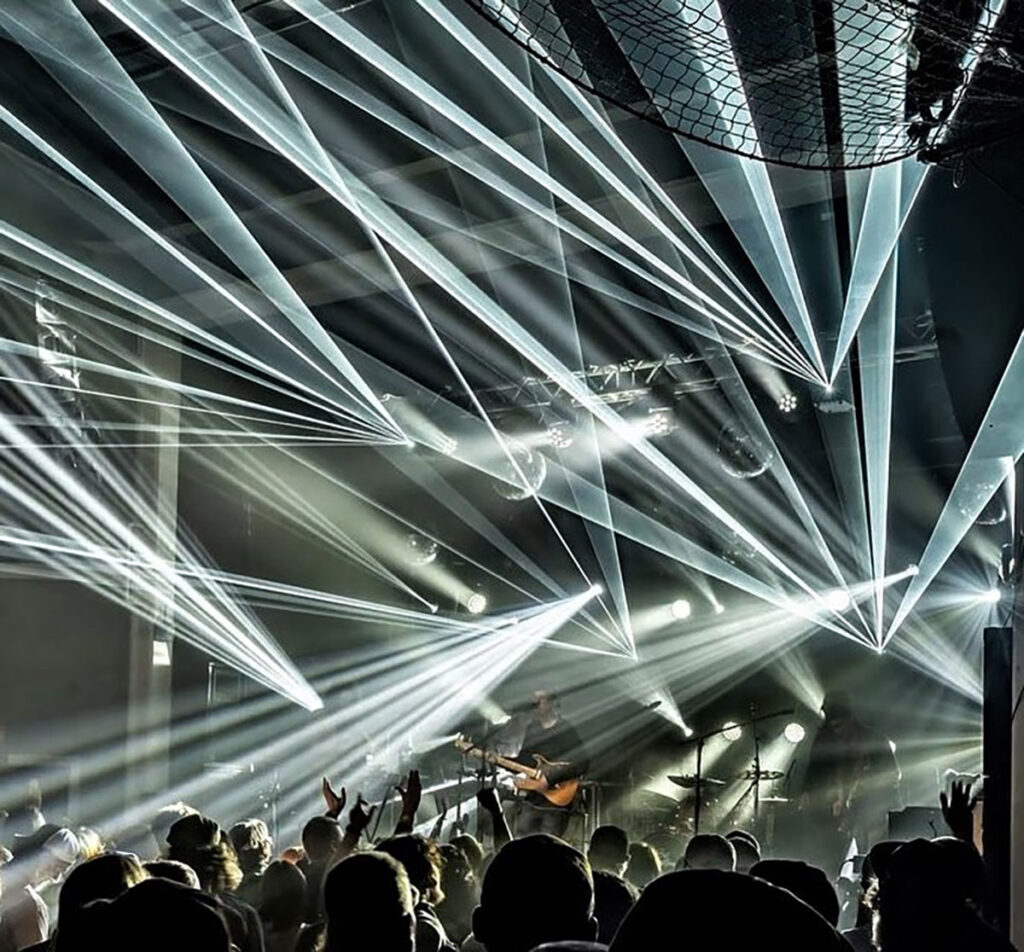 "I used the R2X Beam to frame our looks and to bring our light show off of the stage to reach out into the audience. Of course, the prisms in the R2X beam are killer. When you split them, they can make eight fixtures look much more substantial. The flat prism is great for huge fan effects, and when you stack them, it almost fakes a big gobo look from a profile fixture."
Positioned between the beams on the wall of light, were the Rogue R2 Spot and R2 Wash fixtures. Thibault used them to endow the stage with a wide palette of rich colors. "Most of my colors are inspired by the words of the songs," said Thibault. "The band's lyrics paint a picture of different scenes, underwater/beachy vibes, sunrises, sunsets, and deserts. Throughout the show, I try to pick colors you would see in these places so the band can take you on a journey."
Back when Thibault was mapping out the Lincoln Theatre seating chart during the lockdown, going to such faraway places was only a dream. Now it's a reality, so too is going to a live concert again. Fans who chose the latter option at the Lincoln Theatre this NYE were transported to those places by an engaging lighting show that far outstripped the size of the stage.
Photo: © bramblebrook.images and roanephotography