Miami-based creative studio, Darmah, broke boundaries during the 2020 Summer Olympic Games, when it went live with a full extended reality (xR) broadcast running a 4K workflow for TV Azteca Sports. The production, delivered by Darmah's full turnkey dXR Stage, was powered by two disguise vx 4 media servers and six rx II render nodes, running for 18 days for a total of 170 hours of live xR transmission.
"The goal was to push technical boundaries and take xR to the next level by creating a workflow that could truly go live to broadcast TV, with tools that productions could relate to and adapt to easily," says Rodrigo Proal, Darmah Founder and Director. "We took advantage of the new disguise rx II cluster rendering feature to deliver something unique and completely live."
To achieve this, Darmah moved its dXR Stage from Miami to Mexico City's TV Azteca and set up everything on site to work remotely between the two countries. The team had designed an entire virtual city, inspired by downtown Tokyo, in Unreal Engine, which included four set designs displayed for the daily broadcast of four main sports shows during the games.
The disguise xR workflow enabled the team to control the virtual world's sunlight to reflect the different times of day the shows were transmitted. disguise's latest rx II render nodes also allowed Darmah to change the virtual screens within the Unreal Engine set in real-time with perfect match and sync. These virtual screens ran live reports from correspondents in Tokyo, pre-produced video packages and publicity with branded moments within the shows.
"The realism of the talent being inside the virtual world and the blend between real and virtual was best achieved with xR," says Bianca Moncada, Creative Director and Partner at Darmah.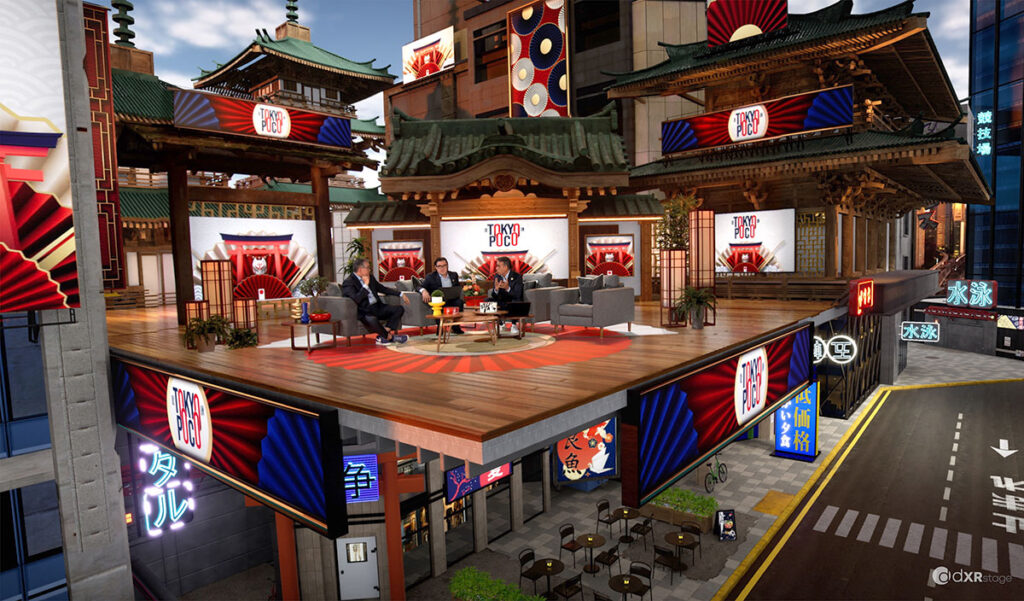 The workflow also enabled the team to run live multi-camera switching; take disguise's virtual zoom feature to new heights and achieve a full 360º view of the virtual world as well as real shadows, reflections and proper lighting for perfect depth of field. Being able to deliver front-plate elements in the virtual set truly enabled the sensation of realism in the foreground so presenters and talent could interact with the virtual, Tokyo-inspired scenes even though they were in a studio in Mexico City.
As disguise's first creative partner, Darmah worked closely with disguise developers to run tests prior to the Tokyo Olympics to ensure the success of this ambitious end-to-end live xR production throughout the duration of the games.
"Developing workflows for all areas from the creative to the tech and straight to production allowed something so technologically complex to be accessible, reliable and fully live," says Proal. "Darmah has a strong technological background that allows us to navigate the challenges of stepping forward with something that had never been done before. We trust disguise and work together to always find the best solutions to challenges that come with something that has never been done before."
Proal sees Darmah's use of disguise for live xR production for TV Azteca as "a game changer". Being able to combine the real world with the virtual world, blending the talent within the space and achieving this live opens up new possibilities for the networks, he claims. "The flexibility and space saving ability of sharing sets and changing out one space for various different sets will be the future for many productions to come".