AO Drones' highly agile, elite fleet of drones lit up the sky above Munich's Olympic Park in October to mark the launch of Deutsche Telekom's 5G network in the city.
The GPS-guided, 300-strong swarm of drones performed a meticulously programmed 10-minute night-sky performance, creating Deutsche Telekom's logos and messages in white and Telekom's brand colour, magenta for the video cameras below.
Tasked with creating the launch event, Düsseldorf-based event management company DO IT! brought in their regular production technology partner, AO Creative. They in turn called on their Dubai-based AO Drones team to deliver the state-of-the-art drone technology. Responsible for the overall production design was Jerry Appelt of JALD (Jerry Appelt Licht Design).
The AO Creative team, including show producer Marco Niedermeier, technical director Matthias Meyert, and project manager Tim Klopp, working within the strict procedures required during the COVID-19 pandemic, successfully realised Appelt's creative vision, including the illumination of the stadium itself and the carefully choreographed drone show.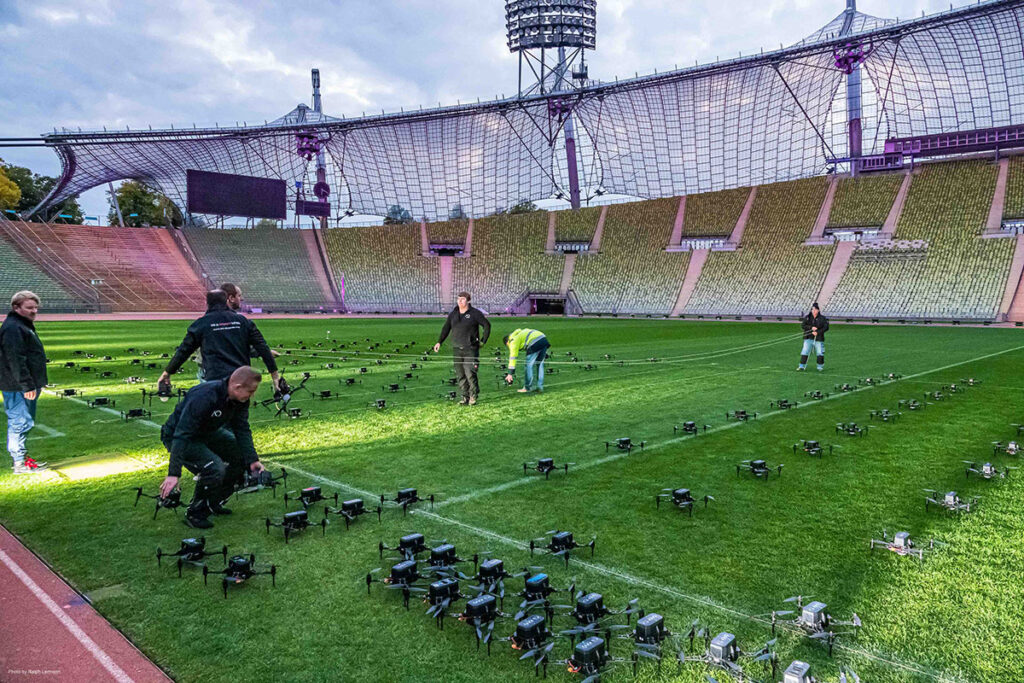 With just three weeks from go-ahead to show day, time was tight, explains Klopp. "But thanks to the great working relationship we have with DO IT!, it was extremely smooth. Achieving a project like this in such a relatively short time is only possible with a great client, and outstanding teamwork."
Key to the success of the project was the advanced, integrated hardware and software of the drone system. Developed in the USA by Verge Aero specifically to meet the requirements of live entertainment production, the system includes powerful programming and editing capabilities which allow last-minute changes and adjustments to be dealt with quickly, reliably and safely.
Marco Niedermeier of AO Creative says, "We have partnered many times with DO IT! on major projects, and we are very happy to work once again with this incredibly collaborative creative team, and to show what our drone fleet is capable of. And, of course, we are proud and delighted to have the opportunity to deliver a project of this calibre in such difficult times."
Photo: © Ralph Larmann