The Eurovision Song Contest 2021 is back on track following a one-year hiatus due to the Covid Pandemic. Heading up a brand new technical and production team is respected, Netherlands based, Erwin Rintjema, who takes on the much-coveted position as ESC's Head of Production.
An industry respected production manager, Rintjema was selected by ESC host broadcaster for his experience, knowledge, and proven ability to smoothly deliver international, large scale, televised events. He is supported by a carefully curated team comprising the most sought after Dutch technical production talent, as he explains: "Key members of the technical management team include Gijs Vos as Broadcast Manager and Stefan Hoohenkerk as Show Manager. In addition, several of our key Heads of Departments came from official technical supplier to Eurovision, Netherlands based, Sightline Productions. They include Marcel Vellekoop as CAD Manager; Christiaan van Oudenallen as Technical Producer for Other Halls (Delegation Bubble, Press Centre etc), Jaap Bouma as Operations Manager and Jeroen Veenman as Technical Producer, Main Hall + Contest.
Returning in May, the technically ambitious, 65th international Eurovision Song Contest will be broadcast globally from Rotterdam's Ahoy arena. "Eurovision is a unique event, both logistically and technically," states Rintjema. "I am proud to be taking on this iconic role on the show, which is a complex and multifaceted marathon that combines the challenges of both live and multi-camera television production. Thankfully my team brings unrivalled experience to every aspect of the show. As a collective, we represent the top professional event skills that the Dutch production community has to offer."
As with any complex production, the success of the Eurovision Song Contest is in the detailed planning and preparation of every element, while managing a plethora of production stakeholders including performers, producers, designers, suppliers and crew. Rintjema discusses: "Our role is to ensure that the design concept by set designer Florian Wieder, lighting design by Henk Jan van Beek, live audio by Jeroen ten Brinke and broadcast audio by Thijs Peters work seamlessly together from a creative, logistic and technical perspective. Every lighting cue, every scene change, every camera shot is meticulously planned and rehearsed during many weeks of production. By the time we get to broadcast week the team is a well-oiled machine that ensures every delegation's act has its special moment to shine on this world-famous stage."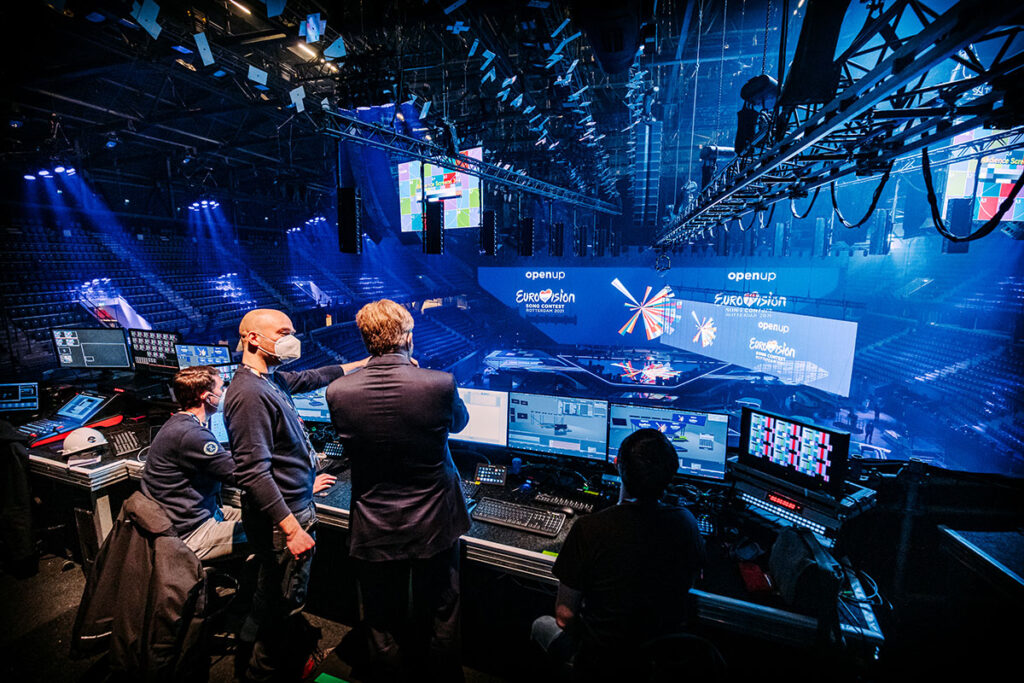 Not only that but Rintjema and his team's remit extends way beyond the walls of the main auditorium and into the surrounding halls of the Ahoy. Green rooms, press rooms, host booths etc. All demand a combination of broadcast technology, lighting, video, sound, set, communications, rigging, motion, special FX, power, infrastructure and more.
While it takes an experienced, well-co-ordinated and multi-skilled team to successfully meet the Eurovision brief in normal circumstances, in 2021 an extra layer of complexity came into play when the whole Rotterdam Ahoy site had to be kept Covid free. Rintjema explains: "To effectively run an event like this during a Covid pandemic demanded that we redesign many of our long-established workflows, traditions, and behaviours. We also have to plan for four possible scenarios from full-on production, with full size audiences right down to co-ordinating compact and remote productions, with audiences and delegations participating from each remote location. Naturally we consulted, in depth, with previous Eurovision production teams and they were hugely helpful. Nevertheless, there is no 'Production Bible' for Eurovision – this show is produced in a different country every year. Of course, this is also the reason it is so exciting to work on Eurovision."
The 65th Eurovision Song Contest, organised by the selected Dutch public broadcasting organisations NPO, NOS and AVROTROS, on behalf of the European Broadcasting Union EBU, will be broadcast live between the 18 and 22 May. As ever it is one of the most highly anticipated and watched live television events in the world, with an expected 180 million viewers.
Photo: © Nathan Reinds