Lighting designer Tristan Szylobryt of Light&Day recently lit a show broadcast on French TV by singer and musician Tony Chasseur, who brought a diverse line-up of special guests, some unique collaborations, and his own distinctive blend of Latin and Caribbean jazz-funk to the Alhambra Theatre in Paris. Working for Zycopolis Productions, Tristan multiplexed as LD, lighting programmer and DoP for the show which also had to get in and out of the venue the same day, so time was tight, and the pressure was on as he chose to work with grandMA3 hardware and software for lighting control.
The goal was to produce an intimate looking and atmospheric concert, a bit like a jazz club, despite there being no audience due to Covid regulations, so it was down to clever lighting and camerawork to ensure that the team, including director Miguel Octave, made this happen.
A lot of lights were loaded into the cosy 600 capacity Alhambra – a combination of the latest LED moving light technology and some classic 'bulb' fixtures like Jarags and vintage fresnels and other pendants – specifically chosen for their retro look. A total of 37 moving lights were joined by around 35 other intelligent fixtures, more than 50 conventional spotlights plus an array of hanging 'filament' LED bulbs.
The set comprised of 20 songs by well-known artists – from Charles Aznavour to Marvin Gaye and Bob Marley – all reimagined in Chasseur's distinctive style, and the lighting was a classy collage of tungsten and LED looks keeping the focus firmly on Chasseur and the musicians.
Tristan used his own grandMA3 light console for the show, plus a grandMA3 compact XT in backup session.
He has three grandMA3 consoles, this light plus the grandMA3 compact XT and a grandMA3 onPC command wing. He is an avid fan of the MA system and its operating architecture and his alliance with the brand dates to the late 1990's Scan Commander era and the early 2000s, which was when he started working on the first generation of grandMA consoles. He has also been working with the power and flexibility of grandMA3 since its launch, and all his shows are now created using MA Lighting's latest technology.
Utilising grandMA3 brought many advantages enthused Tristan, the first major one being the integration of grandMA 3D, the brand's popular 3D visualization software, into the console, which allowed him to check directly that everything was correct during pre-programming.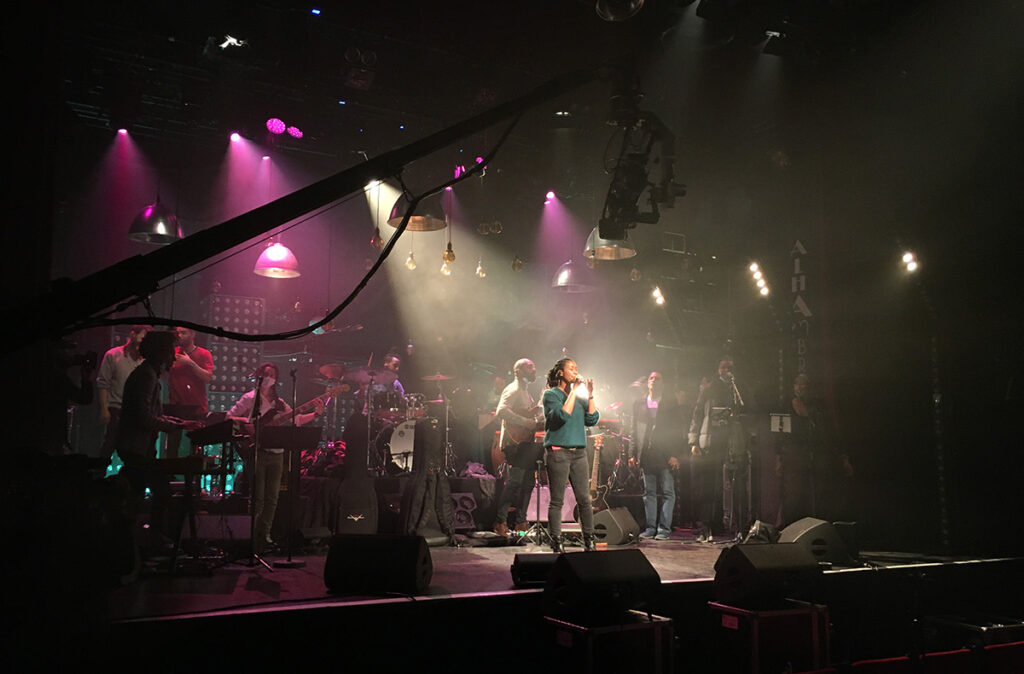 The Grouping tool was very handy, and with special fixtures like the Jarags on the rig, he found it very easy to use these in conjunction with the new Matrix and Selection Grid features of the grandMA3, creating Phaser effects quickly and simply. The new extended PresetAll pool and Recast functions saved considerable time generally in Tristan's programming. "There are certain basic functions like choosing fixtures and filtering their features that can be accessed immediately on the grandMA3, enabling you to work fast and efficiently."
The Tony Chasseur gig didn't feature lots of visible moving lights cues, and while Tristan did create some effects for camera, they were mainly subtle, and he used the Executors frequently for parameters like Group Master intensity or Speed Knot. He also appreciated being able to tweak elements like Timings rapidly and on-the-fly.
Recipes is a new way of programming on the grandMA3 which is nimble as you do not need to deal with values directly, effects can be applied to groups and cues, and this was another feature he used enthusiastically. He noted that Recipes will work extremely well on larger shows, those with spectacular movement cues and productions with more generous technical time schedules when it's possible to keep trying different looks and updating. "Overall, the grandMA3 is very good, I enjoy it and I am very focused on using the platform for all my work," he concluded.
Tristan is based in Paris and designs lighting, visuals and set / scenics for live music shows, corporate events and television plus some films, advertising, and promotional / commercial projects.
He was delighted to be working on a 'real' show in a proper venue, which has been rare during the pandemic period that has seen huge sections of the live entertainment industry temporarily forced to close.
Lighting equipment was supplied by Lampion Mécanique in conjunction with Robe Lighting France and En Attendant. Axente is MA Lighting's French distributor.
Photo: © Patrick Savey