Finland's biggest music competition, Uuden Musiikin Kilpailu (New Music Contest), is an annual event in which Finland's representative for the Eurovision Song Contest is selected in a live broadcast by Finnish television viewers and an international UMK jury. This year's Finals on 20 February marked the show's 10th anniversary. The evening was broadcast live in four languages from Mediapolis TV studios in Tampere and televised on Yle TV1 to an audience of 1.7 million viewers, breaking all records.
Lighting designer, Pekka Martti of Aku's Factory, turned to MDG haze generators to breathe life into his beautiful lighting design, using its pure white haze to show off a range of stunning visuals that created a different look and mood for each of the seven contestants.
With the help of MDG's Finnish distributor, MSONIC Oy, Martti selected an MDG ATMe haze generator and an MDG theONE™ dual haze and fog generator for this important, spectacular event. "I wanted a haze machine that I knew would make the beams of light look good on camera," explains Martti, "and, for TV shows, MDG – which I have been using since 2006 – is a must. I love the haze quality I get from them in television and live shows. The haze is white so does not discolour the light beams, or make them appear brownish like some other machines do."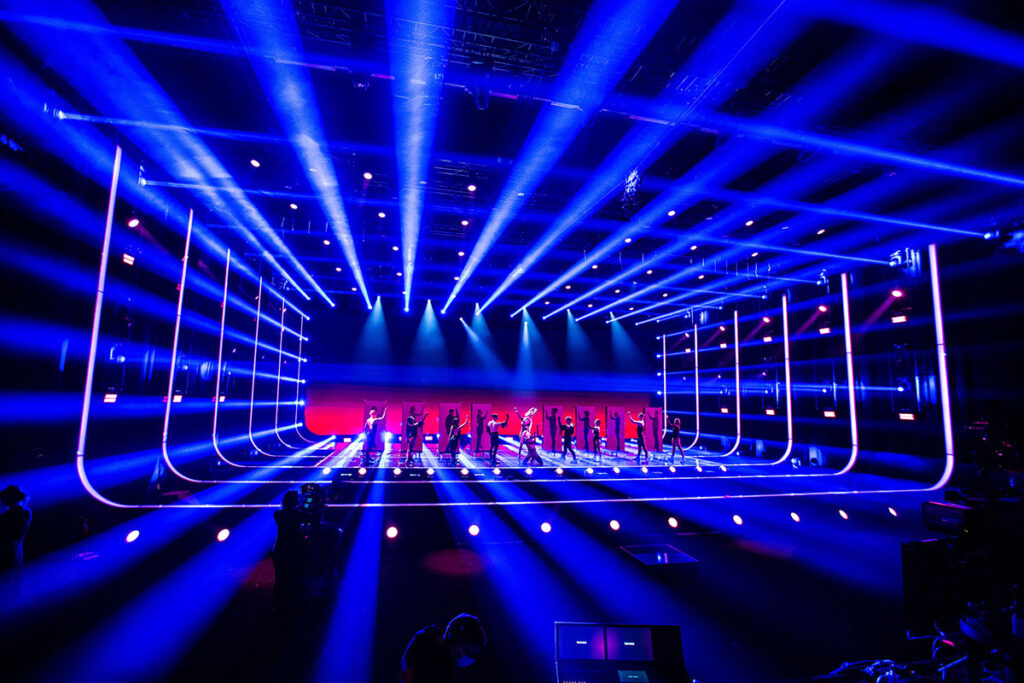 Martti positioned theONE™ atmospheric (dual fog and haze) generator, set in haze mode, on stage behind the upstage curtain, and placed the ATMe haze machine in the auditorium (there was no live audience due to Covid restrictions). "This way we were able to show the beams to best advantage across the whole venue," he says. "I think the biggest advantage of MDG haze is the quality: not only is it white, it produces an even haze with no big clouds so we could have a smooth canvas to work on."
Because the UMK21 Finals was a live broadcast, Martti also needed to be totally confident of the reliability of the haze generators. "I've worked on festivals for 15 years, and I always want MDG," he states. "I've had 15-year old MDG MAX5000 fog machines and those are still rocking! So I would say that MDG is most reliable machine available – and yes I would use them again!"
The UMK Final was hosted by Antti Tuisku, Finland's biggest pop star, and the winners were Blind Channel, with their song Dark Side, who went on to represent Finland at the Eurovision Song Contest in Rotterdam in May.
theONE™ and the ATMe generators were supplied to Aku's Factory by MDG's Finnish distributor, MSONIC Oy.
Photo: © Miika Varila