Last January 30th and 31st, the people here gathered, as they have every year since the start of the first millennial, to celebrate the life of their patron saint. The streets of this ancient town were lined, as they always have been on this occasion, with artisans showcasing their world-famous Valdôtain artwork. The fragrance of crespelle alla Valdostana and other local delicacies wafted in the air, along with a robust mix of traditional and contemporary music.
It was one of the last such moments, the people of the Aosta Valley would enjoy, before the arrival of the COVID-19 pandemic that waited just around the corner. Public gatherings were still prohibited this January when the time came for La Fiore de Sant' Orso, but the townspeople were still able to enjoy this tradition virtually, as Fumasoli Audio and Lights Rental worked with local officials to create a livestream version of the two-day event.
Produced at the improvised warehouse studio, created by Fumasoli early in the pandemic, and broadcast on television, the livestream served up a rich variety of music and conversations that captured much of the tradition and community spirit of the annual event.
Contributing to the engaging atmosphere of the broadcast was a warm and immersive Patrick Iavarone lighting design that featured 28 CHAUVET Professional Maverick fixtures from Fumasoli's own inventory.
Iavarone flew six Maverick MK2 Wash fixtures on upstage truss, using them as front washes and arranged 14 in stage left and stage right positions to accentuate the colorful scenic props and backgrounds on stage while also giving it a greater sense of depth.
"Given the nature of the festival, we wanted to have everything looking colorful, bright and inviting," he said. "Our looks had to come off well on camera for people to feel they were experiencing the Fiore Sant' Orso."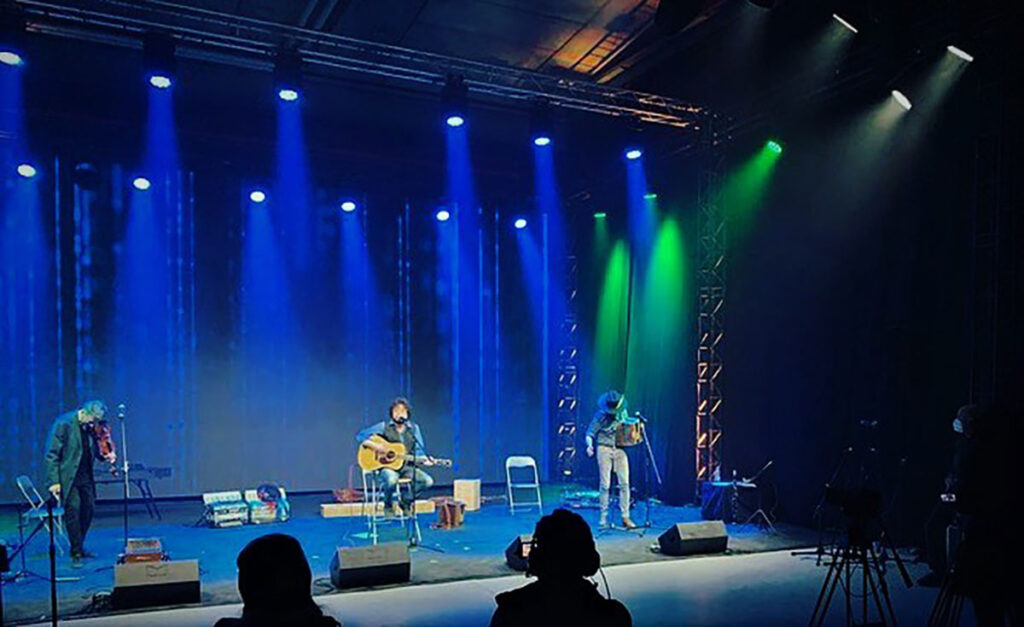 Highlighting performers during solos and adding richly woven texture to the stage were eight Maverick MK2 Spot fixtures, which were arranged evenly between stage left and stage right positions. Working hand-in-hand with the lighting design were the images create by Alessandro Picot on the sets LED walls, the impeccable audio by Marco Zaffoto and project management by Enrico Fumasoli.
Color from the lighting and video wall played a pivotal role in the design of the livestream Using dark, relaxing washes from the Maverick units, punctuated with gobo patterns from the spot fixtures and video images, the Fumasoli team recreated the spirit of veillà, an age-old tradition that has people remaining awake through the night together to tell some of the stories that echo through this magical valley.
There was, of course, no opportunity for people to share those stories in person with their neighbors this year, but through this enchanting livestream, they could connect to a tradition that has withstood the test of time and will unite them in person again.