LD Aldo Fayard displays technical dynamism for top audience-free broadcast event.
Production designer Frédéric 'Aldo' Fayard (of Concept K) deployed FUSION by GLP FS20 Sticks for the first time—and to great effect—when lighting the recent ISL (International Swimming League) event in Budapest, Hungary.
Born from the initiative of Ukrainian businessman Konstantin Grigorishin, the event features 10 teams of 28 swimmers, who take part in a knockout competition, culminating in two semi-finals and a final. Held inside a sanitary bubble, the audience-free occasion was one of the biggest sporting events in the world this year and was broadcast on CBS in the US and BeIN Sport among others.
From a lighting perspective, Fayard had to ensure this high-profile international competition, where several world records were broken, still retained its entertainment value in the absence of an audience.
The LD founded Concept K 23 years ago, mainly for touring and classical events. With up to 15 designers and programmers working for it over the years it has become a forerunner in its field in France.
He joined forces with Antoine D'Halluin, projects director at PRG, on the set and scenographic design, as the event's production team sought their expertise. The two men have been frequent collaborators over the years and Fayard remarked that "for this type of project there is no precedent, so everything had to be invented. The fact that there was zero audience added difficulty to the equation, as did meeting the strict requirements of broadcast, an omnipresent Augmented Reality, and of course all the requirements linked to the obligations of a world-class competition."
The set design thus included lighting, photo direction, video, and the LED screen integration design, as well as the studio for the English-speaking commentators and the entire complement of technical and sports equipment. "It was a complex challenge," he admitted.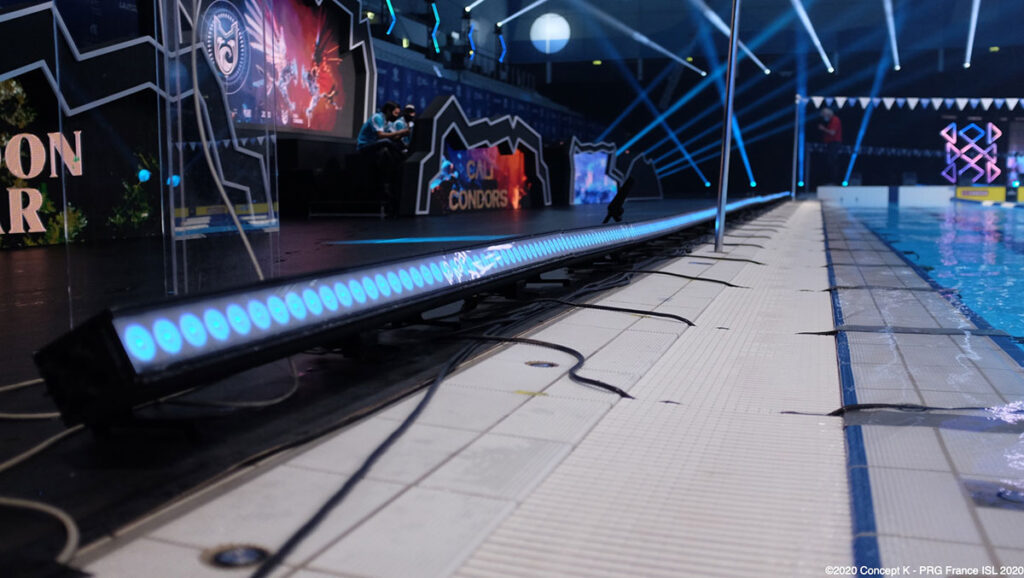 One product that quickly came to his aid was GLP's IP65-rated FUSION FS20. Aside from its all-weather deployment, addition of beam angle filters and various diffuser plates presents the designer with many creative options, while for broadcast, a fanless design enables silent operation—perfect for television.
Fayard had been introduced to this by Antoine D'Halluin. "He suggested this solution and I must say that I was immediately seduced. For some time now GLP has been producing interesting tools—the JDC1, of course—but now the KNV, which is a very innovative and atypical product."
The designer could immediately see why the FS20 would present such an attractive option. "I was looking for a powerful, discreet, aesthetically pleasing and IP65-rated source—I suppose hoping for the impossible!
"But the FS20 ticked all the boxes and stood out from all the other solutions considered for several reasons. In addition to its IP65 rating, the FS20, with its 20 lamps per metre, offers a unique concentration of light. This sensation is reinforced by the possibility to attach the bars together, which allowed us to create a real continuous horizontal lighting thread at the edge of the pool while outputting considerable power.
"We opted for the widest optic (60°), which was not yet available from any other service provider. It is in this kind of situation that I, as a lighting designer, enjoy working with PRG. They did not hesitate and immediately invested in the 60° optics required.
"Furthermore, the FS20 is very discreet, and physically attractive as it disappears behind the light it provides. It was the ideal tool for emphasising the image and meeting the constraints of very tight planning."
Implementation had been simple and efficient, he confirmed. In terms of the design the 25m long pool had to be lit on both sides and so they installed 24 FS20 horizontally around 20cm from the pool overflow (leaving one gap each side for the swimmers' access). "The fact that they could all be physically linked created the desired effect," he explained. "The whole thing was oriented at about 20° upwards and gave the result that I was expecting from the camera, whether it was a tight shot or a wide shot."
This approach enabled the FUSION FS20 to fulfil multiple roles: a rhythmic marking on the intro of the show via the time code, the finishes of each race, and finally as a background and decoration in all the camera shots.
In terms of programming, Fayard opted for full 92-channel Pixel mode. "When you're working on a project that's going to stay in place for a month and a half, you want to push it to its limits. We absolutely needed to use the LEDs individually, i.e. to create effects as if we had a single bar of 240 LEDs. But I also wanted to have access to the strobe function for all the bars, and to be able to create bar-by-bar effects for some more dynamic moments, such as the celebration of world records; which is why we needed the 92-channel mode.
"In this mode, and with 48 sources, you need to be fully organised. But it honestly went very well, and the product datasheet is well thought out."
In addition, he used GLP's impression X4 L in a dual role: to provide general counterpart for the main entrance for all swimmers and also to generate effects on race arrivals and after advertising breaks. Needing efficient and affordable sources in quantities, Fayard placed two lines of X4 L; the first with 20 fixtures and the second with 16. A further three X4 L were also used backstage.
The designer also specified nine X4 Bar 20, explaining: "I was looking for a decorative product that would also be an effective counterpart to the studio dedicated to English-speaking commentators; the tilt and moving focus allowed me to fine-tune the complex settings to the best of my ability."
Summing up, Fayard was generous in his praise for the FS20. "It is without equivalent in the market," he said. "To have 20 LEDs in just one metre is a real asset. But not content with this advantage, GLP has been clever enough to make a connection between the bars. This was key in enabling me to create a perfect horizontality in the image. I had two 24-metre long LED bars, with 240 LEDs at my fingertips, and this gave me lots of ideas for other designs.
"The mechanical and inherent flexibility of a product such as this creates a real plus for a designer, as it multiplies his design capabilities tenfold."
Photo: © Set & Lighting Design PRG & Concept K for ISL 2020