Ghost Train Brewing Company is long on atmosphere with its spacious, breezy laid back décor, a beer list that stretches out for miles, and frothy house-made beverage like its Kettle Sour and Gulf Coast IPA that are so tasty they're even sold at national chains. But if there's one thing that the iconic brewery/live music venue isn't very big on, it's the performance stage.
Although it plays host to selected recording artists and regional favorites, Ghost Train's stage is a relatively small 12-feet by 24- feet. Not that anyone who turned out to see southern rock stalwarts Divin' N Cryin' recently would have noticed. Gabble Larramore saw to that by expanding the boundaries of the performance area with help from a CHAUVET Professional rig supplied by Kauffman Sound.
Key to helping Larramore enlarge the band's stage presence were the eight Rogue R1 FX-B fixtures in his rig. With their five independently controlled RGBW moving heads and infinite pan and tilt movements, the linear units allowed him to create a broad cavalcade of specials spread out in every direction.
Running the show on his ChamSys MagicQ MQ80 console, Larramore created dramatic color changes and intense dynamic chase sequences on the FX-B fixtures to conjure up looks that reflected the full power of this Georgia Music Hall of Fame band's fierce blend of southern rock music.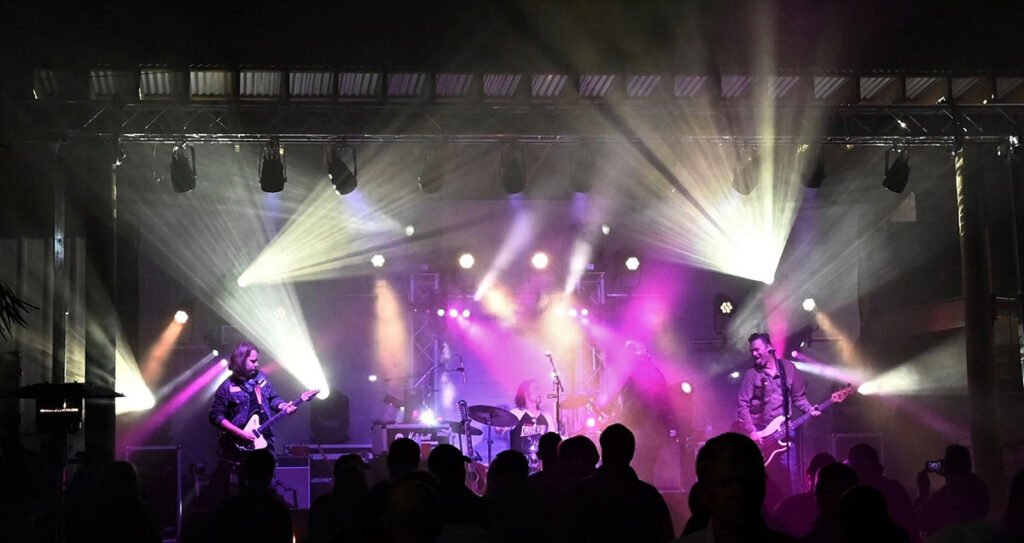 "We were tight on space, especially given the nature of this band, but the FX-Bs saved the day," said Larramore. "I was able to mount two FX-Bs vertically on the front of an 8-foot stick of truss very easily, giving me various heights to work from. I love using these fixtures in the extended 52 channel mode; it allows me to get some really fun fanned-shaped patterns. It also provides me greater flexibility in using dimming and color effects."
The Rogue FX-B fixtures were only part of the recipe Larramore used to widen his vista. His rented rig also included eight Maverick MK1 Spot fixtures as well as a collection of COLORado 1 Quad Zoom units.
"Adding depth to such a small stage was tricky," he said. "The versatility of the FX-Bs helped in this respect. Another way we were able to overcome the lack of depth was by fanning our pars at different pan and tilt angles. The zoom of the COLORados was really helpful. This created different perspectives for the audience."
As for the Maverick MK1 Spot fixtures, Larramore describes them as "the workhorses of the rig." He used the 350-watt fixture to add to the rock and roll looks by creating aerial effects, crossing patterns, and crisp gobos to his show.
"We gave the room a concert vibe even with the small stage," said Larramore. "The fixtures played a big part in that, so did our production crew: Tom Jackson, Joel Kauffman, and Jacob Watson."
As a result of this efforts fans got to enjoy a full throttle southern rock show at the Ghost Train Brewing Company along with some of the best beer in Alabama.