There is no sugar coating it. An unapologetic, brutal intensity tears its way through the music of sludge icons Fister, exhilarating fans bold enough to brace themselves for the wild ride. Reflecting the hardcore essence of this menacing metallic sound in light requires pushing beyond brightness and color, believes Gerry Dintelman, and coming up with ways to pierce through common perceptions with sharp, aggressive angles, unsettling silhouettes and dark shadows.
Dintelman got the chance to put this precept into practice on January 24 when he designed a show for Fister's 90-minute "Video Death" livestream at the Arch City Audio Visual Services studio. Working with a rig that featured over 50 CHAUVET Professional fixtures, plus 104 PVP S5 LED video panels, he took viewers on a visual journey that wove its way seamlessly through his client's heavy, often abrasive rhythms.
"We wanted the rig to look as aggressive as Fister's sound is, so the whole design revolved around the idea of sharp angles, tons of back light, and intense visuals," said Dintelman. "I definitely needed all the firepower I could get to convey the spirit of the music."
Central to Dintelman's design was a V-shaped truss configuration that converged on the drum stand. Made with four sticks of 8-foot truss slanted at a 45-degree angle, each holding 11 Rogue R2 Wash fixtures and 10 PVP S5 panels, the structure projected a potent visual exclamation throughout the video.
"The V-shaped element was a clear reference point that centered the look on stage," said Dintelman. "We liked how it pulled eyeballs into the center of the stage, especially since this was being streamed– and in many cases — watched on small screens. I have to thank Kevin Kwater, who ran our video wall content and Chris Keith for this V-shaped truss idea."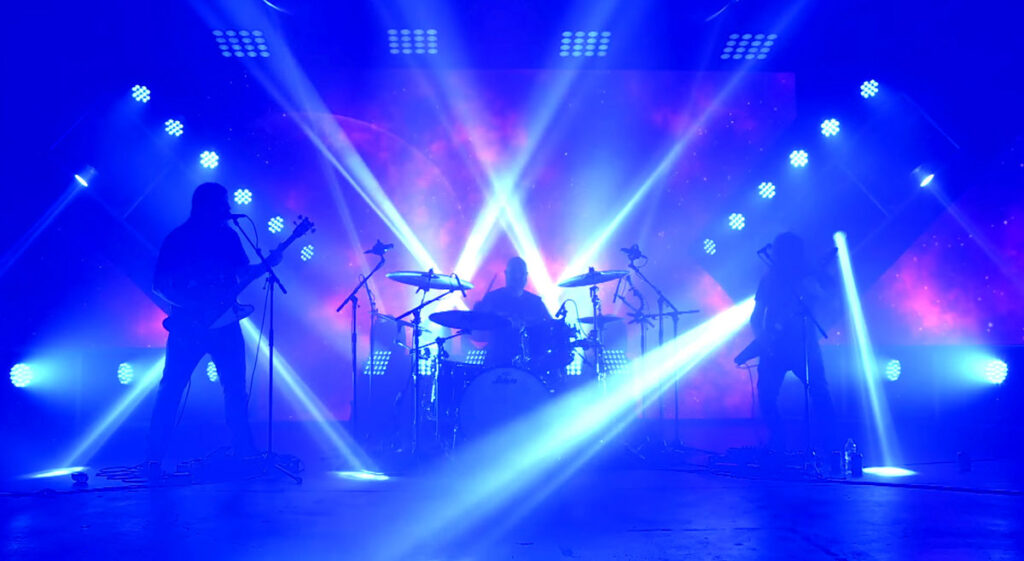 Positioned in the middle of the V-shaped truss structure was a massive video wall that measured 12′ wide by 9 feet tall. Working in coordination with other video panels spread across the backstage as well as those on the truss structure itself, the wall was used to create a tidal wave of aggressive images in support of the band.
Balanced with the V-shaped structure and video displays were six NEXT NXT-1 moving heads upstage behind the drummer and below the beams, 12 Nexus 4×4 panels, and 12 Rogue R2 Beams: three angled in the truss of each wing, six positioned upstage behind the drummer, and five down stage for front light. Dintelman varied looks throughout the video by changing directions of the beams, sending them straight out from the stage one moment, using them for aerial the next, and then having them create crossing patterns.
The three band members, mostly were out of direct light from the beams or any of the other fixtures, playing in shadows to add to the mood of the video in Dintelman's carefully programmed show. "Typically, I would busk shows, because I feel like that's my strong suit, but I've been using this time during the pandemic to push my cue-to-cue work," he said. "There were some flash buttons to play with on each page, but it was mostly a single cue stack for each song. I think it came out to about 1400 cues, and tons of cue linking.
"My big challenge was in programming all the songs," continued Dintelman. "The songs are long form, the time signatures get weird, and since there's so much space between the notes, they demand a certain level impact, so I was really trying to be as punctual as possible. Working with Fister, you appreciate their talent and the complexity of their music."
When the livestream was complete, Dintelman turned to one of his colleagues and said, "this was like learning classical music, but in metal." It was an apt comparison. Like many of the most memorable orchestral works, the sound of Fister was deep and brooding. This endowed it with an unmistakable power to move audiences, especially when it was joined with a lightshow that matched its raw intensity.