Flo Erdmann and Julian Siewertsen design the supporting production for the live stream with the versatile LED hybrid effect.
The German Sustainability Prize (Nachhaltigkeitspreis) has been awarded by the Nachhaltigkeitspreis Foundation for the past 13 years, in cooperation with the country's Federal Government and several public and civil society institutions. Outstanding sustainability achievements in business, municipalities, and research are awarded in several categories. On 3 & 4 December 2020, the prizes were presented at the Maritim Hotel in Düsseldorf.
There were two premieres this year: on the one hand, the award in the 'Design' category was presented for the first time, and on the other hand, the award ceremony itself (and accompanying congress) were extensively streamed live due to the pandemic. A large number of award winners were connected live, as were most of the speakers. There were also a few guests who formed part of the supporting programme.
Twelve of the new GLP JDC Line ensured that plenty of lighting dynamic and wow effects were present in the camera image.
BTL Veranstaltungsstechnik GmbH from Düsseldorf was responsible for the event technology, streaming and recording. Flo Erdmann took control of the lighting design on behalf of BTL, and was entrusted with implementation on site, together with BTL's technical director of lighting, Julian Siewertsen.
The set consisted of a soft-edge tandem projection, which was divided into asymmetric areas in shape, and varied in height. The approximately 30 chairs in the ballroom of the hotel were framed by illuminated recesses and rounded off the overall scene.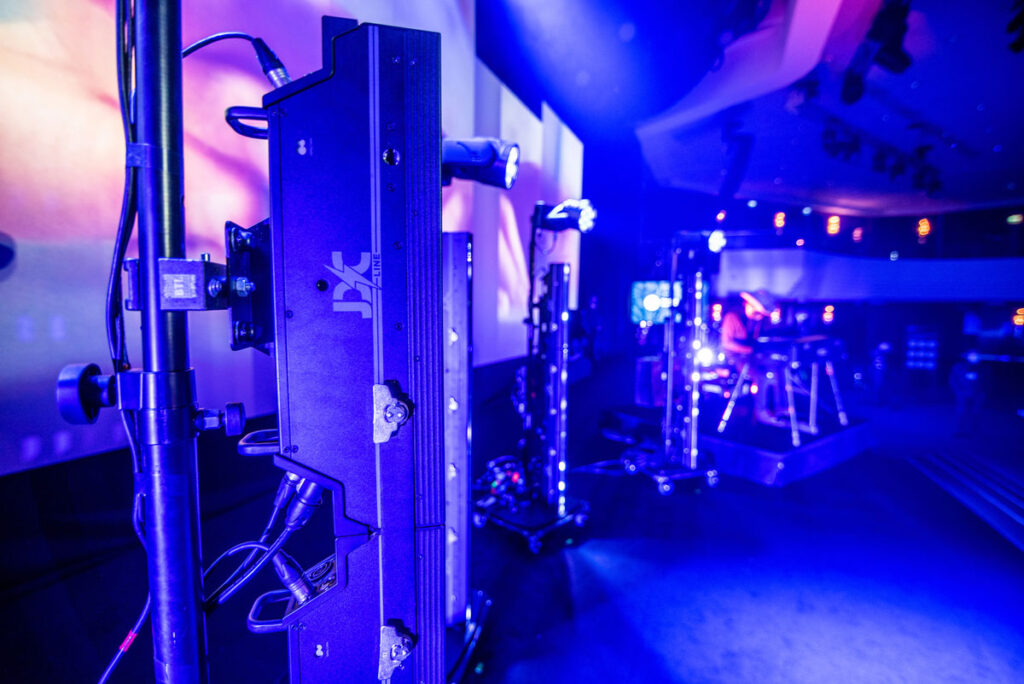 As far as the technical implementation of the event was concerned, the focus was clearly on the requirements of broadcasting for the live stream. "In order to do this, we worked closely with the camera technology and the direction in advance," said Erdmann. "The matter of sustainability was also, of course, decisive in the choice of lighting fixture. We spoke with Andreas Brandt from GLP and he helped us secure 12 pieces of the new JDC Line 500 for the show."
The JDC Line is the new hybrid highlight from GLP. It combines a powerful white light LED strobe with two particularly intense LED pixel mapping lines. The special feature of the JDC Line is the possibility to line up several devices almost seamlessly in order to create continuous lines of light.
The devices were installed vertically on four mobile stands, each supporting three of the fixtures. "They were used to enhance the performances of the artists, Milky Chance and Joy Denalane—to provide an optical framework on the stage and create varied images as camera cover," explaied Julian Siewertsen.
Summarising the advantages of the JDC Line, Erdmann stated: "It is a great addition to the rest of the GLP portfolio. I really enjoy working with GLP products because they are real workhorses and are built to be sustainable and robust. The JDC Line offers me a completely new look that is both filigree and distinctive at the same time… wafer-thin lines of light, combined with the brutal brightness of the cold white LED, result in a great symbiosis! "
Photo: © Christian Koester, Julian Siewertsen, Dariusz Misztal