Remote control facility for colour temperature and intensity provides further flexibility.
Responding to the current trend for streaming and videoconferencing, necessitated by the coronavirus pandemic and social lockdown, GLP has designed Streamer. This is a small, versatile LED light source whose sole purpose is to present hosts, interviewees and collaborators in professional, studio-type lighting with the ability to be fully remote controlled by a lighting designer, if required.
UL-listed, the spec includes flicker-free high intensity output, with a colour temperature range of 1900-5600K, provided by three different colour sets of LED's.
A 'prosumer' product developed by GLP's North American operation, it is tailored to both the professional and general consumer markets.
GLP Inc president, Mark Ravenhill, commented that their new solution is both easy to use and transport thanks to the robust yet compact case, that at just 6 inches long easily fits into a laptop bag. "Streamer plugs directly into a standard USB-C socket on any computer, no batteries or bulky power adapters are required," he explains.
A range of inbuilt colour temperature presets can be accessed directly from the onboard buttons, which also give instant intensity control. These presets can also be easily modified by the user within the desktop app, available on both Mac and PC.
Fast and easy to use anywhere, Streamer has an aluminium outer shell, designed to survive the rigors of a road warrior. "Whether you find yourself in a badly lit hotel room, an overcast airport terminal or just at your home office, you can make sure that you will always look your best," Ravenhill continues.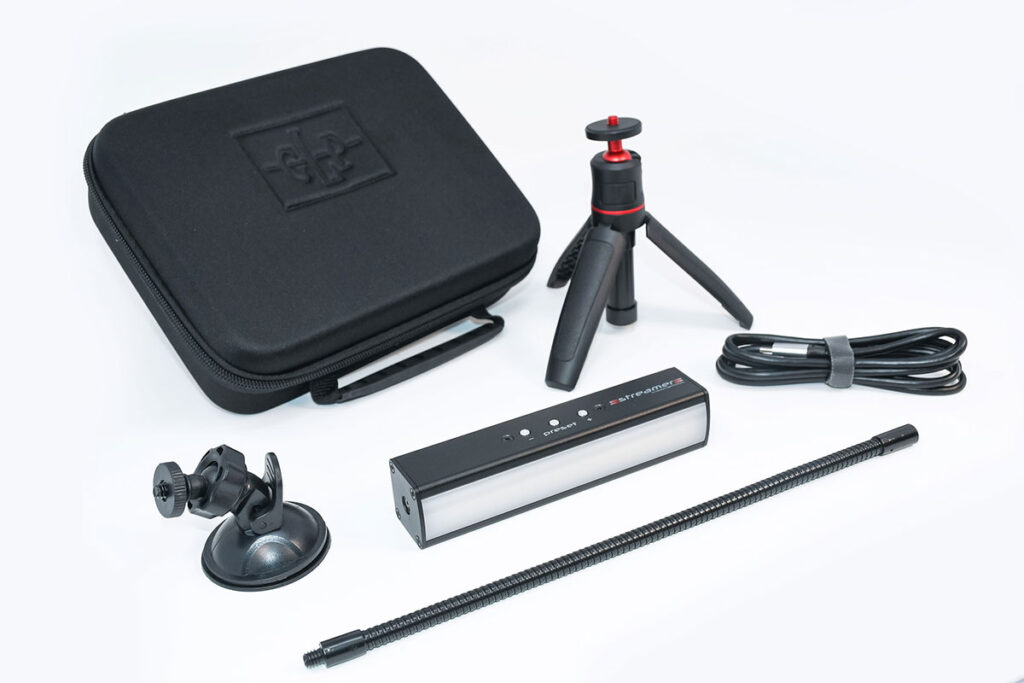 The control app provides full management over the output level and colour, allowing the user to create their perfect balance.
But it's Streamer's full remote-control capability that provides the real bonus, according to Product Manager, William Irwin. "If Streamer needs to be operated from a remote location, such as a TV studio, full control can be achieved with instantaneous response. Thanks to the browser-based app, Streamer can be controlled from computers, smartphones and tablets, giving a lighting designer full control over the device."
Streamer is a perfect solution for any video conferencing needs, along with vloggers, and of course remote broadcast, as well as being equally useful for still photography.
GLP's Streamer Deluxe Control Kit comes complete with mounting accessories including an extendable tripod, a 12-inch gooseneck extension for hard-to-reach places, a suction cup and USB-C to USB-C cable, contained in a purpose-designed case with moulded foam interior.
Streamer is now shipping and is available via the global GLP dealer network. For more information or to locate a dealer, please visit www.streamer.rocks
Streamer Deluxe Control Kit Case will retail at 129€ in Europe.