London's The Royal Central School of Speech and Drama staged a production of the musical Spring Awakening recently, which saw lighting and video design students create, programme and operate the visual aspects using Hippotizer Amba Media Servers.
Central student Jack Fone took the helm in the pre-production process, alongside fellow Central students Adler Williams on animation and Simon Moss, who's studying Production Lighting. The team created a striking set dominated by a huge crucifix stage back, flanked by projected images designed to augment the narrative.
The two Hippotizer Amba Media Servers were fed three live camera inputs, comprising two operated cameras back stage, and a locked off camera overhead. These fed four projectors, two for the header display and two for the back wall adjacent to the crucifix centre stage.
"I've been blending video and lighting design as part of my course, as I realise the lines are blurring," says Fone, who is in his final year at Central. "Spring Awakening was one of the first productions we staged after the pandemic, so everyone was excited to create a big 'comeback' musical, and we decided to integrate visuals as much as possible. I'd had some experience of Hippotizer Media Servers before, but I was fairly new to the programming process. Thankfully, the simplicity and user-friendliness of the platform made learning an engaging and rewarding experience, enabling me to quickly understand the amazing capabilities of ZooKeeper and the SHAPE feature and establishing a great workflow."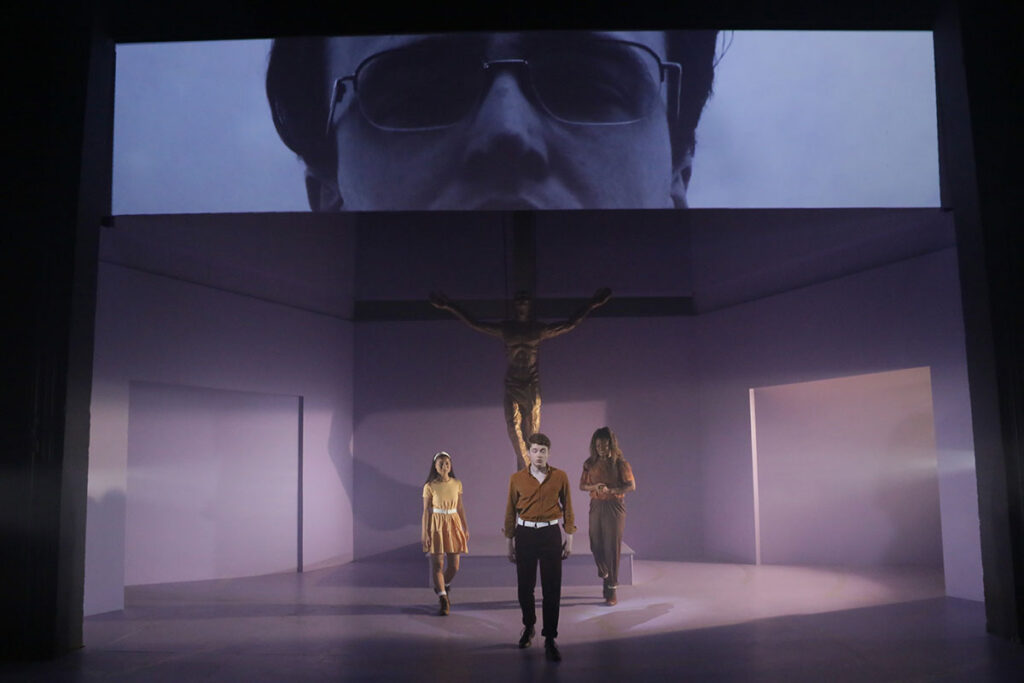 Fone masterminded some shoot days to capture pre-recorded content, which was edited and mixed with the live feeds during each performance. He used Hippotizer's media management capabilities to handle all of the visuals, and a grandMA console to control everything, which he says "worked like a dream."
Fone is taught by Central's Light Design Course Leader Nick Moran, and had Jack Foxx as his professional mentor as well as the assistance of the Media Technical & Production team at Central, including Jay Mobbs-Beal who in more normal times is Head of Project Management at Universal Pixels Limited. He also called upon Green Hippo's Suzy Stenning for support.
"Suzy's involvement started last year, when she trained and then helped to supervise a team of students who were tasked with mapping content onto the outside of Central's Swiss Cottage buildings," says Moran. "She has remained a fantastic source of support and inspiration for the students, without which it would not have been possible for the video design to be so ambitious.
"The whole process of realising the video design was remarkably smooth, which speaks not only to Jack Fone's deep research into the tech required to realise the design, but also to the generous support offered to Jack and his team by industry professionals, including Green Hippo staff."
"This experience has cemented by desire to be a hybrid lighting and video designer," Fone concludes. "The Hippo servers are powerful and allow me to create in a clear way. I can't wait to use them on future productions."
Photo: © The Royal Central School of Speech and Drama