By definition a "hybrid" is something that blends two different and distinct elements together into a single new and unique entity. Such hybridization is very much in evidence at Fine & Bright's HYBRID STUDIO BERLIN, not only in terms of the combined live and livestreamed events it has the potential to create, but also in the way it fuses an evocative, historic setting with cutting edge production capabilities.
Located in the bustling heart of Germany's capital, the new 425 sqm space is housed in a century-old former malt factory. Its black and white tile floor and industrial fittings serve as engaging reminders of the building's past, whilst its advanced design make it ideally suited to provide clients with COVID-safe options for connecting to customers through completely virtual productions, or (once it is permitted by the government) with combined virtual/live events accommodating an audience of up to 50 people.
"We developed this studio with our partners ICT AG and the Malzfabrik, in order to offer our customers a high-quality and fully equipped space for digital and hybrid events during the COVID-19 pandemic," said Robert Ulm, CEO of Fine & Bright. "The HYBRID STUDIO BERLIN has all the digital tools required for the quick and direct implementation of virtual conferences, interviews, live streams, press briefings, panel discussions, product presentations and music events in a safe, attractive environment."
Helping to ensure that HYBRID STUDIO BERLIN has the flexibility to fulfill its multifarious mission is an adaptable studio stage outfitted with four separate rigs. By lowering one of the rigs over the stage, the design team can create a new setting quickly, depending on the needs of the client.
"Our technology here is permanently installed," said Ulm. "Our philosophy is to be ready to play at any time, so we can also enable our customers to carry out projects at short notice."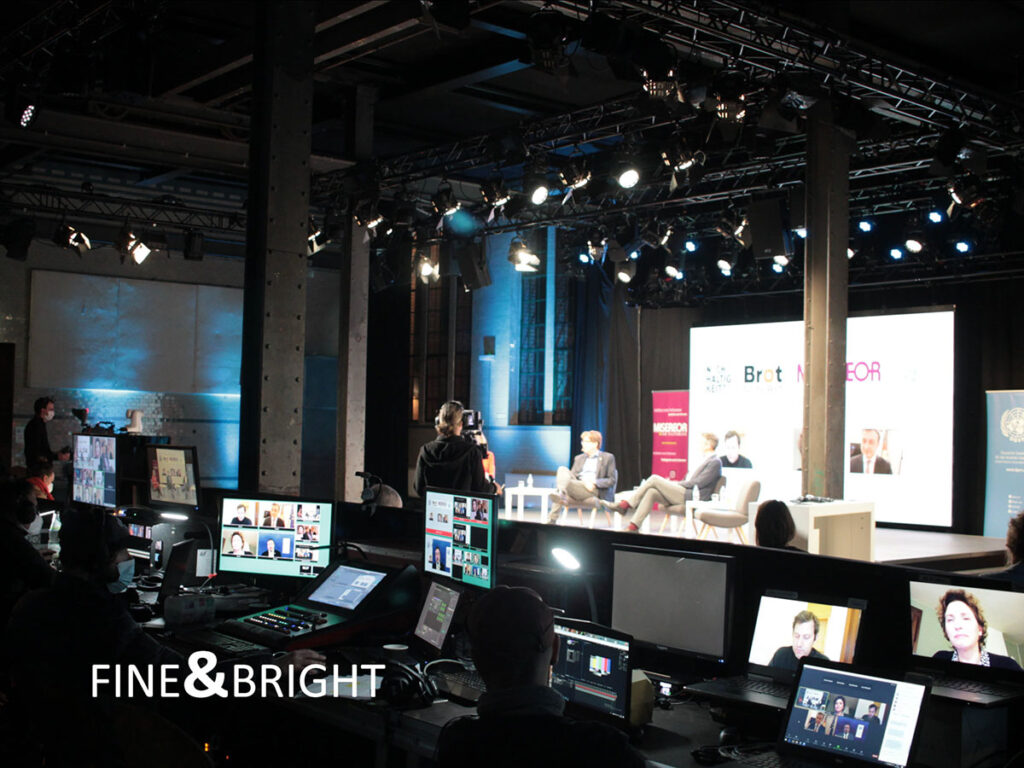 The studio's well-rounded lighting system is critical to helping it achieve this level of responsiveness. Anchoring this system, which includes 120 LED fixtures, is a collection of CHAUVET Professional Rogue R2 Wash units. Powered by 19 15-watt RGBW LEDs, these moving fixtures, help the design team change the personality of the stage to fit the mood of any event by bathing it in different colors for vivid bolds to soft pastels.
"The Rogue R2 Wash is an effective moving light with excellent color rendering capabilities," said Ulm. "It also works very well as a conventional light when a position has to be illuminated separately in white. The white light color mixing is suitable for cameras."
Adding to the multiple capabilities of the studio is its 15 sqm LED video wall, which offers individual design options and playback of media content. The studio's versatility is also evident in the array of options it offers for distributing productions. These include web conference, streaming smart, and streaming plus.
"We believe that the technical implementation at our studio must be able to be adapted to the different event formats of different customers, with and without guests on site," said Ulm. "We have planned the technology in such a way that it can be adapted not only to digital event formats, but – as soon as possible again – to those with live audiences too. This is what is necessary if you are committed to offering a solution that is truly hybrid."