As a rule, Jimmy Davidson favors intense looks in his lighting designs. But sometimes rules are not made to be broken; they're made to be doubled down on. Such was this case this Memorial Day Weekend, when the Texas designer lit a three-show concert series by chart-topping country artist Cody Johnson.
Unleashing a torrent of intense color washes (mainly in red and blue) accented by sharp beams of white light and blinding blasts, he set a frenetic pace for his client's 21-song set without repeating the same look twice. Helping him serve up this visual eruption was a beefy Texas Stage supplied rig that featured a collection of 54 CHAUVET Professional Rogue, STRIKE, Ovation, and COLORdash fixtures.
"I absolutely wanted to put something extra in this show," said Davidson. "It was nice to have a little time off to be at home during the pandemic, but now it was time to bring back shows and happiness. I wanted to celebrate this with the fans.
"There were a lot of fun moments in this show," he continued. "My personal favorite was at the start of the song 'Long Haired Country Boy' when I used an all-white palette with a random strobe look over the crowd. Then I had all of my eight STRIKE 4 fixtures highlight the hits."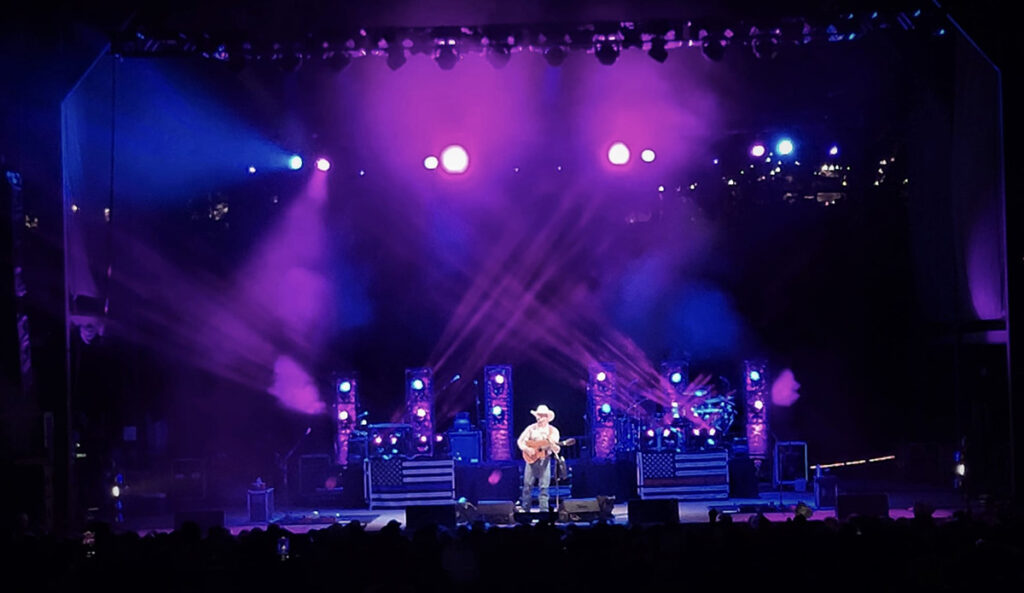 Davidson used multiple hang positions and accessed different fixture groups throughout the 100-miunte plus concert to keep looks fresh and interesting. He relied on 12 COLORdash Batten Quad 12 units to provide a constant flow of background colors. Anchoring his rig were 12 Rogue R2 Wash, eight Rogue R2 Wash, and 12 Rogue R1 BeamWash fixtures.
Describing the positioning of his high output movers, he said: "Basically, I like to place my fixtures (except for the blinders) from low downstage positions, and then work them progressively up higher and higher as we move upstage. This helps to give the stage more depth and texture. It also opens up a whole range of options for me to create different looks."
Also adding an extra dimension to this Memorial Day Weekend show was the scenic setting of the site where it took place. The 230-mile long Guadalope River passes just steps from the concert stage, while in the background tree covered hills are outlined against the Texas sky.
"The environment here is very beautiful," said Davidson. "It makes this one of the more memorable live music venues around."
Davidson says he worked hard to incorporate the natural setting into his overall design, which he did, but not without sacrificing its raw intensity. After all, ferocious storms are part of nature too.