Tom Petty & The Heartbreakers guitarist Mike Campbell formed his band, The Dirty Knobs, as a side project 15 years ago. Although the band seldom ventured outside SoCal, it built up a loyal following throughout the region, not unlike a tucked-away club treasured by locals, but beyond the reach of outsiders.
That began to change with the death of the iconic Petty in 2017. No longer able to work with his beloved frontman, Campbell (who is also the guitarist for Fleetwood Mac), began pushing his band into new musical directions, culminating with the release of their debut LP "Wreckless Abandon." On Friday November 20, the band introduced the new album to the world with a livestream from the legendary Troubadour.
Although the influence of the Troubadour in the history of rock has been huge, the stage at the famous LA club is rather small. Nevertheless, Julien Reux was able to create a bold and engaging visual panorama on it that filled the livestream screen, thanks to a tightly woven lighting design that featured CHAUVET Professional STRIKE 1 fixtures supplied by Envizion Group.
Staggered across the upstage deck, the single source 230-watt warm white blinders filled the club with an evocative tungsten feel during the 90-minute livestream. Beyond this mood creation, however Reux, owner of ReuxLight Design, also relied on the STRIKE 1 fixtures to play a more dramatic role in his 100-percent punted show.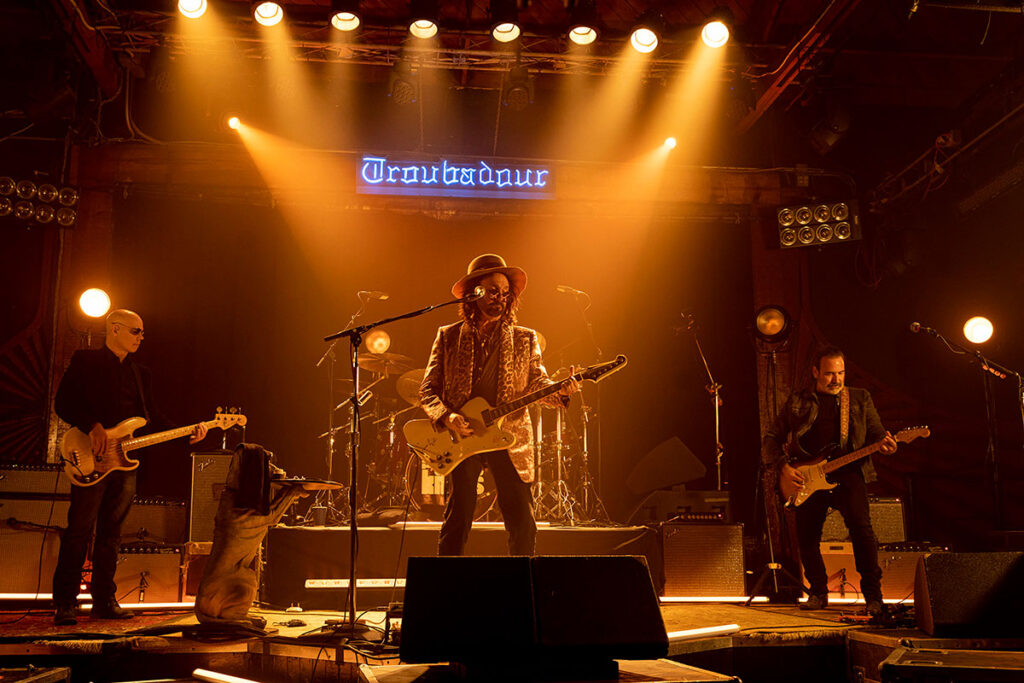 "I used the STRIKE fixtures to hit each band member with unique light angles throughout the show, which not only looked good on camera, but also helped underscore the star quality of each individual performer," said Reux. "They helped us create big looks around each artist as he was highlighted during the livestream."
Reux also used the STRIKE 1 fixtures to contribute to the classic flowing look of his lightshow. "Since I punted the whole show, a lot of my choices were made instinctively," he said. "I based a lot of the STRIKE 1 usage as tempo hits. I felt it paid homage to a time when lighting designers operated consoles like a piano."
Given COVID-19 safety protocols, the livestream's creative team, which included Director Ryan Browne, Producer Jackii Chun, and DP Jake Harbour, as well as Reux, had to work within a tight timeframe.
"I had a very small window to finalize things before soundcheck," said Reux. "Sometimes, though, time pressure inspires greater creativity."
Photo: © Wrenne Evans