As stories on stage unfold, they are invariably carried on their journey by the ebb and flow of light. This is true of virtually every dramatic production, but there are some where lighting is so intricately woven into the story that it becomes part of the narrative itself. Pagliacci falls squarely into this category as it cleaves dramatically between the bright frivolity of a clown's life and the dark madness of murder.
Keith Arsenault reflected this dichotomy in vivid fashion recently when lighting the St. Petersburg Opera's production of the Leoncavallo masterpiece. With help from a collection of CHAUVET Professional Rogue fixtures, he used bold and subtle changes in color and brightness to reflect the spiral of events that gives Pagliacci its compelling power.
"Although a 'one act opera,' Pagliacci is very specifically divided in two scenes," said Arsenault. "One is set in a bright, sunny Italian day; the other takes place while night is falling. The story gets darker and darker dramatically. As that second scene descends into homicidal madness, the color palette shifts into a more and more unnatural look.
"At this point, the intensities lower and the follow spots take over," continued Arsenault. "I also have no issue with having those backlight washes slowly move from the platform stage where the Commedia takes place to the tragedy center stage. This occurs slowly and steadily, so I doubt anyone actually notices the move, but it works for me dramatically."
Arsenault deployed 11 Rogue R2 Wash fixtures spread out over three battens: five on the downstage first electric; and three each on the second and third positions. Also in the rig were three Rogue R2X Spot units, which were on the first electric.
The St Petersburg Opera production of Pagliacci took place at The Palladium, a structure that was built originally as an 1920s Romanesque style church. "This building poses a number of interesting challenges for both scenic and lighting designers," said Arsenault. "Christopher Spatafora is the Production Manager / Technical Director for The Palladium and his work makes my work so much easier.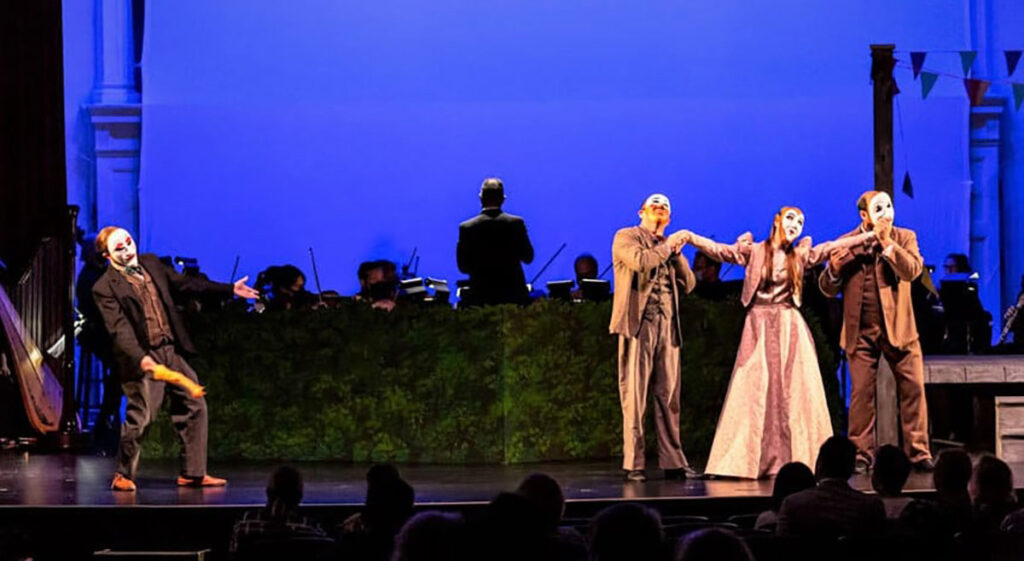 "From my perspective as a lighting designer, the principal front of house lighting position is at a steeper angle than what would be ideal — and conversely what could be considered Balcony Box positions are a bit on the low side," he continued. "So, it's a constant battle to balance the audience's focus where it's needed. I am fortunate that the follow spot configuration in this venue is well placed and levels and timings are controllable from the console."
Given the configuration of the theatre and its wide, but shallow stage, there are very limited opportunities for "traditional" opera scenic production, with major scene shifts between acts. Consequently, the production must rely to a great extent on unit sets that either get redressed or slightly modified as the opera progresses without massive wholesale changes.
"At this venue, it is up to the lighting designer to make a significant difference between locations and time of day," said Arsenault. "This is true for all of the work we do there. This might sound limiting, but I would be remiss to mention that our St Petersburg Opera DVD release of Carlisle Floyd's SUSANNAH a few years ago was ranked one of the top two opera releases of the season. Coming in second to The Paris Opera, which isn't too shabby!"
One way Arsenault lent added texture to the Pagliacci stage was by creating a variety of gobo patterns. "I have a thing with gobos, and one is basically scenic," he said. "If scenery is basically flat surfaces that are scene painted, even by the very best scene painting, I will usually throw a very out of focus break up on those surfaces to give the more depth. In this case, those came from the Balcony Box position. It made a huge difference in the appearance of the set pieces. In Pagliacci I also washed the stage from "high sides/pipe ends" with a fairly generic break up. For me, especially with a large history of lighting dance, those gobos accentuate movement as much or more than they set the scene."
Arsenault credits director Stephen Ray and maestro Mark Sforzini (who he's worked with on over 40 productions for the St Petersburgh Opera) with helping to make this production so impactful. Growing up in a theatrical family, his mother taught ballet and his father was a tenor, he found working on Pagliacci particularly rewarding.
"The last four to five minutes of this opera are among the most dramatic you will find in the traditional operatic repertoire," he said, noting that as Canio falls deeper and deeper into madness, there are "all sorts of opportunities" to be creative and to add to the drama.
"You got to love lighting that," he declared — and audiences love being swept up in his storytelling light just as much as he does creating it.