There is a liberation that arises when reality is turned on its head; and the familiar is cast in new forms to become something strange and uncertain. Great artists like Picasso and Dali tapped into this powerful force, upending convention to give rise to bold, new takes on "reality." So too has Marta Minujín with her provocative work "Big Ben Lying Down With Political Books."
A centerpiece of the renowned Manchester International Festival, her work takes the iconic London landmark and turns it on its side in Piccadilly Gardens. Stretching 42-meters and reaching as high as 8-meters in some places, the structure commands immediate attention. But the Argentinian pop artist had more than novelty in mind when she created the distinctive structure.
Covering the tower are 20,000 books donated from various Manchester groups. Representing a range of literary eras and styles from Marx's Das Kapital to Marcus Rashford's You Are A Champion, the books have been selected for their roles in shaping Britain's culture and influencing its future. Collectively they serve as a source of reflection for the nation during a time of profound change with COVID and Brexit.
Adding greater impact to the tower are 36 CHAUVET Professional COLORado Panel Q40 fixtures supplied and installed by Keyteq Live Events.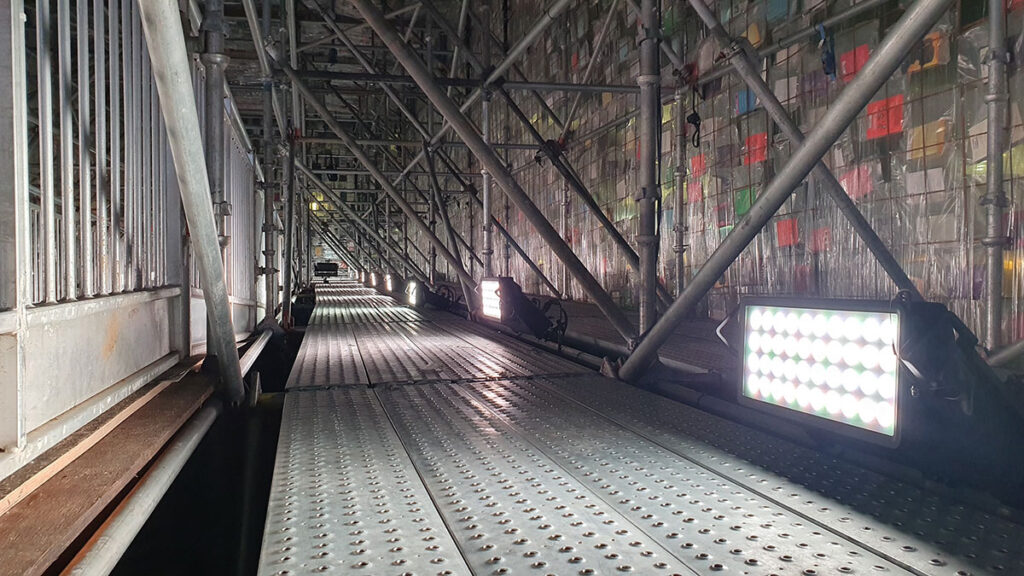 Keyteq, which has been involved in the Manchester International Festival for a decade, and handled two other exhibits in addition to the Big Ben work this year, arranged the rectangular RGBW wash fixtures in a line on either side of the walkway that ran down the middle of the tower. (A film by Minujín was shown inside the structure on screens supplied by Keyteq.)
From their position flanking the walkway, the COLORado Panel Q40 units created an alluring glow around the tower. This endowed the exhibit with an other-worldly aura that added to its evocative, thought-provoking effect.
"The COLORado Q40's were placed very low so as to hide the hot spot, as the structure is almost transparent," said Ian Chandler, Director of Keyteq. "From this position they were very effective at making the structure glow at night. Per the specifications of the artist, we used them for white light only throughout the fair."
In addition to being impressed by output and smooth even field of the COLORado Q40, the Keyteq team valued its all-weather feature. "It was very important to us that this is an IP 65 fixture," said Chandler. "Manchester weather is known for its wet summers. We've already has some torrential rain during the fair."
After the rains, when the grounds around it are wet, the white glow of "Big Ben Lying Down With Political Books" becomes even more surreal as its lights glisten on the damp surface. Is this the stuff of dreams? Perhaps, but in any case it has upended reality, and in the process revealed things more clearly.