Worshippers responding to a church service by honking their horns? Not long ago, it would have been unimaginable, but in a year when the unexpected has become normal, this is how people at Central Christian Church responded to a heart thumbing moment in their December 23rd outdoor Christmas show.
The emotional outpouring occurred at the conclusion of a performance of "Little Drummer Boy," when lighting designer Kyle Upchurch punctuated the moment with an intense strobing display from the 12 CHAUVET Professional Maverick MK1 Profile fixtures in his rig.
"It was a moment that everyone got caught up in," said Upchurch. "We had a group of people on stage doing drum solos. Rather than use colors, we went with all white light with strobes, chases, and lots of movement. The temperature outside was pretty low — some people braved it, but others watched from their cars and listen on their radios. At the end of the song and light display, we could actually hear people cheering from their vehicles and then start honking their horns. We felt really moved by that."
Throughout the Christmas show, which was also livestreamed, Upchurch relied on the MK1 Profile units to create a wide range of gobo patterns. "I think we used every available gobo at least once," he said. "The Maverick's gobo wheel was timed out on some songs to punch up our looks at key moments. Overall, the patterns were important to add depth to the stage for the livestream audience."
Complimenting the specials and effects created with the Maverick MK1 Profile units was an array of colors from 18 Rogue R2 Washes, which, like all the fixtures in the rig were supplied by Midwest Music Supply.
Upchurch collaborated with the Central Christian Church production team led by Aaron Fadler to select a palette that reflected the range of moods in the Christmas service. "This was a great collaborative effort," he said. "Aaron and the crew would suggest colors and helped me find the mood of each song. I took that information and developed it with beam angles, intensity, and texture."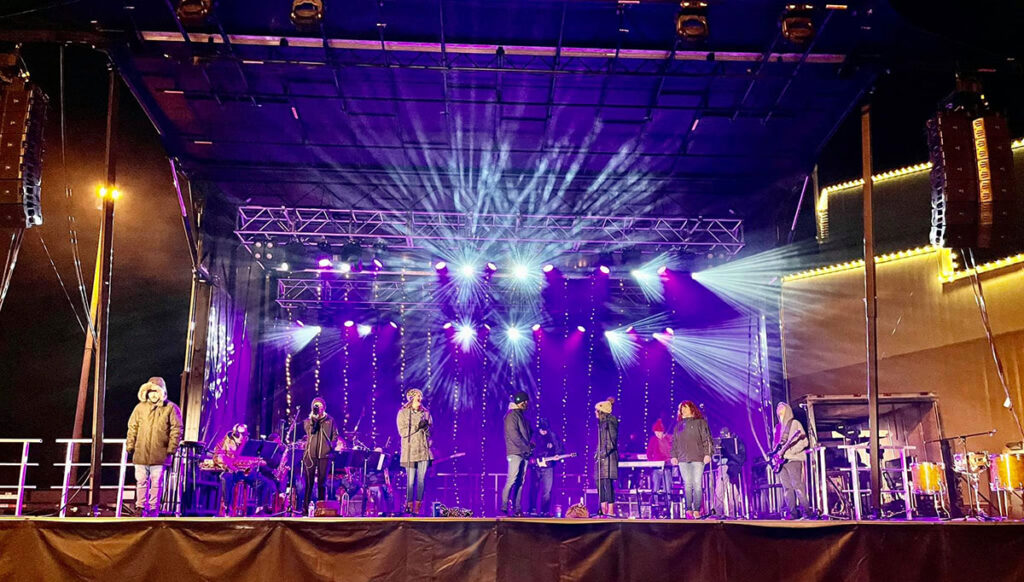 This collaborative process let to a diverse color mix, with traditional red green themes characterizing much of the show, while blues and violets were used to accent special emotions from selected songs. "We were really happy with how the colorization turned out," said Upchurch. "The Rogue washes were the energy and emotion setters. The lush colors that they can create are vital to help tell the story of a song and pull in the audience."
Although there were a few late changes to the show, Upchurch was able to respond quickly thanks to his ChamSys MagicQ MQ500 console and its inbuilt visualizer. This was his first time using the console, and he appreciated its flexibility, explaining that in times like these "adapting to change should be a habit," good advice for LDs lighting church services, or anything else!