Colombian rapper and singer/songwriter Nanpa Básico held his virtual KOSMO concert last fall with a large complement of Claypaky fixtures lighting up the live-streamed show.
A team from Arbol Naranja, led by Jorge Jiménez, Camilo Mejía and William Gallo, were challenged to craft a virtual concert that the public would enjoy from their homes and that recreated the mood of a live show on any digital device. "Reinventing the way in which Nanpa's music is consumed live opened a door for us to a format that we will continue to perform in, without any doubt," says Arbol Naranja Manager Jorge Jiménez.
Known as a demanding musician with an important musical sensibility, Nanpa Básico fuses rhythms, such as bolero and reggae, for a hip hop style very much his own. According to the Arbol Naranja team, he is an unconventional artist who integrates orchestral musicians and treats the rhythm and style of each song with great presence and personality. For that reason it was imperative to keep the focus on every detail.
But Lighting Designer William Gallo was also tasked to illuminate the show in a broadcast style highlighting Nanpa, his musicians and the orchestra.
Gallo and Show Designer Camilo Mejía selected Claypaky luminaires with knowledge of the brand and an awareness that "it was necessary to have powerful and very defined luminaires to be able to exchange the smoke and lights of a live show for the planes and lighting for broadcast cameras," says Mejía
Working on the design of the show, it was necessary to illuminate certain strategic points and achieve the overall look of the show at the same time. So a call was made to Mauricio Brando, our Sales Manager for Latin America and to Audio Concept de Colombia, Claypaky distributor.
With their experience at the Viña del Mar International Song Festival and awards events for TV, Audio Concept de Colombia was prepared to meet the expectations of a streaming show. Organizing the needs of pre-production, scripting, set design, lighting and video were the beginning of everything, points out Mejía.
"The video and lighting must always go hand in hand working like a clock, all meshed, audio, video and lighting together," he says. "In this case, the audio had to be perfect so it could be appreciated on any device used by the public to watch the show, while the lighting had to respect the artist and make everything look perfect on camera without losing the spectacular nature of a live show."
To accomplish this he and Gallo chose Claypaky K-EYE K20, Sharpy Plus, Sharbar, Mini-B, Xtylos, HY B-EYE K15 and Stormy fixtures.
"Having K-EYE K20s available meant having strong elements in our favor, due to their versatility and power to create different scenes. We made this luminaire the centerpiece of the show," reports Gallo.
The K-EYE K20 became the follow spot for the general atmosphere of the show, with perfect registration on camera achieving the depth they wanted for in the broadcast show.
Sharpy Plus fixtures were used to give concert and wash environments to some sets, including those of other artists. Gallo calls Sharpy Plus "the best light of the moment — its optics offer perfect results when using gobos, either being closed as a beam or open as a wash. They gave perfect results."
The Sharbars offered "mobility independence, color mixing and the ability to control each instance at will," he notes. "They delivered an impressive performance – you can do a show with just Sharbars; it's like having six mini heads in one."
The B-EYE K15s served as "a very powerful wash with an incredible color register – it was perfect for coupling and highlighting to achieve different environments," Gallo reports.
The Mini-Bs provided "incredible zoom and incredible power for its size," he adds. "They completely blow away other luminaires at triple their size."
Gallo calls Xtylos "the best toy invented by Claypaky," and says "they allowed us to play with a hidden light that fired a powerful laser with perfect color."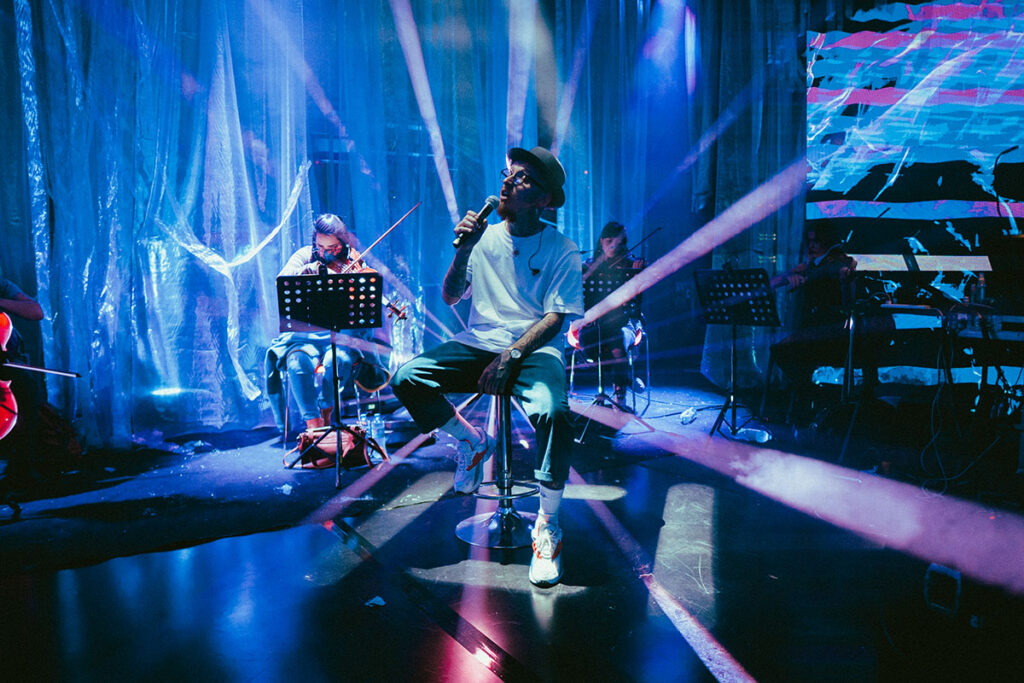 A particular challenge was posed by the artist's pristine white clothing. The Claypaky luminaires guaranteed color fidelity – there would be no risk of colors deforming. The K-EYEs enabled Gallo to achieve accuracy and speed in the color changes, while the Xtylos fixtures allowed him to alternate the creation of different atmospheres by pointing the rays at a mirror ball, as well as projecting a perfect beam of light without the need for smoke.
Combining luminaires of the same brand made it possible to achieve a well-lit environment with versatility and the effects they dreamed of. In fact, Gallo points out that all expectations were far exceeded by working with Claypaky's teams.
While any live show can be exciting and dynamic, the energy of the crowd, their response to the songs and the atmosphere created in a huge arena spectacular cannot be replicated in a virtual performance. Still, Mejía notes that the KOSMO concert gave him a chance to try new technologies in a space where the technical requirements were very challenging and there was no room for error.
"The moment before the start of a show generates a different sensation when you are live and listening to the audience get excited," says Mejía. "In digital, you exchange that emotion for another, for the ability to create an innovative concept made to be seen online, tailored for that and not adapted or edited from a past live event. The magic of live shows transcends their location, which we happily demonstrated."
Photo: © Gabotone