LD Maxi Gräf merges two designs and experiments with the creative power of the KNV Line.
In a summer that saw hardly any live shows, Landstreicher Konzert GmbH set an example with their corona-compliant series of Picnic Concerts in several German cities. Singer-songwriter Lea was one of the artists who performed during the concert series, with lighting designer Maximilian Gräf from PE Lichtdesign using 20 KNV Line from GLP to bring a breath of fresh air to the existing tour design.
Gräf, who has been working as a lighting and stage designer for Lea since February 2017, had to fall back on an older design for the Picnic Concerts due to the pandemic. "The design for the new album Treppenhaus only exists on the drawing board, because all festivals were cancelled due to Covid," he said. "When it came to the Picnic Concerts, I looked at both the old recording of the Zwischen Meinen Zeilen design and the drafts for the planned Treppenhaus set and tried to create something new from both. So, I took dollies and lamp positions from the old set and modified them."
The GLP KNV Line formed part of the future Treppenhaus design, and hence Gräf's first contact with GLP's powerful combination strobe, blinder and pixel block at the Picnic Concerts. "I had already heard extremely good things about the fixture from my colleague Raphael Grebenstein and I trusted his expertise, even though I had never seen it on stage myself. And what can I say… it really worked!"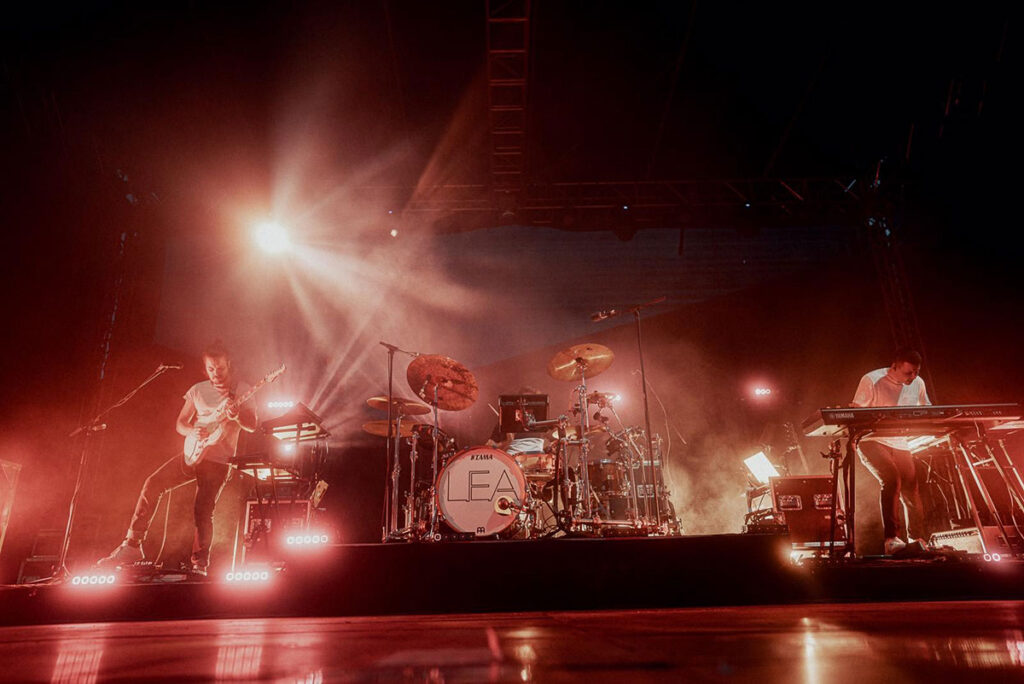 The designer placed the flexible, ultra-bright LED modules on the four track dollies, the four back dollies, and on the riser edge in front of the musicians, giving depth to the stage. "The KNV's RGB rings have a pretty cool way of reproducing colour," Gräf said. "They are good for eye-candy effects due to the ability to control every pixel. Due to the impressive brightness of the strobe pixels, the KNV can also be used creatively to break through the looks. I like the way they handle, the colour rendering, and of course the output of the white pixels. For me it's a pretty perfect symbiosis of creative LED and assertive stroboscope."
The Picnic Concerts meant a tight programme for Lea and Gräf. "We played a total of 13 shows over seven days, which usually meant two shows a day – one in the afternoon and one in the evening. It was quite challenging, especially since we were travelling without a lighting system technician due to the pandemic. It was important to prepare the wiring harnesses as quickly as possible." The lighting technology was provided by Groh-P.A. Event Technology.
As far as GLP is concerned, Gräf is full of praise: "The cooperation with GLP and especially with Andreas Brandt is incredible. I have never experienced such a close personal and professional relationship, and that makes life really easy for me as a designer. I have already visited the GLP headquarters in Karlsbad and noticed how cool everyone is. So… thank you, thank you!"
Photo: © Calvin Müller