"New Year's Eve at Lincoln Theatre has become one of our favorite traditions," alt rockers BIG Something declared when announcing plans for a two-night NYE stand early in December. But during a pandemic, even traditions continued are traditions changed.
This was true for BIG Something as well as the design team that lit their 1.5-hour livestream shows. Rather than playing to a full house, the energetic six-piece band, which typically feeds voraciously off crowds, had to perform their NYE concerts in a virtually empty venue.
Their lighting designer for the evenings, Daniel Thibault of Life Is Art Studios, also had to alter his normal way of doing things. Instead of running with the big beams and sweeping aerial effects that they normally favor, he and his team opted to work with more tightly focused wrap around looks that translated better to video.
"Everybody has to make adjustments," said Thibault. "The stuff we typically do is designed to be seen from just one side, as if you're looking at a picture. But when doing a stream, the shots have to look good from lots of angles, especially when there are as many cameras as we had for these shows."
Helping Thibault achieve multi-faceted wrap around looks were the 18 Rogue R2 Wash and eight Rogue R2 Spot fixtures in his NYE rig. "The Rogues were our only movers, and we relied on them to envelop the band," he said. "Because we stayed away from our normal symmetrical beam fixture looks, we wanted to wrap the band in color and energy. This gave the livestream's audience the feeling they had a great view of the stage even when the camera shot wasn't from dead center. It also helped psyche up the band, which was important, since they had no crowed to connect to inside the theatre."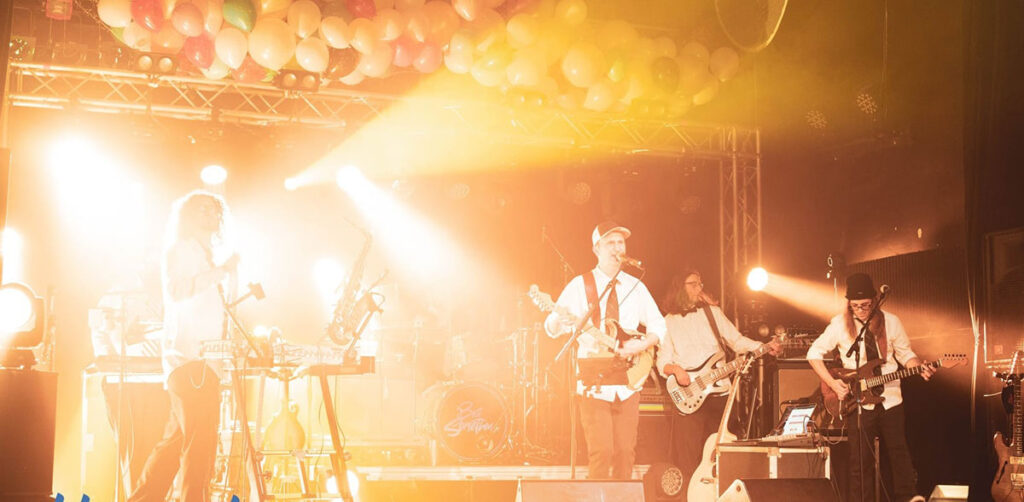 The Rogue R2 Wash were arranged in three groups of six, positioned symmetrically around the band on the 21-foot deep by 25-foot-wide stage. Drawing on the color-rendering qualities of the RGBW movers, Thibault created a broad palette of looks for the three NYE shows. At times, he bathed the stage in monochromatic yellows and blues, then moved to overlapping fans of multiple colors.
Thibault used his bold washes to endow the stage with an architectural structure, directing light from different positions to create a matrix-like effect. He also accentuated the looks of individual band members by hitting them with light from varying angles.
"Silhouetting the band from multiple angles was a big part of our look," said Thibault. "It played well with the different camera angles. We also used the Rogue R2 Spots to highlight the members of the band and put edges on our looks. One of our goals was to enhance the three-dimensional effect so the band stood out."
In "normal times," considerations such as these, would have played a smaller role in Thibault's design equation, as he instead focused on aerial effects, audience lighting and big sweeping movements. But as he notes, in a tough year like no other, "knowing how to adapt is key." He demonstrated the importance of this ability very, very well as 2020 mercifully drew to a close.