Industry leading LED solutions and bespoke installation provider, Light Initiative (LI) were 'on board' at this year's Eurovision Song Contest (ESC) to design and manufacture a custom-built LED scenic element for the UK entry, SuRie, with her hit song Storm.
LI worked with long-term client creative show director Dan Shipton of Black Skull Creative on a series of eighteen video-mapped LED chevrons that created the perspective guiding 'corridor' of light in which the artist performed. The design was created to read as a flat video visual from the front, then stretch out to show depth and distance when viewed from the side.
"I wanted to close down the space on stage so that SuRie could completely own her environment," says Shipton. "However, it was not conducive to keep everything within a restricted space for the entire song and equally important was the opening up of the stage to tell the story of the song to the audience and to allow SuRie to connect with her fans. Storm's message is one of openness and strength of unity and this had to be illustrated in the scenic element and how that worked with the television cameras."
From the beginning, it was clear that LED and a diamond motif was a key visual aspect of SuRie's performance and her brand. The motif featured in her BBCYou Decide 2018 performance and again in the official Storm music video, before it took centre stage at the Eurovision finals. From the beginning, Shipton was in talks with LI about how to carry this through to the live show's production.
"As soon as I started researching the show design I was on the phone to Light Initiative to discuss ideas," says Shipton. "I sent over a sketch and said 'I have this crazy idea, I want it to look like this and I don't know necessarily what product it is, but this is what I am thinking.'"
Shipton and Bryn Williams, Director of LI, then began a rich collaboration process with a series of calls, spreadsheets and technical sketches, and during one late night call, a bag of Lego, a couple of Kit-Kats and some Play-Doh before arriving at the final chevron concept.
"What I find positive about the process of working with LI is that not only can I bounce ideas around with them, but that they can give me a cost," says Shipton. "I am always aware of budget and never want to be in a position where I'm selling an idea to an artist that we cannot deliver. LI works alongside me to not only creatively conceptualise something but also to ensure that we remain on budget. They are always doing that back work, checking my costs, checking my technical delivery and making sure it will be OK. Most importantly, I never feel creatively restricted because they always offer solutions that enable the design development, even if budget forces me to move on from the initial idea".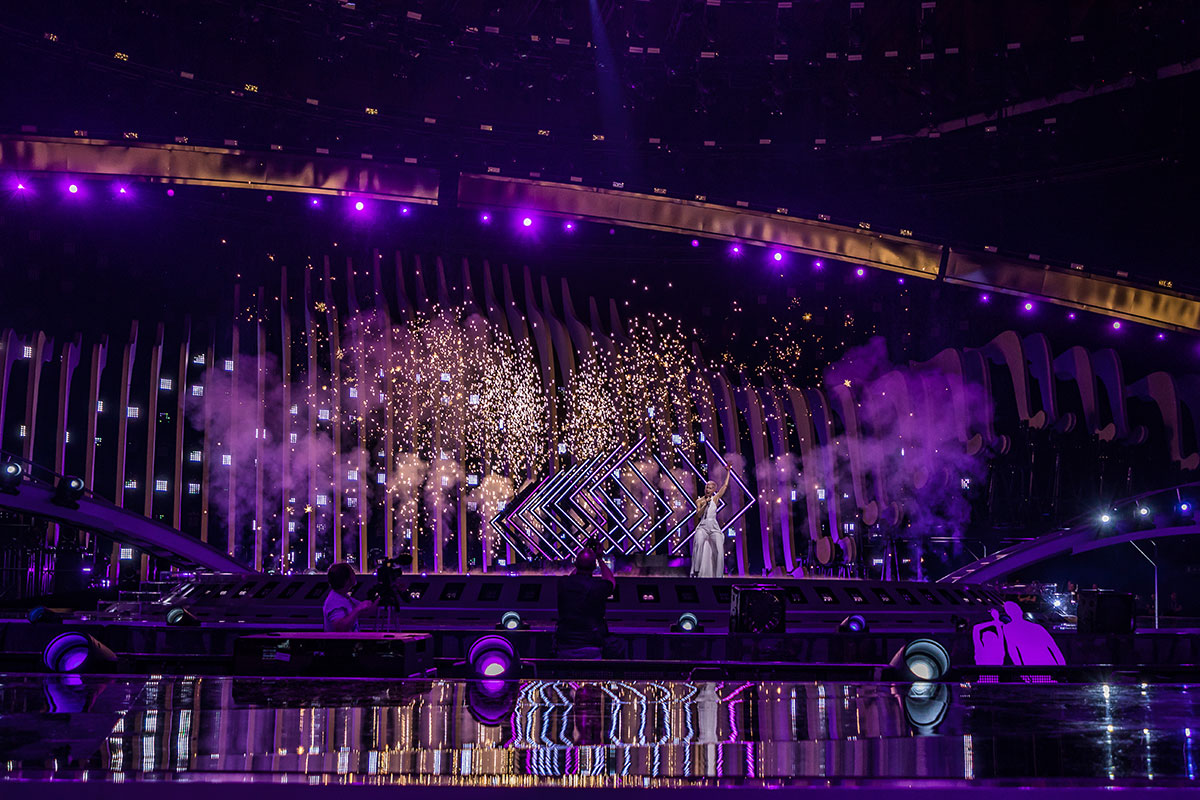 Traditionally, ESC production and host country have strict protocols on the design and build of the show, including the build of each country's scenic elements. This year, ESC made the decision to cut down substantially on its onstage video element, with the result that many countries explored creative alternatives.
"Because of the highly bespoke nature of the set design for the UK entry, it could only be built with the specific LED products that LI could provide and not with off-the-shelf pieces," says Shipton. "LI worked with the ESC production directly to ensure that the product could be delivered within their specifications and protocols. The LI team have been amazing at working that all through and taking those worries away from me and the BBC."
In terms of on-the-ground support for Shipton and his team, Joe Ratcliffe, LI's build technician, was on site throughout the ESC process, supervising delivery and installation of the fixtures. The video map, provided by Light Initiative, was installed onto the Eurovision Green Hippo Hippotizer media servers in order to play the custom video content.
"Joe has been amazing! He became part of the UK delegation and really integrated himself into the team," says Shipton. "One of the things that stands out for me is that we wanted to do a reverse camera shot, to show SuRie singing into the camera and getting the audience in shot behind her. Joe was here on the ground to adapt the LED fixtures to make sure this was possible – now the reverse shot is one of the most commented-on shots of the performance."
The LED chevrons were created using nine pairs of purpose-built steel chevrons in which LI integrated their popular BeamLED and StealthLED products. Each chevron had its own distinct video-mapped content, designed and provided by NorthHouse, and emitted in three different directions: forward, inward and outward.
Williams says of the Eurovision project, "Working with Dan is a joy, he is open and collaborative. Within our working relationship no-one is scared of saying something silly and ideas are always pinging back and forth. He is very good at having an overall vision whilst being adaptable enough to work within the boundaries of what is achievable."
The Eurovision Song Contest 2018 took place in the Altice Arena in Lisbon, Portugal. The competition consisted of semi-finals on 8 and 10 May and the final on 12 May 2018. Forty-three countries participated this year, with Israel winning with the song Toy, performed by Netta.
Photos: © The Fifth Estate Ltd