The 1,500-seat Marque Theatre was virtually empty, save for a few widely separated family members on hand, when Spafford took to the stage for its 2021 New Year's Eve livestream. Matt Collier, the jam band's longtime LD, couldn't help but contrast the scene to the one he remembered from the band's last NYE show, when they played before a packed house at Great American Music Hall, more than 750 miles (and a whole world!) away in San Francisco.
"What a difference a year makes," said Collier. "There was less stress than there was last New Year's Eve, because we played in a virtually empty hall, but I missed the energy of the crowd so much. Just as the band feeds off crowd, I also do as an LD. So, it was a bit of a bummer not to have them there this year.."
Setting his disappointment aside, Collier became completely immersed in the moment once his busked show kicked off. "It doesn't matter where the concert takes place, or what the situation is," he said. "It's all about creating the best possible looks for the band – nothing else is as important."
For Collier, achieving this goal for Spafford's two NYE shows meant modifying the position of his lights in relation to the band, and changing his color choices. As he explained: "You have to do things differently in a livestream show to give it depth so it doesn't look flat."
Collier added depth to his livestream stage by having his eight CHAUVET Professional Maverick MK2 Spot fixtures moved as "high up as possible" on the house rig. He also had the band members move back about six feet from where they would normally stand on stage.
"Luckily, the stage at the Marquee is pretty deep," he said. "Moving the guys back worked great to enhance the size of our space on camera, especially with the Maverick's up high. I wanted my Mavericks in this position to create some added headroom, which really allowed me to better utilize the zooming capabilities and aerial gobo effects of these fixtures.
"The Mavericks are very bright and produce very vivid gobos that really come off nicely on camera," continued Collier. "I was really happy with the big looks we created that took up a lot of the negative space in the air with a small slow circle movement and a slow gobo scroll while saying goodbye to this crumby year!"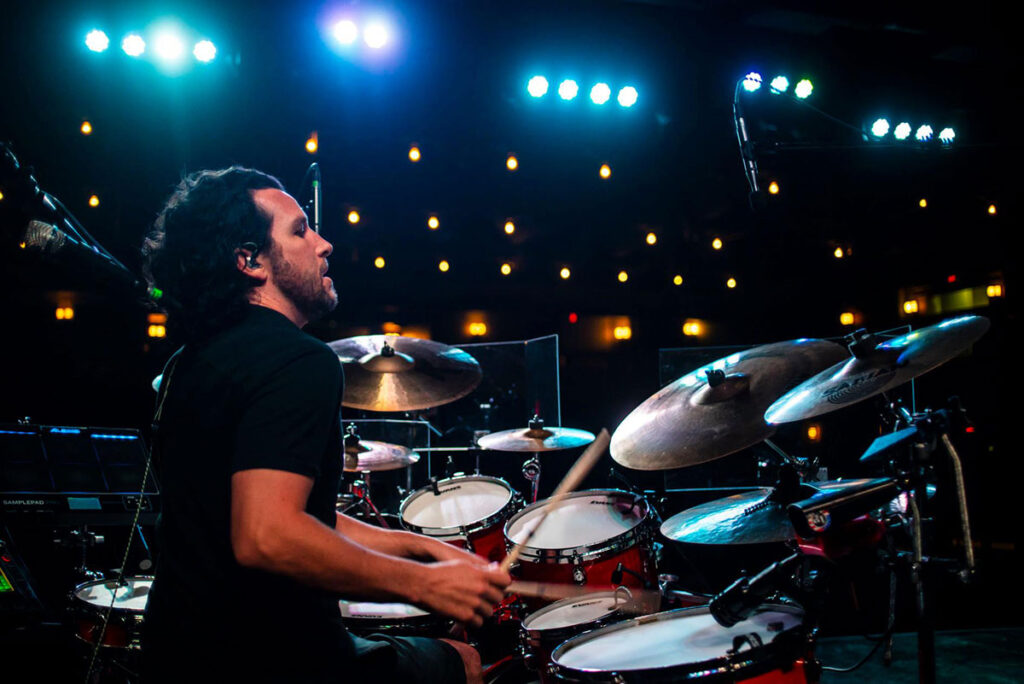 A wide array of vivid colors from the 12 Rogue R1 Spot fixtures in Collier's rig also contributed to the NYE livestream's camera-friendly looks. Although color is always critical in Collier's designs, it became an even bigger factor in a setting where there was less room for sweeping movements.
"The Rogue R1 Spots are my workhorses, especially in a mid-sized venue like the Marque," said Collier. "They have more than enough output, and their prism is great for effects. In this case, they made it easy to create some bold color palettes, which generated exciting looks even when pan and tilt movements were limited."
In deference to the camera, Collier limited his use of flat reds and blues when putting together his palette. "The camera has a hard time capturing some colors," he said. "Spafford is a fun band that has lots of funky melodies and styles, so I try and use some cool secondary and tertiary color combos while keeping the primary spectrum colors for the parts where they can be more effective.
"For example, I used a big flat red scene for when the band went into a lower toned major section," continued Collier. "I also used a big yellow when they came back to the structured part of the song and ended their improv section. Another thing I did was count on downstage ellipsoidals to make the band members pop a bit and make their appearance look a little less saturated in color."
Given the free-flowing nature of his clients, Spafford busked the entire show. Busking this way, while also coordinating his show with different camera angles, was a challenge, but he credits his team members with making this process go smoothly.
"Big shoutout to my band, Spafford, my PM for the show, Brian Stubblefield, the video lead Richard Flores and the rest of the crew as well as the Marquee and their house crew for pulling this off," he said. "After all this time it was good to be doing some lighting inside a venue again, so it was a happy New Year."
Next New Year's Eve will be even better, believes Collier, because by then crowds will return, giving him and the band the chance to once again feed off the energy they provide.