MDG is delighted to receive the ABTT Award for Engineering Product of the Year 2018 for its RFP™ Round Floor Pocket at this week's ABTT Show at London's Alexandra Palace.
MDG's RFP™ Round Floor Pocket is a DMX/RDM-operated pneumatic Round Floor Pocket of rugged construction which can be embedded in the stage floor or set wall to conceal a fog output. It is intended to operate under pneumatic pressure as part of an existing fog system, delivering low fog or fog to precise locations.
The ABTT judges awarding the honour, who were made up of an experienced jury of working practitioners and industry peers, stated: "Solving the problem of how to get your low fog into those hard to reach places, the MDG DMX-controlled Round Floor Pocket works as a reversed trap, lifting a lid to allow ducted low fog and haze onto the stage.
"Suitable for integration into large touring stages, or those shows with longer runs that can accommodate routes sub-stage for fog and haze ducting, the steel lid means that it is still suitable to stand on safely, and the DMX control easily integrates into haze and fog cues."
RFP™ Round Floor Pocket is one of the latest in a range of accessories that complements the MDG range of fog, low fog and haze generators, and is designed to provide years of quality service.
RFP™ Round Floor Pocket is compatible with all MDG carbon dioxide (CO2), nitrogen (N2) and compressed air generators, but is especially effective with MDG's ICE FOG SERIES of low fog generators. It has a 23cm (9") fog input, and a fog output with a choice of either 360° or, with the aid of an optional rear shield plate, 240° distribution for universal or targeted delivery. RFP™ Round Floor Pocket can be mounted vertically or horizontally and its height adjusted between 7.62cm (3") and 10cm (4") above stage level to allow an unobstructed, variable flow of low fog or fog.
Constructed of a corrosion-resistant black-coated carbon steel collar and top plate and durable PVC inset tube, the new RFP™ Round Floor Pocket has been re-engineered with a shorter 21.6cm (8.5inch) form factor than its predecessor, to occupy 35% less space under stage and, at 7kg (15.5lb), also offers a weight reduction of 47%. This guarantees considerable space- and weight-saving advantages which can be of great benefit in large scale touring environments or permanent installations.
With a low power consumption of only 50 W, this pneumatic fog output can be used anywhere due to its universal switching power supply (100-250 VAC, 50/60 Hz).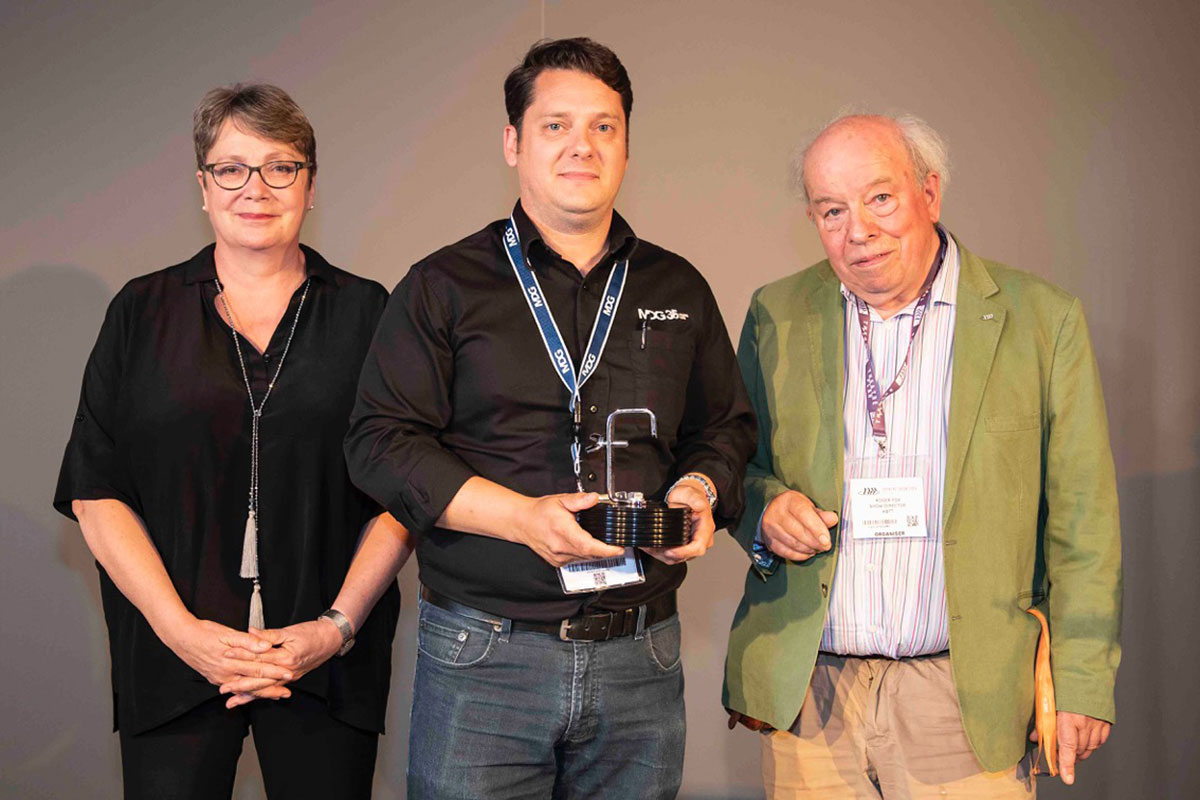 RFP™ Round Floor Pocket is controlled using MDG's RFP-CB™ Control Box, a DMX/RDM control box that can operate up to 4 RFP™ Round Floor Pockets in unison using just one channel of DMX, so potentially reducing the cost of control hardware by up to 75%.
RFP-CB shares the same robust electronics as MDG's theFAN™, possessing a simple and efficient multi-level User Interface, accessible from the backlit LCD panel, which allows for a gradual switch between local mode and most common protocols: DMX-512-A USITT and RDM ANSI E1.20. Like RFP™ Round Floor Pocket, RFP-CB can be used anywhere due to its universal switching power supply and CE/CSA/UL certification.
The Award was accepted by MDG UK's Matt Wiseman who said, "I'm delighted to accept the ABTT award on behalf of MDG. The RFP™ Round Floor Pocket has drawn much attention in a very short time due to it being a simple, effective and well-engineered product. The Award is confirmation of MDG's design intent that RFP™ Round Floor Pocket should be a great tool for many markets."
More details of the ABTT 2018 Awards can be found at http://www.abtt.org.uk/event/abtt-theatre-award-2018/
For more information on RFP™ Round Floor Pocket and other accessories, fog, low fog and haze generators from MDG, visit www.mdgfog.com