Michal Hyra could have been forgiven if he wondered what else could go wrong. Chosen to light the grand finale of the two-month long celebration of Tryptyk powstańczy – pamięć ziemi, which marked 100th anniversary of the Third Silesian Uprising, he found his rehearsal time for the on June 25th event severely curtailed by unrelenting rain on the 23rd and 24th.
Despite this issue, Hyra was able to create a captivating lighting design that engrossed the large crowd gathered in Byton's historic Market Square as well as those watching the livestream of one of the most important events in Poland. Dynamic and deftly executed, his smooth color changes and seamless transitions flowed naturally with the traditional Polish folk dancers on stage. Later in the evening, when the initial performers were replaced by a rock band, he created a tour-like show.
Helping Hyra accomplish this feat was the ChamSys Magic MQ 500 Stadium console that he used to run his 8-universe show. "I started learning MagicQ almost exactly a year ago and I've been using MQ500 since September of 2020," he said. "It proved its worth on this project, which was carried out as a final part of the Metropolitan celebrations.
Recalling 100th anniversary project's challenging start, Hyra said: "Due to the heavy rain, we had to program the whole show with only a reduced number of dancers, our director Karolina Widera, and our LD Paweł Murlik, present. We had to listen to a partial rehearsal from the day before to figure things out. This is where the MagicQ stepped in!"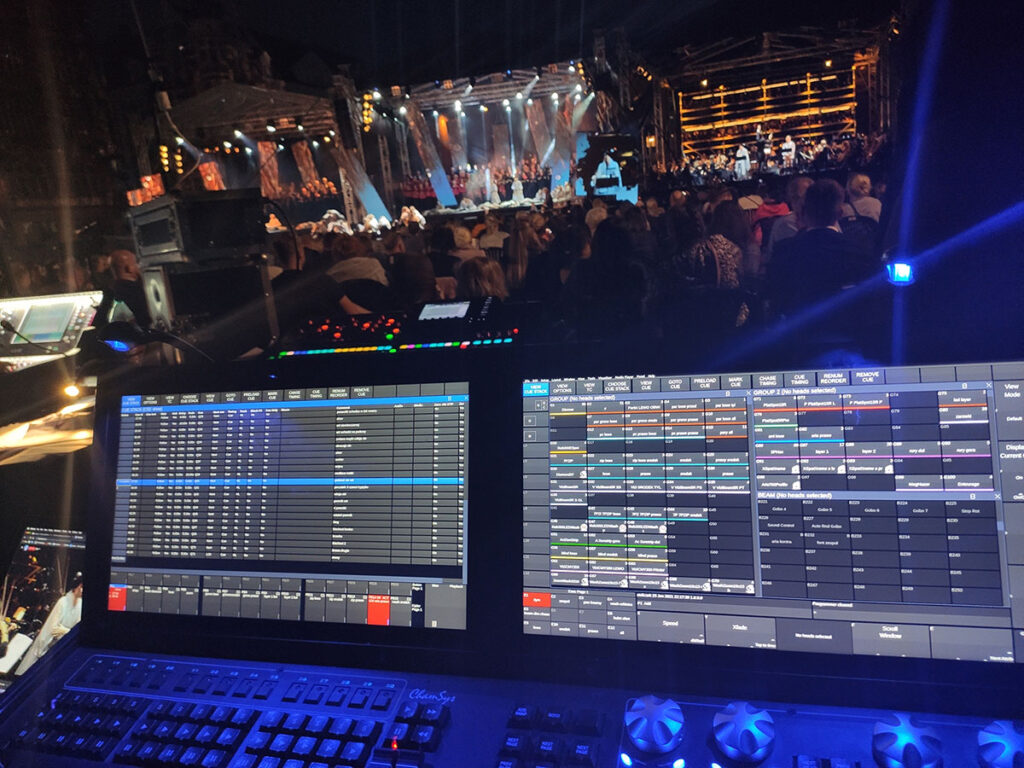 Hyra credits his console's "easy on the fly cue editing," with helping him adapt. He notes that thanks to this capability he was able to change looks quickly to reflect the vision of his director. The user-friendly intuitive interface of the MagicQ MQ 500 Stadium also made it easier for him to busk.
"Since we didn't have a real dress rehearsal, a whole bunch of stuff like strips and front lights had to be busked outside of the main cue stack," he said. "Not to mention, that second part of the whole show was a rock concert, which I busked. So, the flexibility of my console was very appreciated."
Another feature of the MagicQ MQ 500 that earned praise for Hyra was its UPS. "This turned out to be very valuable. "I also really liked the capacity of the screen desk, as groups alone took three quarters of one screen. Plus, the built-in patch-list generator, auto groups by fixture names, and color tagging all made things easier for me."
Having tools that made his work easier was especially important to Hyra on this evening when so many factors outside of his control presented obstacles. But adversity often brings out the best in creative efforts — and at this national celebration that's precisely what it did for this talented programmer and designer.