Robert Juliat will be exhibiting at PLASA 2023 with its exclusive distributor for the UK (England, Scotland and Wales), Sound Technology on stand C22.
The stand will feature Robert Juliat LED products, focusing on RJ's award-winning Sully 4C profile and Fresnel fixtures and Tibo HE in the generic ranges, Dalis 862 variable white and Dalis 864 4-colour Footlights, and RJ Arthur LT 800W LED long-throw 4°-10° followspot. Robert Juliat's real-time position-tracking system, SpotMe, will also be presented.
Sully 4C Profile (650SX 4C), which won the 2022 LDI Award for Best Debuting Product in the Lighting category, is a 4-colour (RGBLime), 200W LED profile that delivers perfect whites and high quality saturated and pastel colours, and is also a swift and economic solution to convert RJ 600SX tungsten fixtures to LED.
Sully 4C Fresnel (315LF 4C) is a compact fixture that presents the same level of colour quality and control as the Profile, and is available with a choice of 200mm Fresnel or Pebble Convex lenses.
Robert Juliat's innovative software platform, RJ Color, is integrated into the Sully 4C range for refined control.
Tibo HE is a mighty compact 115W LED profile available in warm or cool white, with zoom ranges from 15°/35° and 30°/45°. It delivers a very high CRI and is proving extremely popular as an LED upgrade in smaller theatres or TV studios.
Part of the award-winning family of Dalis cyclorama, wash and footlights, Dalis 862 and 864 Footlights are available as full size 150W or shorter length 75W models to suit all venues and applications, from theatre to fashion shows, exhibitions to shop windows.
Dalis 862 offers a true tunable white from 2200K to 6500K. Dalis 864 features a 4-colour mixing system of red, green royal blue and warm white (2200K) LEDs. Each row of reflectors can be controlled independently for colourful upstage or downstage lighting, and have a low profile and stylish finish for clean, uninterrupted sightlines.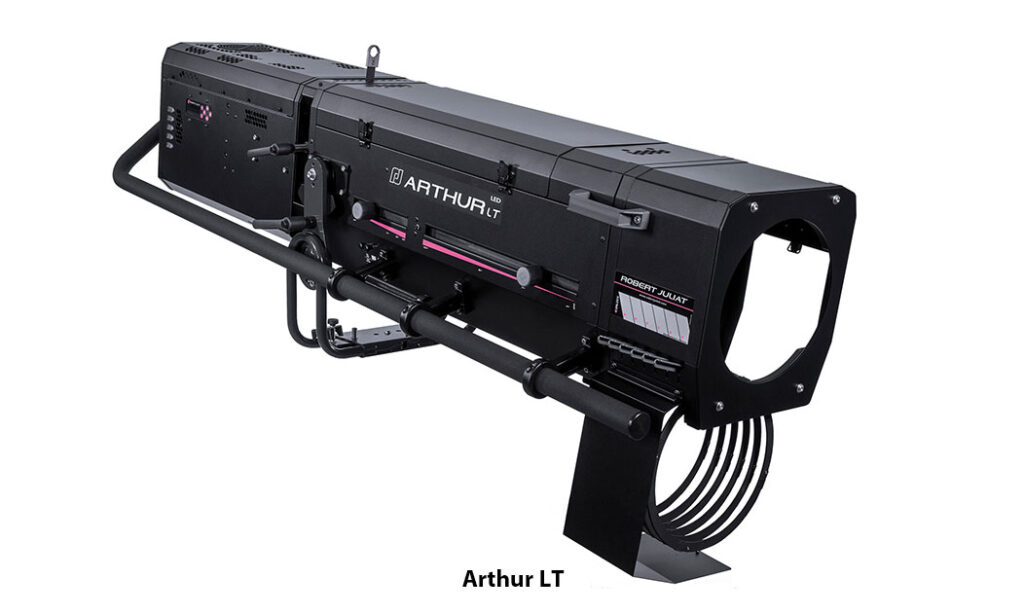 Arthur LT, Robert Juliat's 800W LED long-throw followspot designed specifically for stadium and arena applications, exhibits the wealth of features one would expect from Robert Juliat and packs a punch equal to that of conventional 2500W discharge models at a fraction of the power consumption.
Arthur LT has a zoom range of 4° – 10°, and a high CRI (>94). With the choice of several ventilation modes, Arthur's sound level is much quieter than any of its discharge rivals; it can be operated as easily in opera houses as on concerts. Arthur LT is also available with top controls for the iris and dimmer functions.
A presentation of Robert Juliat's bespoke solution for followspot technology and intelligent lighting, the award-winning SpotMe, will also be on hand. SpotMe takes its lead simply and efficiently from the movements of a Robert Juliat followspot and is able to produce tracking information in real-time, with no emitters or cameras on stage or performers.
SpotMe is the perfect device to add to existing followspots, and a genuine solution that combines high-technology and human control over the lighting design and operation at the same time.