With Singapore taking top spot as a potential world-leading technology hub (according to KPMG's 2020 list of Technology Innovation Hubs), it is no surprise that it has become a magnet for the latest innovations in tech. At the end of last year, The Lion City became home to the country's largest extended reality (XR) stage, created by Singapore-based creative content development agency in events and media production, AUX Media Group. AUX Immersive Studio features a state-of-the-art XR facility, with Brompton Technology helping merge physical and virtual events with its powerful Tessera processing and Brompton HDR.
Powered by AUX Media Group's partnership with UK-based creative technology company disguise, and Japanese audio-visual leaders Yamaha and Panasonic, AUX Immersive Studio is a true collaboration between world-leading brands and technologies with a common goal, "to create experiences that allow our creatives to tell their stories in a way never done before," explains Choong Chyi Kei, CEO at AUX Media Group.
"In 2020, amidst the worldwide pandemic, many industry players pivoted to virtual and hybrid events, with many using green screen technology that requires extensive post-production and guesswork. We decided to take the opportunity to forge ahead on the new path of virtual productions using extended reality technology from start to finish. And so, AUX Immersive Studio was born, Singapore's first extended reality studio," continues Mr Choong.
Since its inception, the team has been able to retrain and rethink their entire workflow. "Marrying this with our experience in event production, we are proud to be able to spearhead this development by introducing extended reality technology to virtual and hybrid productions and learning from the rest of our global partners," says Mr Choong.
With high-end Brompton Tessera processing and ROE Visual LED panels, to disguise media servers, and stYpe and Mo-Sys trackers at the core, the AUX team also uses solutions such as Yamaha Rivage consoles and Tricaster TC2 to produce innovative live stream conferences, memorable award shows and beautiful concerts that bring a real difference to their clients.
According to the team, their main objective was to evolve from the traditional way of delivering projects using green screens or video conferencing set ups from home and office, all of which, in their view, create a disconnect between the presenters and their audience. "We saw a strong need to change and integrate the use of extended reality to bridge the gap in communication and increase productivity all at the same time. Companies that look to improve their ways of engaging with their internal staff and external audiences have come to appreciate our XR solutions," Mr Choong adds.
For the perfect XR configuration, AUX Immersive Studio's setup comprises a 12m by 3.5m LED wall made up of ROE Diamond 2.6mm panels, and a 6m by 6m floor consisting of ROE BM4 LED tiles. The entire set up is driven by two 4K Tessera SX40 LED processors and three Tessera XD 10G data distribution units. The ROE Diamond panels have also been calibrated using Brompton's Hydra advanced measurement system to enable Dynamic Calibration and make full use of Brompton HDR.
"Brompton processing was an obvious choice for us as it offers exceptional colour control and comprehensive image manipulation, coupled with quick and easy tools for the operators to use. With the latest Tessera software updates and additional features, it has made us even more confident that we made the right decision when choosing Brompton," says Mr Choong.
Mr Choong further explains that by using Brompton HDR, the team was able to achieve a much more vivid and lifelike colour reproduction, which is especially crucial in extended reality productions. "By being able to utilise a full spectrum of Dynamic Calibration features and Brompton HDR technology, we are able to push the limits of how close we can produce virtual sets that feel so real that the whole experience almost becomes tangible," he adds.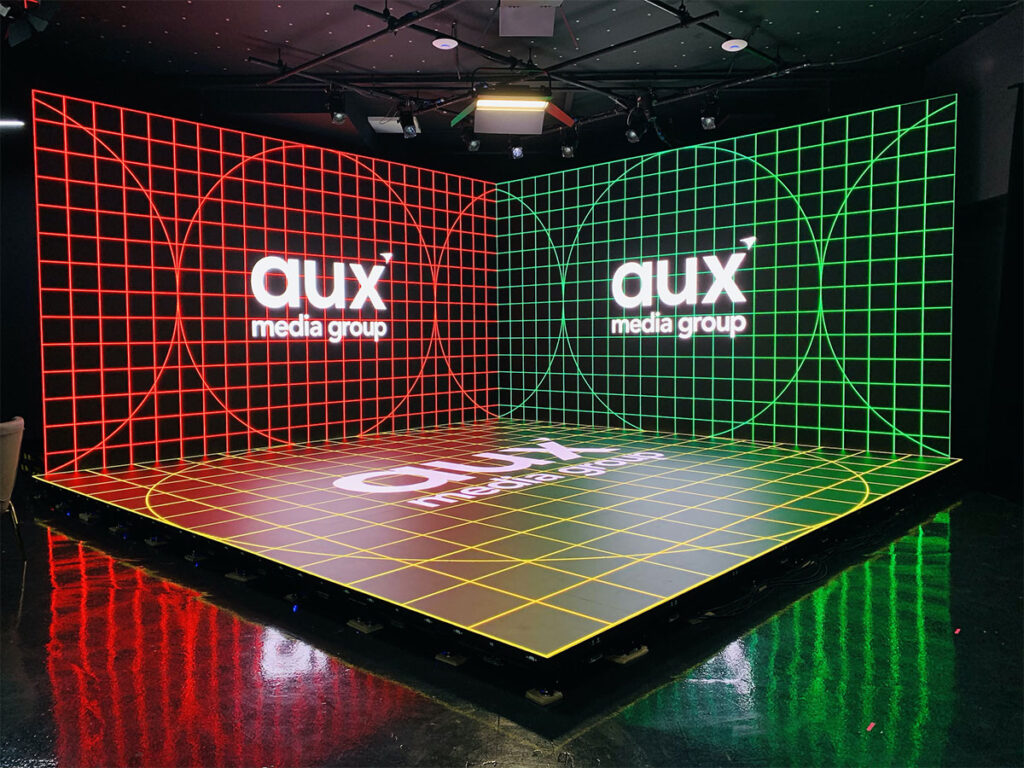 Since its official announcement, AUX Immersive Studio has hosted various projects ranging from music videos like Singapore Artiste ShiGGa Shay's 'Reason Why', live concerts such as Singapore Management University Patrons' Day 2021 and Central Narcotics Bureau of Singapore Virtual Concert, and even a cross-border collaboration between award-winning Jazz artists Jeremy Monteiro and Laura Fygi. The studio has also accommodated large corporate conferences and annual general meetings (AGMs), such as this year's Singapore Tourism Board Tourism Data Leadership Conference, Great Place to Work® Annual Conference, as well as numerous awards shows, all of which were produced with stunning visuals that amazed both the clients and their online guests.
With these events and shows, Mr Choong notes that Brompton processing provided the team with pin-sharp colours which allowed them to bring out the true quality of any virtual environments created. "Ease of navigation through the Tessera software feature set and the power to make colour adjustments from a single place was an important contributor to the success of our projects," he says.
Looking towards the future, AUX's team is excited to utilise AUX Immersive Studio's cutting-edge technology for filmmaking, as they believe it will help minimise the need for physical sets and uncap the imagination and storytelling it can deliver. "Recreating our client's stories is a key focus of our company across all sectors. We have already started talks with one of the global key streaming service providers to produce content right here in our studio," concludes Mr Choong.
"With the new Tessera 3.1 HFR+ feature we have the ability to work with high frame rate content like eSports, film and broadcast. With the current hype in esport gaming this will be invaluable for us to be able to host such events and make full use of our high-speed cameras for filming purposes."