Level up your next DJ set with synchronized lights and on-the-fly lighting effects!
SoundSwitch, the leading provider of DJ lighting controlsoftware and hardware, today announced the SoundSwitch Control One – a professional lighting controller and dual-universe DMX interface. Since the introduction of its automated lighting software, SoundSwitch has been committed to building tools that make it easier for DJs to incorporate lighting into their live performances. Control One's form factor, comprehensive feature set, and extensive connectivity with DJ and DAW applications make it the first lighting controller designed for DJs and performers.
Lighting Control for DJs and Performers
Compact and intuitive, Control One provides DJs a familiar and fun lighting experience. Compatibility with professional DJ platforms from Engine DJ, Serato DJ, and Virtual DJ makes it easy to integrate Control One into existing DJ setups. Additionally, musicians and performers can automate synchronized light shows and add live lighting effects using Ableton Link or manually tapping in the BPM on Control One.
Automated but Fully Customizable
Leading the industry with music-synchronized lighting automation, SoundSwitch software delivers dynamic light shows with a single click. Choose from dozens of light show presets based on genre or mood, and even customize the result to your liking. When it's time to perform, Control One offers customizable RGB performance pads, parameter knobs, and a touch strip to create the perfect ambience for any event or venue.
1:1 Hardware Control for SoundSwitch
As you'd expect, Control One provides tactile control over all SoundSwitch performance features. Effortlessly trigger color and position overrides, cycle between banks of automated light shows (Autoloops), set an elegant ambiance with a subtle Static Look, and when the moment calls, engage the Strobe to add an energized visual effect to complement the build-up of your performance.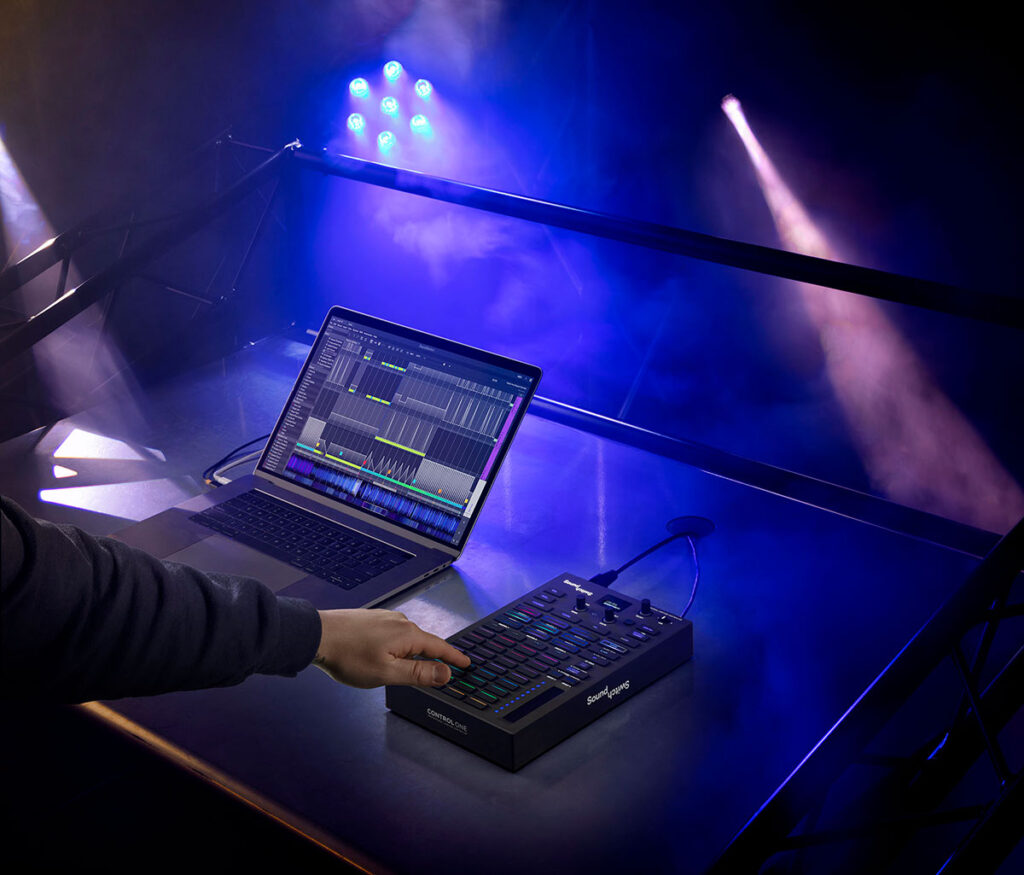 Plug and Play with Engine DJ Hardware
Prefer performing without a computer? Control One is plug and play compatible with Engine DJ hardware running Engine DJ v2.0 or higher. Simply connect Control One to an available USB port on the Engine DJ hardware. Once connected, you'll have full standalone control over the entire performance environment, music, and lights.
Experience Engine DJ at: www.enginedj.com
Key Features
• 1:1 Hardware Control for SoundSwitch Software
• Plug and Play with Engine DJ Hardware (Engine Lighting)
• Automatic Light Shows Synced with Beat Grids
• Controls Both DMX and Philips Hue Lights
• Performance Pads with Customizable RGB
• Pan, Tilt, and Intensity Controls
• Onboard Memory for Storing Light Patch and Settings
• (4) Pro-grade DMX Connections for 2 DMX Universes
• DMX Input for Merging with Install Lighting Systems
• Dual USB for Seamless DJ Transitions
• Built-in OLED Display for Settings and Preferences
"The Control One adds new functionally and improves the overall experience of controlling lighting while DJing. Following on from the release of standalone lighting control and the improvements made to the desktop software, a dedicated controller for SoundSwitch and Engine Lighting was the logical next step." said SoundSwitch's Product Owner, Matt Watkins. "Control One takes the use of lighting in a DJ set to the next level."
Price
$299.00 (US) | €299.99 (EU) | £249.99 (UK)
Availability
Today at SoundSwitch.com and other participating stores.
Check with your local retailer for availability.
Control One includes 3-months of SoundSwitch access for new users. Subscription pricing starts at just
$7.99 per month or $79.99 annually.