Strand, the original name in theatrical lighting and a Signify (Euronext: LIGHT) entertainment lighting brand, today announced the Acclaim LED Series, a complete range of theatrical luminaires ideally suited for education theatre spaces, community stages, and small houses of worship.
"For over 25 years, the name Acclaim set the standard worldwide for 500W/650W theatrical luminaires," states Martin Palmer, Senior Product Manager, Vari-Lite and Strand Luminaires at Signify. "This new family of luminaires carries on that tradition, drawing on over a hundred years of theatrical lighting expertise to give maximum performance for small to mid-sized theatrical stages and studio spaces."
The new Strand Acclaim LED Series includes both a zoomspot and a profile light engine, as well as a true theatrical Fresnel and a cyclorama luminaire. Thanks to a custom LED multi-spectral light source, the Acclaim LED Series offers a consistent, high-quality experience throughout the range. "The Acclaim LED Series offers exceptional output and full color mixing packaged into a family of compact theatrical luminaires," explains Palmer. "This ensures that even facilities with limited budgets can have great output and color mixing options from a brand they can trust."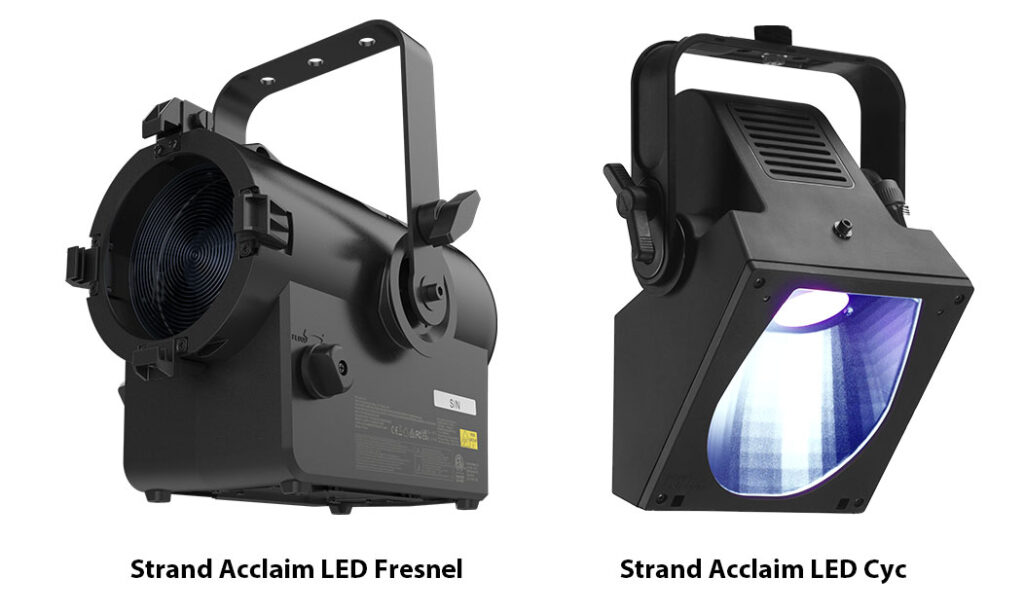 Strand Acclaim LED Fresnel
The Strand Acclaim LED Fresnel is a full color theatrical Fresnel wash fixture offering saturated stage color washes and dramatic highlighting capabilities, plus control and light quality superior to comparable PAR fixtures. The adjustable 10° to 40° zoom provides manual adjustment with minimal light scatter, and the even, soft-edged beam easily blends with adjacent fixtures without hard edges to soften with frost filters or hot spots to smooth out in the beam.
Strand Acclaim LED Zoomspot
The Acclaim LED Zoomspot offers high output and full color mixing in a single, cost-effective fixture designed for precision key lighting and gobo projection. With an integrated 25° to 50° manual zoom and focus, and a four-blade manual shutter system, the Strand Acclaim LED Zoomspot gives excellent control to shape and focus the light, providing precise adjustment of the flat, even beam to key light performers or highlight parts of the set.
Strand Acclaim LED Profile Light Engine (PLE)
The Acclaim LED PLE is a full color LED ellipsoidal light engine that works with Strand SPX lenses, offering exceptional output with consistent color mixing to the Acclaim LED Zoomspot for applications where a longer throw or wider spread is needed. With the onboard four-blade manual shutter system, the Acclaim PLE gives designers the control to shape the light how they want it.
Strand Acclaim LED Cyc
The Acclaim LED Cyc is a true cyclorama luminaire offering a uniquely shaped symmetrical reflector design and >5,000 lumens of high output for wide coverage and consistent light distribution without the need for inefficient vertical or horizontal spreader lenses.
"The new Strand Acclaim LED Series is the perfect solution for small to mid-sized spaces," adds Fernand Pereira, Global Head of Marketing and Product Management, Entertainment Lighting at Signify. "When combined with VL800 Series event luminaires from Vari-Lite and control and power distribution solutions from Strand and Zero 88, customers have access to a complete solution for these applications from a single manufacturer."
Additional Resources
· Strand Acclaim LED Series Landing Page
· Strand Acclaim LED Fresnel Product Page
· Strand Acclaim LED Zoomspot Product Page
· Strand Acclaim LED PLE Product Page
· Strand Acclaim LED Cyc Product Page
Photo: © Strand Lighting