Lighting designer Vladimir Lyubimov continues to use Astera Titan Tubes as a key lighting feature for concerts by acclaimed Russian rock musician, singer and poet, Svetlana Surganova.
The most recent of these took place at Crocus City Hall in the Krasnogorsky District of Moscow, staged in the autumn – at the time this was during a brief period when concerts and large gatherings were allowed during the Covid-19 pandemic.
Surganova i Orkestr (Surganova & Orchestra) – among the most popular touring acts in Russia – presented their "In Contrast" programme to a full live audience at the venue after the show was moved at short notice from the famous 1930 Club, also in Moscow, to the larger 7,300 capacity venue.
Having planned to use their most recent touring lighting and stage design from the start of 2020, Vladimir and the crew were left facing the challenge of making their production work in the new space.
Delighted to be back working in a concert environment after so many months of livestreams and studio recordings, he and all the production crew from rental company ZavodShow relished the task!
"Sixteen Astera Titan Tubes does not sound like a lot of lights," commented Vladimir, "but this is more than enough to fill a standard stage area." They were used in tandem with other lighting fixtures and moving lights on the rig.
The Titan Tubes were deployed to create three layers of depth – some were sitting on their floor mount stands and positioned around Surganova and her six-piece band, while others were attached at different heights to an arc of eight upstage totem truss towers, with all these elements adding new visual dimensions to the stage.
"Essentially, the Titan Tubes helped me to redefine the space so it could become an intimate environment when needed and also a big and powerful arena stage the next moment," stated Vladimir, who is one of the first touring LDs in Russia to start incorporating Titan Tubes regularly in his designs.
His association with the brand stems from a Prolight+Sound expo in Frankfurt a few years ago when he was working with rental company Vader Group and they saw the Tubes for the first time. Shortly after this, the company purchased some Astera AX1 Pixel Tubes and Vladimir has been using these and Astera generally ever since. He reckons they now appear in 80% of his designs.
"They are completely portable," he comments on the Titan Tubes, "so quick and easy to install, and they can be used for multiple scenarios – the limit is really only one's imagination! These advantages also make them an ultimately tourable light source."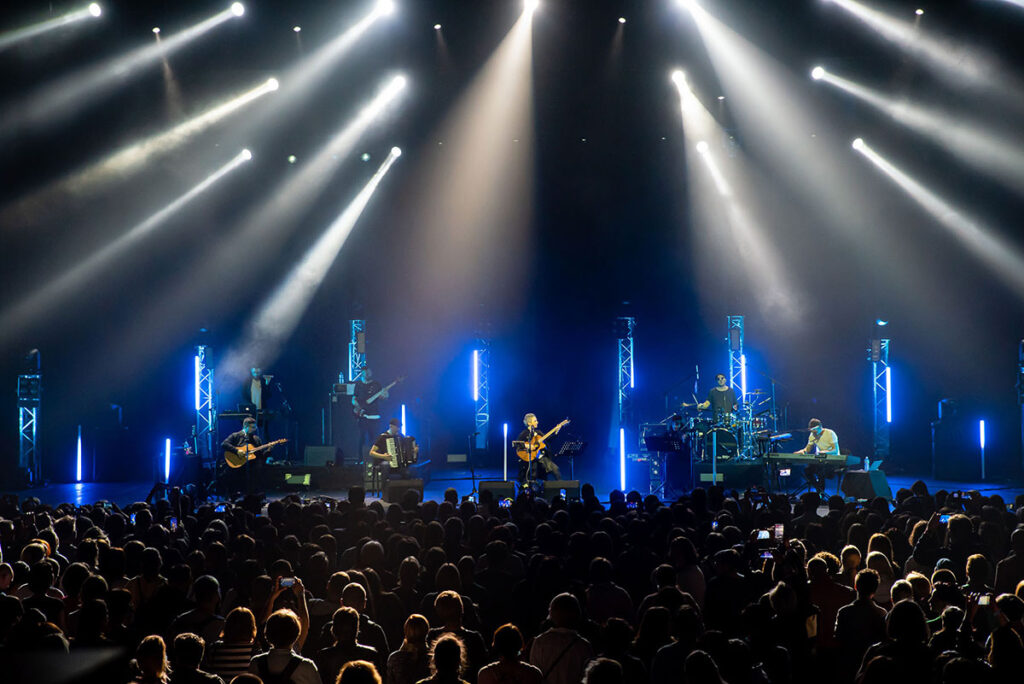 He reckons rigging the Titan Tubes onstage takes around 15 minutes on an average gig day – 10 minutes of which might be spent establishing optimal positioning.
For control, the Titan Tubes for this concert were run in 16-pixel RGBW mode via the AsteraBox ART7 CRMX interface between lights and controller.
For Surganova i Orkestr, Vladimir has used Astera Titan Tubes since his very first gig as the band's LD in Murmansk. "They all loved the products and the idea of using them onstage," he explained, so Titan Tubes became a cornerstone of their touring visual concept.
Working to Svetlana Surganova's creative brief to 'maximise the emotion and feeling' of the performance, Vladimir found numerous ways to utilize Titan Tubes; "The colours, transitions, pixel mapping, effects and the almost infinite possibilities for experimentation," he mused.
During one of the artist's signature songs, "Korabli" (Ships), most lights are off, darkness dominates the stage and the band have their backs to the audience who can hear only the repetitive sound of falling water drops and see only the sharp vertical lines of the upstage Titan Tubes glowing in a potent cyan colour.
As the song progresses, the sound of cascading rain droplets intensifies, and the Titan Tubes also start emulating rain with pixel mapped effects as the blue hues give way to flickering white as the whole stage and auditorium is immersed in the water which is the main theme of the song.
Despite all the unpredictability of 2020, Surganova i Orkestr had a busy year which included recording a new album that will be released later this year.
Rental company ZavodShow is a long term Surganova i Orkestr technical partner and they provide full technical support for all the touring shows which usually encompass a wide variety of venues across Russia. Needless to say, everyone is looking forward to being back on the road with this artist soon!
As of writing (February 2021), live performances and events in Russia have again resumed.
Photo: © Roman Makaov