When Taiwan's National Kaohsiung Center for the Arts (Weiwuying) hosted a revival of the German/Taiwanese co-production of Puccini's Turandot earlier this year, Mr Chien-hao Kuo, lighting designer and head of lighting, boldly chose to replace all the discharge moving lights of the original design with LED fixtures.
He carefully selected 26 Ayrton Khamsin-S profiles which were supplied to the venue from its rental stock by Hispot Workshop of Taipei, Taiwan, a company which has been dedicated to theatre design and equipment rental for over twenty-six years. Mr Kuo's choice was a considered one as he had used Ayrton Khamsin-S on several operas in the past and knew them to be both powerful and quiet.
"Because opera singers perform without amplified sound, I was focused on methods of reducing the background noise in the theatre," he explains. "Moving lights with discharge sources are notorious for having fans, the noise of which causes disturbance in this kind of performance." An LED source was therefore the way to go, but without compromise on performance or versatility.
"I knew from experience that the Khamsin-S is a very versatile fixture: it is fully-equipped with everything you need, whether used as a spot or a wash, and has great gobo projection," says Mr Kuo. "I knew that, as long as I had all Ayrton Khamsin units hung on all the grids, I would never have to worry about anything the director requested during tech time! Ayrton Khamsin-S can reproduce any picture in my imagination very rapidly, and I can even use its graphic animation effect wheel to simulate various video effects."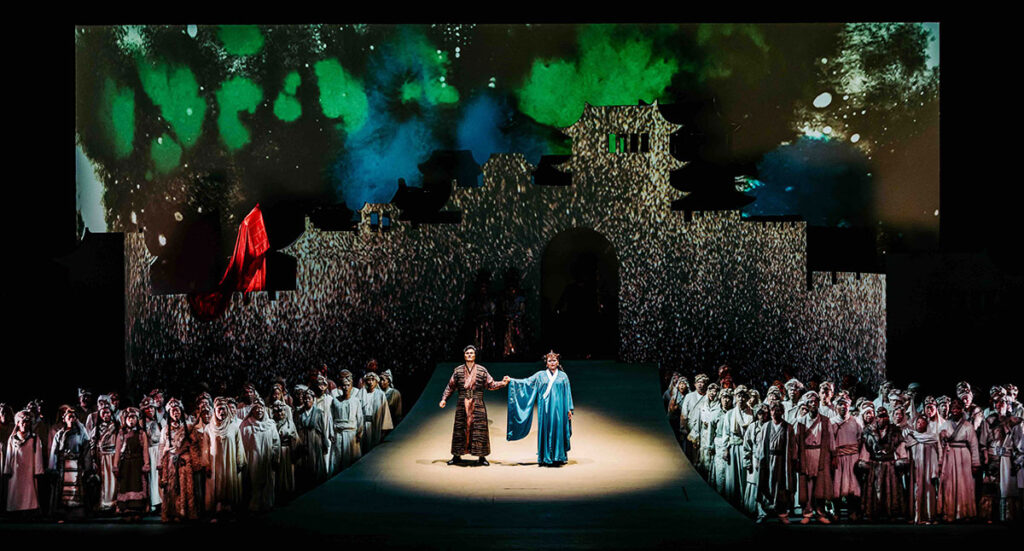 Ayrton Khamsin-S played a pivotal role at the heart of Mr Kuo's design by creating leading image effects and using the gobo flow to match the media content. "I kept the fixtures busy in colour changing, gobo rotating and graphic animation," he says. "All functions were set to work for hours, and we never had to reset the system when the show was in process."
Khamsin-S's reliability was also an important factor as Turandot's stage set design included a semi-circular cyclorama and central slope feature. "Because of these stage features, once the lights were rigged, it would be difficult to access them for any further readjustment," explains Mr Kuo. "We therefore decided that all the overheads would be Khamsin-S moving lights because it is a very stable fixture. And once they were rigged above the stage, it was very easy to achieve both clean shutter cuts and smooth washes."
Because Ayrton Khamsin-S is brighter than the fixtures in the original design, and the LED colours are different from those in the discharge units, Mr. Kuo took time to adjust the intensity and colours to correspond with the original look of the production. "In this production, digital media took up the largest proportion of the design, with the lighting forming a balance between the stage and video concepts. Khamsin's electronic dimmer is very precise and allowed me to make fine adjustments that created a proper bridge between the two."
National Kaohsiung Center for the Arts (Weiwuying) is a sleek, wave-shaped, 3.3-hectare building which, as the world's largest single-roof performing arts centre, provided a majestic setting for this internationally popular classic opera. The original co-production between the National Kaohsiung Center for the Arts (Weiwuying) and Deutsche Operam Rhein premiered in Theater Duisburg, Germany in December 2015, before receiving its Asian premiere at the Weiwuying Opera House in April 2019. The lighting design was a joint creation between Volker Weinhart for Germany and Mr Kuo for Taiwan. This latest revival in August 2020 enjoyed huge success, with a simultaneous live broadcast on Weiwuying's official YouTube channel that also allowed 50,000 people across the world to enjoy the experience together, without borders.
For more information on Ayrton Khamsin-S and Khamsin-TC, and the full range of LED lighting fixtures, visit www.ayrton.eu
Photo: © Image provided by National Kaohsiung Center for the Arts (Weiwuying).