In the weeks leading up to the lockdown, Volbeat was tearing up Europe on a 32-city tour of the continent. The raw, unbridled power of the Danish metal giants came to its full fruition at the Stuttgart Hanns Martin Schleyer Halle one night, as they shook the 15,000 seat venue to its very foundation with their thunderous sound.
Building on the energy of the band's performance and driving the intensity level ever higher was a 40-universe Niller Bjerregaard light and video show powered by the designer's two ChamSys MagicQ MQ500 Stadium consoles. Part programmed and part busked, the show served up a torrent of searing images for the 22-song set.
Although fans haven't been able to see a live Volbeat show since the lockdown, they had the chance to immerse themselves in the magic of that special evening when the band's Stuttgart performance was streamed on a pay per view platform.
"The broadcast was as original as it gets," said Bjerregaard. "All elements and features were as they happened that night and nothing was added or changed to enhance the viewer experience. The Stuttgart recordings were part of numerous recordings on that tour, but no elements were used from other shows, so what fans saw was exactly what happened. This video is a close as possible to that night, which is pretty cool."
Among the sights that were there to behold that night was a stunningly dramatic opening that featured a video wall rising to reveal the band. "We had been using a kabuki front drop in the beginning of our shows, so we were looking for something different this time, while still keeping the element of surprise when we introduced the band," said Bjerregaard. "We had a slightly curved full video wall 6 meters high and 14 meters wide with the Volbeat Skull Wing Logo. As the show started the hole screen moved up in one piece above the band — and after few songs started to move up stage in various positions and formations, showing content and live feeds on them."
The "screen" that opened the show was actually made up of eight different single screens that could be combined as one, or positioned individually on a 360ﹾ truss track. In addition to up and down movements, the individual monolith screens could be turned 180ﹾ. On the back, Bjerregaard mounted lights and drapes for special songs. Aside from the monolith screens, all surfaces of the stage set and pods were also covered with screens.
Bjerregaard used the M-Box Media Server. "Michael Austin Smalley, a renowned Light/Media Designer from Las Vegas and great friend, helped me in setting up," said Bjerregaard. "My MQ500 controlled the media server with special designed video content, including movie clips with matching sound effects through the PA, as well as all camera live feeds.
"I programmed all of this onto my Cue List, patching the media server as I would any other fixture," continued Bjerregaard. "I used my palettes to ensure that I had a consistent work flow and handling. I experienced no problems working the complex and deep programming with M-Box and MQ 500 and was very happy how straight forward everything worked. . A big shout out to Smalley and PRG UK for the support and help."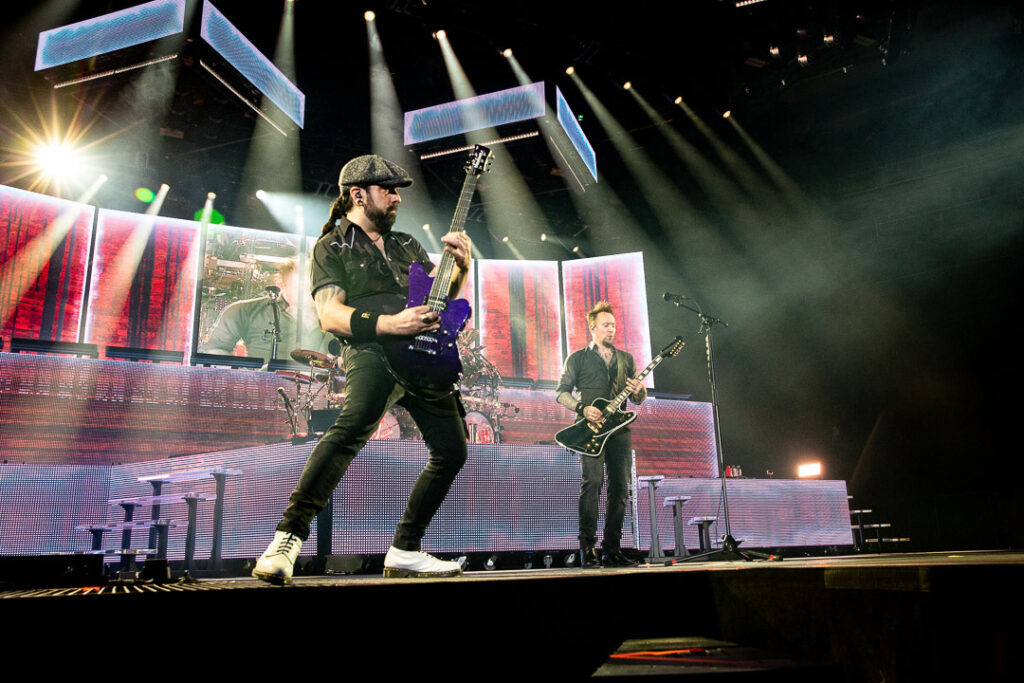 Bjerregaard also credits his MQ500's ability to work smoothly with so many different protocols with helping him manage this complex show. His MQ500 allowed connection to up-to 50 media server layers and worked with many different types of media servers, with patch profiles already available in its personality library.
To maintain a sense of spontaneity throughout the show, Bjerregaard mixed busked effects in with his cue lists. "I made a page for each song and had matching effects and color cues," he said. "The MagicQ was invaluable for this purpose. I could enhance the cue stack by adding effects such as strobes, and fixture beam fly outs. I also used the Execute Window for macros and between song looks."
The entire light and video show was programmed in different stages over several weeks on Bjerregaard's two MagicQ MQ500 desks. He began at his home studio building the design into the plot window to ensure that all fixtures were placed correctly. Then he trimmed trusses and lights to make sure he had the correct look in the Visualiser for making pallets and pre-patching. He also made output window plan views for different parts of the light plot to allow easy access and programming.
Next, Bjerregaard moved on to London where he spent two days at Neg Earth putting the finishing touches on the patch plan and fixture modes. At Neg Earth, he also looked at video walls and screen automations and live cameras for the first time with award winning live camera director Shelby Carol Cude and PRG UK.
From London, he journeyed with the entire production crew to Poland, where they spent five days at an arena programming lights, video, automation, sound, and pyro before doing the first pre-run of the show in advance of heading out on tour. It was a long process that led to a memorable tour – and though COVID-19 put a temporary halt to an encore, fans can still savor the moment on this realistic video as they look forward to the future.