Multimedia entertainment studio Moment Factory and lighting designer Christopher Bushell are the creatives behind Indie music heavyweights Arcade Fire's 'most ambitious production to date' – the Infinite Content tour.
Bushell, who worked closely with Creative Director Tarik Mikou from Moment Factory on the production, is using an Avolites Sapphire Touch and Titan v10.1 app to control the enveloping lighting environment, which features a 360° stage set in the round.
"The overall brief was for a visceral lighting and video design that both formed and blended with the show's scenography,' says Bushell. "The arena design features a strong sporting event vibe, with a boxing ring stage in the centre of the room."
Much of the programming for the arena tour is developed from Bushell's preceding design for the band's festival circuit this year. The 'boxing ring stage' – a central, in the round performance space, is crowned with a square lighting grid clad in LED video screens. Out in the arena, vertical towers provide additional lighting positions to cover the stage and provide strong beam looks around the room.
"Working in the round comes with its challenges," says Bushell. "I can't check or update positions and cues until every piece of lighting and automation is up and running. This leaves me little time to get the pin-point accuracy required. To overcome this, I program remotely from the console using a wireless router and the Avolites Titan v10.1 app. The app allows me to roam around an arena venue, updating fixture positions as I go."
The Avolites Titan v10.1 app works alongside any Avolites Titan console to provide moving light control from an Apple or Android device. Using the app, Bushell can modify fixture attributes such as Dim, Pan and Tilt. He can also create, update and apply Palettes, play cues, command style fixture selection, intensity control, quick sketch legends and view DMX address patch remotely.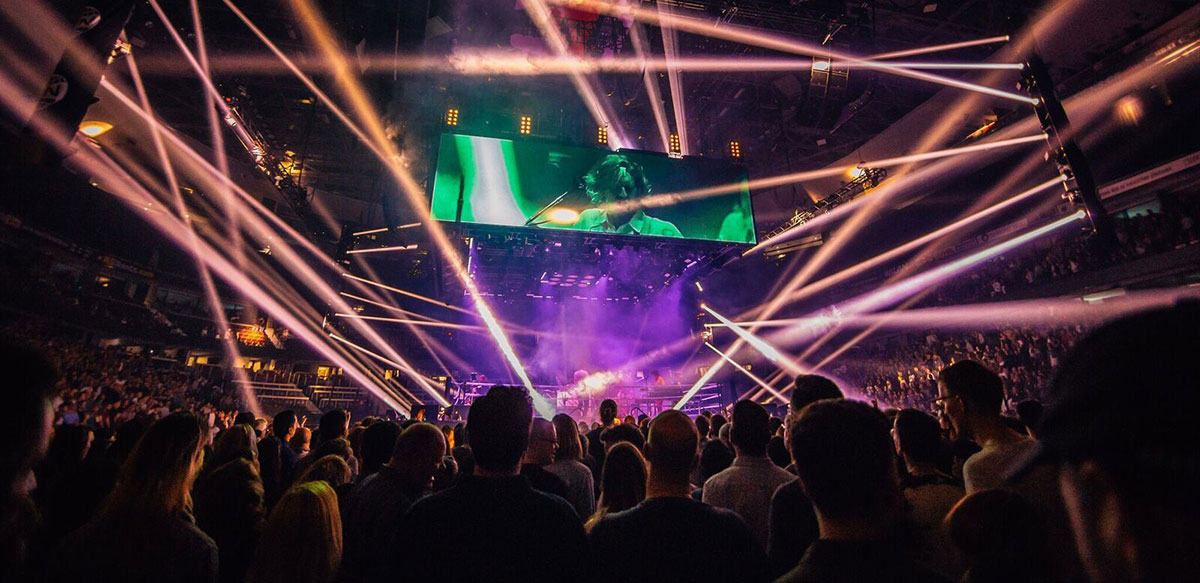 "I use a Sapphire Touch for the Arena shows," says Bushell. "They need a full package console. This show is 100% live, so the Sapphire's two screens and multiple handles mean I can keep an open palette of cues to work with and manipulate live, rather than getting locked into a cue stack or timecode. It's important to me to feel part of the live experience, rather than just pressing a 'Go Button' from time to time."
The Sapphire Touch was supplied by PRG Las Vegas for the American leg.
"The support from Avolites is always beyond reproach," says Bushell. "It's a massive comfort to know there's someone I can reach out to at any time, from programming queries to me forgetting how to turn the various bits on! The fantastic 'Avo-brain', self-help forum on Facebook is always a great help."
For the band's festival shows earlier this year Bushell chose to use an Avolites Arena console and Titan Network Processor (TNP), both supplied by production design company MIRRAD through PRG.
Bushell explains that the TNP was vital for his festival setup. "The TNP with the Arena console was essential for festivals. We were running eight universes for our touring system, so it was helpful to keep all that safely separate on the TNP and allow the console to do the daily grind of looking after the wildly differing festival lighting systems that we were presented with."
"I'd never lit a show in-the-round before so that was a major challenge in itself," he reflects. "There are a lot of people onstage. The way we have managed to keep focus on all that is going on, whilst maintaining a unique and pronounced aesthetic is what I'm most pleased with and proud to have been a part of."
The Arcade Fire Infinite Content tour is currently on its American leg and will visit the UK and Europe in April 2018, beginning with a show at the 3Arena in Dublin Ireland.
Photo: © JF Lalonde