Versatile PA System Delivers Crystal Clear Sound With Complete Coverage Throughout the Entire Venue.
When the prestigious, family-owned Millett Group hospitality and tourism group opened Salty's restaurant and bar, Owner and Operator Christian Millett wanted to create a venue that paid tribute to the history of surfing culture in Australia and Bondi Beach in particular. Millett's vision called for a more relaxed and fun environment with a serious PA system capable of handling it's various audio needs. Millett turned to Pro Audio Video Technology (PAVT) who designed a custom audio system from Eastern Acoustic Works (EAW®) for the venue.
The Millett Group and PAVT have a long-standing history with EAW having installed EAW PA systems in the company's various venues around the region for the past 10 years. "I have always been impressed with the quality and durability of EAW's equipment," says Millett. "Our venues operate seven days a week, year-round and our EAW gear has always stood up to the test. With our new venue, Salty's, we did not consider any other option. For us, having a restaurant and bar with amazing sound quality and entertainment was going to be our point of difference and we knew we had that with EAW."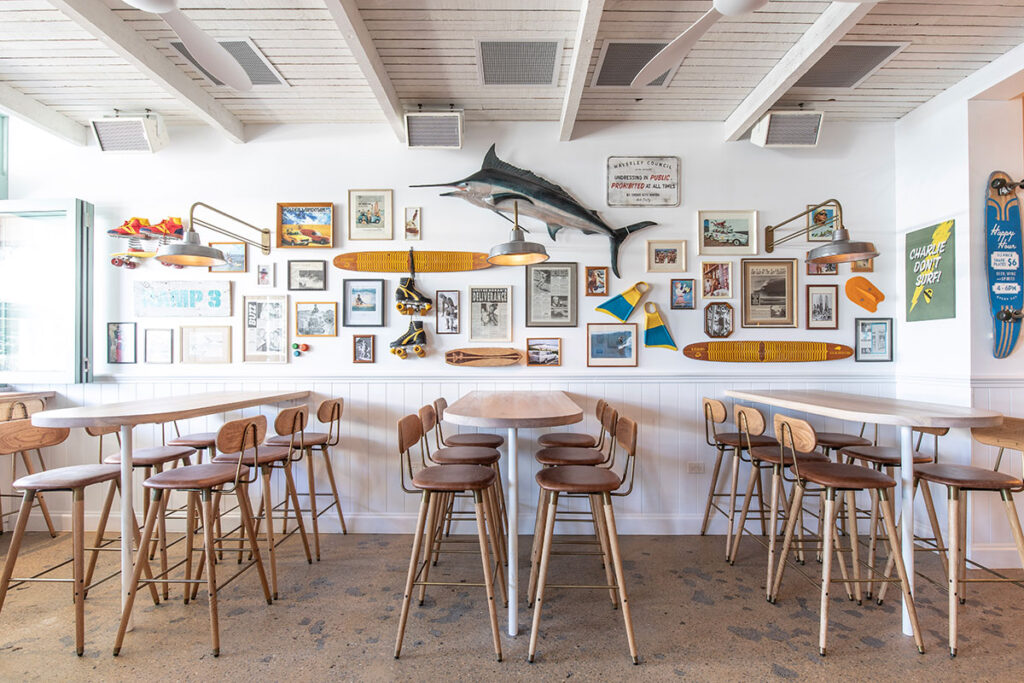 In designing the PA system, versatility was key for the team. Salty's is open for lunch daily, so the venue needed to have a system for background music that allows patrons to carry on conversations. Salty's features DJ's playing music seven days a week, so the sound volume changes dramatically not only throughout the day, but from set-to-set. It was also important that the system had zone controls to raise the audio levels in parts of the venue. With EAW, the audio quality was clear regardless of the sound level. In addition, all management staff have an app on their phones that enables them to walk the venue ensuring the levels are just right.
The bar is very deep but it is not wide so in designing the audio system, the PAVT team broke the bar into four separate zones. The main zone/DJ/dance floor is covered with six EAW MK8196 passive two-way loudspeakers and two EAW SBK250 subs that are all flown. The bar area is covered with a line of EAW VFR89 passive, two-way loudspeakers, and the entry area is covered with six VFR89 and four SB120 speakers. The annex area off to the side of the main area is filled with a pair of VFR89 speakers.
Millett continues to be impressed with his EAW PA system. "EAW has a very solid distributor in Australia with PAVT," adds Millett. "PAVT has had the EAW line for many years and this instills confidence that should any parts be required down the road there will be continuity of supply. Dave Coxon has been excellent, as usual, in helping us with the commissioning and tuning. Since getting it dialed in during setup, the system has been perfect. Salty's looks and sounds great."