Since 2008, the Rooster Walk Festival at Pops Farm has been a Memorial Day tradition in this small hamlet tucked away in the foothills of the Blue Ridge Mountains. In addition to providing a boost to the local economy, it has raised money for a scholarship fund that donates musical instruments to schools and students.
Then COVID happened. Not only did the pandemic force the cancelation of the 2020 festival, it's lingering effects also nixed this year's planned Memorial Day event. Undeterred, Johnny Buck and William Baptist, the festival's producers and their team, moved the event back a few weeks and served it up in a modified form as an outdoor concert by jam band heavyweights moe.
Dubbed the "moe.Morial Show," the two day, four-set performance featured nonstop improvisational blends of old and new rock, laced with freewheeling guitar riffs and multi-layered flights of percussive fancy. Jason Patsel went with the flow, supporting every twist and turn with colorful light from 36 CHAUVET Professional fixtures supplied by Berkeley Dent and his team at 81 Productions.
"Berkeley, along with Dustin Lee and the production crew were amazing in helping to make this happen," said Patsel, "During the show Friday we had to shut down because of heavy rain and lightning, ironically when the band was playing the song 'Water.' Then we came back swinging on Saturday, but it rained again – and again during a performance of 'Water,' but the weather cleared and we could finish the set."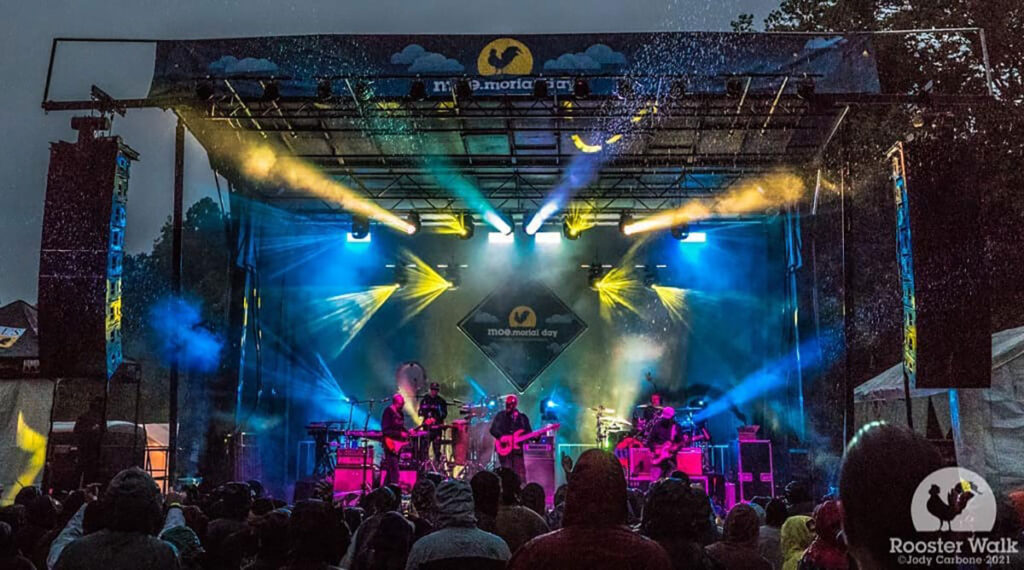 When it wasn't raining Patsel was creating some thunderous looks of his own, using the 12 Rogue R1 Spot fixtures in his rig to create vividly colored patterns of crossing light on the stage, into the crowd, and in the air. "It was great to see a live audience rocking again, so I really wanted to make sure to immerse them in the action," he said. "Lighting the crowd was a big part of this."
Patsel arranged his Rogue fixtures on the deck, spreading them two-to-three feet apart to ensure even coverage. He notes that given his goal of "total immersion," it was critical to cover the middle of the stage, "an area that is sometimes forgotten about."
To further engage the crowd, he positioned 12 COLORado Tri-1 Tour fixtures down stage to use as front washes and added 12 Q-Wash movers from 81 Productions' old inventory to complement the color light from his spots. At some points, he created stark color contrasts between the light from his movers and pars. At other times, he added stark white to his mix of colors. He also created some crisp gobos with his Rogue R1 Spot units, all to reflect the myriad moods of moe's music.
"I busked the whole show," said Patsel. "Luckily I knew many of the tunes, and had time to learn others. But moe is a very versatile band, even by jam band standards. So, keeping up with them was challenge."
It was a challenge that Patsel met very well. As one crew member declared, "he rocked all four sets." And that was not a bad way to introduce fans at Pops Farm to music after a long cold lockdown.
Photo: © Jody Carbone