CHAUVET Professional has turned the notion that "size matters" on its head with the new Maverick Force 2 Profile and Maverick Force 1 Spot. Developed after extensive R&D and with input from leading designers, this new family of high-performance, LED moving heads, pack arena-sized punch in lightweight frames.
"We developed the new Maverick Force series to address the demand for compact, but powerful fixtures that our touring and broadcast customers have been asking for," said Albert Chauvet, CEO of Chauvet. "Smaller framed, easier-to-handle fixtures are especially well-suited to today's social distancing environment where limited set-up crews are expected to do the jobs that were once performed by more people."
The units are not only designed to be lightweight and compact, their output also has force from power-packed advanced LED engines. Weighing in under 60lbs (27.2kg), the Maverick Force 2 Profile is powered by a 580-watt LED engine that produces an intensely bright 21,000 lumen output. Tipping the scales even less than its stable mate, the under 50-lb (22.7 kg) Maverick Force 1 Spot features a 470-watt LED engine capable of blasting out 20,000 lumens of brightness. Both high-output fixtures produce an array of hues from brilliant reds to soft pastels with CMY+CTO color mixing and an added color wheel with CTB and CRI filters for design flexibility.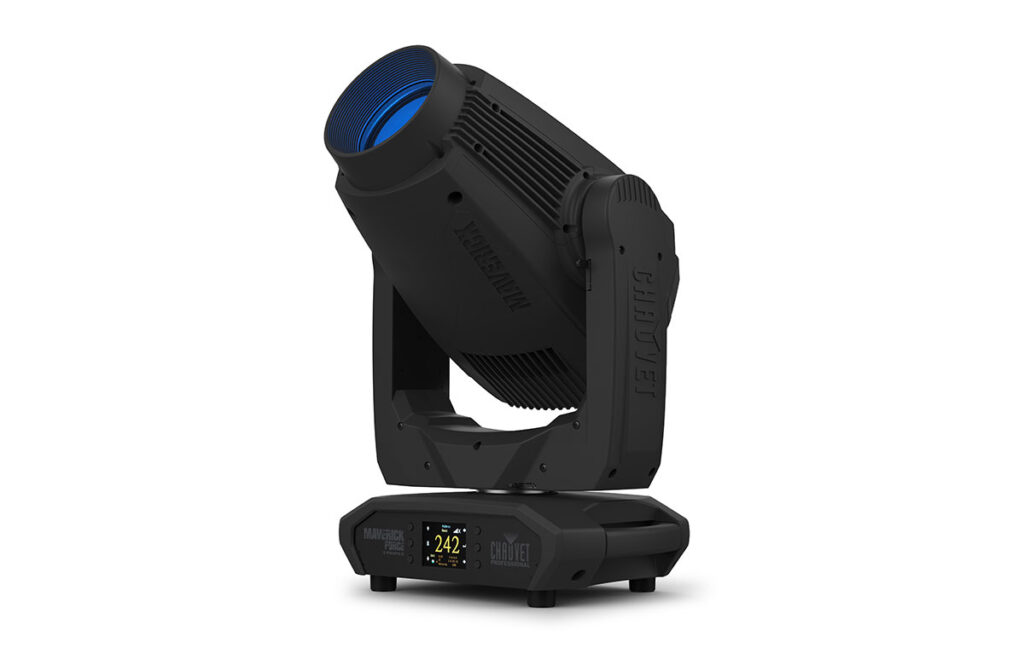 Lightweight fixtures not only make load-in times faster and more efficient for rental houses. They also translate directly into faster movement and speedier effects for designers and programmers. Maverick Force 2 Profile features a quick four-blade framing shutter system with 120-degree rotation for precise control, a 7ﹾ to 55ﹾ zoom to cover a wide range of areas, and 16-bit dimming for smoother fades. Added versatility is provided by its five-facet prism with frost, motorized iris, two rotating gobo wheels, and animation wheel. Maverick Force 1 Spot's effect wheelhouse has one rotating and static gobo wheel instead.
The discreet operation of these fixtures also makes them well-suited for installations where quietness is of paramount importance. Both fixtures feature Pulse Width Modulation and several TV fan modes, making them ideal for broadcast lighting. A variety of advanced control options are offered with DMX, WDMX, sACN, ArtNet, Pre-set synch and RDM capability for remote accessing.
"When developing our Maverick Force fixtures, we set out to achieve the optimal balance between lightweight design and high-performance features," said Chauvet. "As much as lighting professionals are seeking smaller workhorse fixtures, we didn't want them to have to sacrifice quality for compactness."
With the Maverick Force 2 Profile and Force 1 Spot, that's a choice they don't have to make.