Arthur, Robert Juliat's new 800W LED followspot, made its global debut at Big Eoul Madang (Yongin Cultural Foundation) in Seoul, South Korea, which was proud to be the world's first venue to receive the new followspot.
Arthur is an 800W LED followspot with a 5.5° – 15° zoom that has been designed for long throw applications in larger venues. Complete with all the ergonomic, optical and maintenance benefits expected from Robert Juliat products, Arthur is already becoming a firm favourite with opera houses and theatres around the world.
The first two Arthur followspots were shipped to Big Eoul Madang in late summer 2020, having been supplied by Robert Juliat's exclusive Korean distributor, C&C Lightway. The pair were specified by the venue's lighting designer, Mrs So-Jin Kang, who chose them as the perfect match for Big Eoul Madang after seeing them at LDI 2019 in Las Vegas.
"We were already familiar with the quality of Robert Juliat products having 36 RJ 700 Series zoom profiles (18 each of RJ 710SX2 and RJ 713SX2 models) in our generic rig," says Mrs Kang. "However, Robert Juliat's reputation for excellent followspots is well-known and the new Arthur did not disappoint. It delivers a bright, uniform beam, is easy to control for both dimming and irising and, having an LED source, gives out less heat and saves on power. It ticked all our boxes!"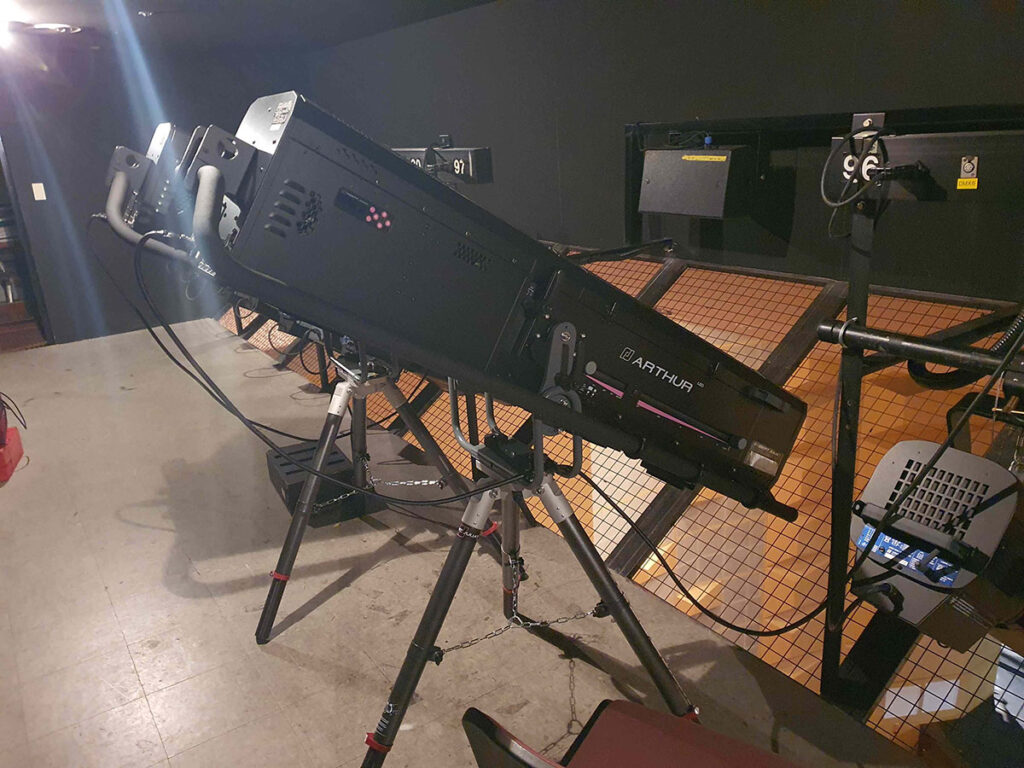 Yongin Cultural Foundation is a multipurpose cultural hub that hosts a wide variety of performances for the city, which has over one million inhabitants. 'Eoul Madang' translates as 'an event or place in which many people gather to play games and enjoy festivities.' The complex has a total of six performing arts spaces which provide a meeting point for Yongin citizens to gather together to enjoy classical music concerts, and children- and family-orientated shows.
Big Eoul Madang, which opened in September 2004 at Yongin Women's Hall, is a proscenium theatre with a total capacity of 599 seats over two levels, and is equipped with moving stages, an orchestra pit, and an acoustic shell. The Arthur followspots are sited in the purpose-built followspot booth above the second level with a 25m throw-distance to the stage.
The new followspots were immediately put to work on a Gukck show, a concert of traditional Korean music, which gave the lighting team – comprising head of lighting, Duhee Lee, and lighting technicians and followspot operators, Muhyuck Chung, Gyungho Park, Hwa Lee – a chance to put them through their paces. Since then, the followspots have been in continual use. "After using the new Arthurs, we were convinced the choice was a good one," confirms Mrs Kang. "We are very happy with their performance and with the service we received from C&C Lightway. We will be happy to specify Robert Juliat again in future."
C&C Lightway can be contacted at www.cclightway.com .
More information on Yongin Cultural Foundation can be found at www.yicf.or.kr .
Photo: © Korean Dance Addicts, Mrs So-Jin Kang